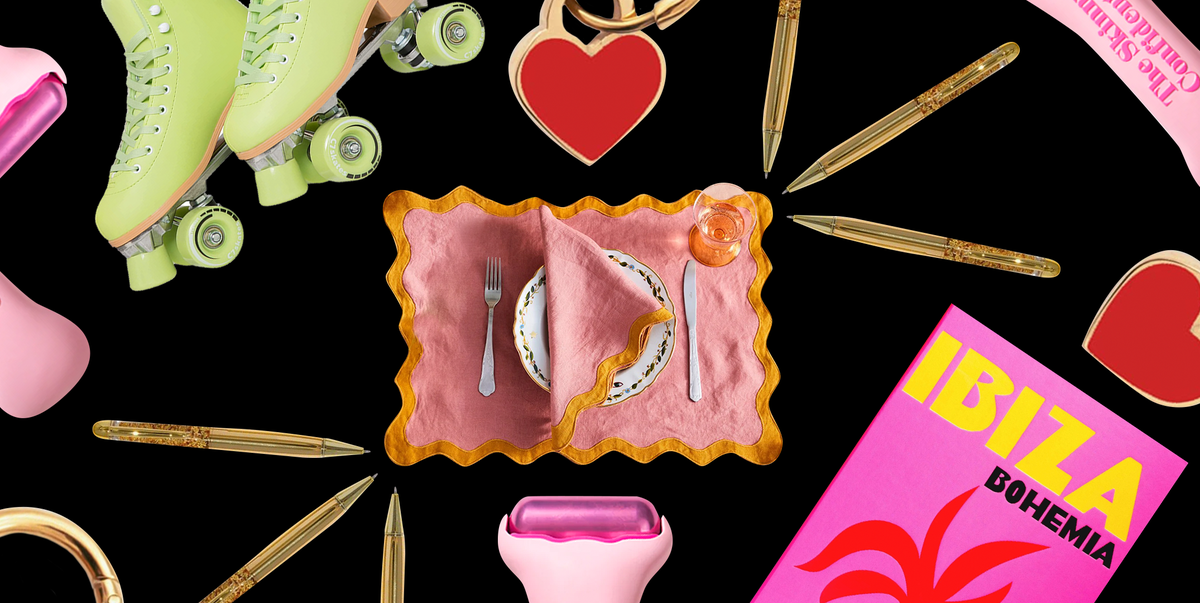 Believe it or not, Christmas will be here before you know it! And if you wanna be known as the best gift-giver this season (I mean, who doesn't?), now is the time to start shopping for those must-have presents. Because, frankly, that title doesn't come from procrastinating on holiday shopping and giving a last-minute gift or settling for a basic, impersonal present. Nope! That title belongs to those who put genuine thought and effort into finding cool and unique Christmas gifts for their loved ones.
But we know gift shopping for anyone can actually be really hard, especially during the holiday season (hence, start now!), so to make things a little easier, we've created an expertly curated list of outta-the-box Christmas gift ideas that aren't your typical pair of fuzzy socks or a corny mug.
TBH, these gifts could virtually work for any holiday you want too (birthdays or anniversaries included!). Below, you'll find a list full of unique Christmas gifts that anyone—from the co-worker you barely know to your ride-or-die BFF (plus everyone in between)—will absolutely adore. With all these gift ideas on your side, I'm just sayin'… Santa, take notes.
Advertisement – Continue Reading Below
1
this real AF throw pillow
Revolve
Nothing Is Impossible Needlepoint Pillow
2
this aesthetic candle
Shop Abbode
Jelly Martini Candle
3
this chic watch
SAMSUNG
Galaxy Watch 4 40mm Smartwatch
4
this bottle of tequila
Calirosa
Calirosa Rosa Blanco Tequila
5
This relaxing eye mask
MERSEA
Faux Fur Weighted Eye Pillow
6
these chic rubber boots
Everlane
The Rain Boot
7
this on-the-go charcuterie set
SunnyLife
Travel Cheese Set
8
these waterproof earrings
Hey Harper
Iris Earrings
9
this massive ice roller
Skinny Confidential
Hot Mess Ice Roller
10
this gorgeous stemware set
Estelle
Colored Glass Stemmed Wine Glass (Set of 6)
11
this word search clock
Sharper Image
Light Up Electronic Plug-in Word Clock
12
this two-tone bracelet
HeyMaeve
Pauline Bracelet
13
this luxe faux fur blanket
Lovesac
Footsac Blanket in Mousse Swirl Phur
14
this compact sound system
Polk Audio
MagniFi Mini Home Theater Surround Sound Bar
15
these luxe candles
FORVR Mood
Candle Duo Set
16
this compact juicer
Magic Bullet
Mini Juicer with Cup
17
these oversized sunnies
Poppy Lissiman
Quaid in Amber
18
this unisex fragrance
Maison Margiela
REPLICA By the Fireplace Set
19
This crystal ring
Luz Ortiz
Nova Malachite Ring
20
this set of sheet masks
Loops Beauty
Loops Variety Mask Set
21
This typewriter-style keyboard
UBOTIE
Colorful Computer Wireless Keyboard Mouse Combos
22
this leather backpack
Monos
Metro Backpack
23
this iced coffee machine
VINCI
Vinci Express Electric Cold Brew Maker
24
this box of west coast goodies
Locale
Taste of LA City Box
25
This vintage-inspired sound system
Electrohome
Montrose Record Player Stereo System
26
this sleek calendar
YeWink
Magnetic Dry Erase Calendar Board for Fridge
27
this keychain alarm
She's Birdie
The Original Personal Safety Alarm
28
this internet-famous clock
SZELAM
Alarm Clock
29
these trendy headphones
Apple
AirPods Max Wireless Over-Ear Headphones
30
this gummy bear light
Uncommon Goods
Squishy Gummy Bear Light
31
this custom blanket
Bauble Bar
Spell It Out Blanket
32
this chic blender
Beast
Beast Blender
33
this travel tote
Beis
The Weekender
34
this pretty anklet
Missoma
Hot Rox Multi Gemstone Anklet
35
these wall stickers
Roommates
x Mr. Kate Hand-Drawn Palm Peel And Stick Wall Decals
36
their fave album in vinyl
Call Me If You Get Lost by Tyler, The Creator
37
this charging station
Courant
Essentials Catch 3 Wireless Charging Station + Valet Tray
38
this potted plant
Lively Root
Money Tree
39
this fancy coffee maker
Breville Nespresso
VertuoPlus Deluxe Espresso Machine
40
these fun roller skates
C SEVEN
C7skates Cute Roller Skates
41
this closet staple
Abercrombie & Fitch
Wool-Blend Dad Coat
42
this charming canister
Williams Sonoma
Mackenzie Childs Courtly Check Canister
43
this cheeky apron
Cosmopolitan
Baking Is My Therapy Apron
44
these sparkly pens
Be Rooted
Ballpoint Floaty Pens Jumbo Gold Glitter
45
This colorful game board
Mark & Graham
Acrylic Chess & Checkers Game Set
46
this mini kettle
Fellow
x Great Jones Electric Kettle
47
this unisex jacket
Lee
x The Hundreds Flower Embroidered Oversized Jacket
48
this internet-famous pan
Our Place
Always Pan
49
this bold lil card holder
Brandon Blackwood
Bamboo B Card Holder
50
these epic shot glasses
Uncommon Goods
Himalayan Salt Tequila Glasses Set of 4
51
this tasty spice mix
Z&Z
Middle Eastern Spice Mix
52
this classic blazer
Simple Retro
Madge Black Blazer
53
this plant parent must-have
Jungalow by Justina Blakeney
Kaya 3-Piece Ceramic Planter
54
this colorful balaclava
The Series
Granny Balaclava
55
this cool neon sign
Olekki
Pink Good Vibes Neon Sign
56
these gorge olive oils
Brightland
The Artist Capsule Olive Oils
57
this v cool book
Assouline Publishing
Ibiza Bohemia
58
this exfoliator
DEHIYA BEAUTY
Mihakka Exfoliating Tool
59
this poker set
CB2
Black Shagreen Poker Set
60
this pasta maker
Philips
Smart Pasta Maker Plus
61
this trendy purse
JW PEI
Gabbi Bag
62
this lamp kit
Sculpd
Filament Lamp Kit
63
this foam roller water bottle
MOBOT
40-oz. Big Bertha Foam Roller Water Bottle
64
this bathtub tray
ROYAL Craft Wood
Luxury Bathtub Caddy Tray
65
these crystal candle holders
CB2
Cosette Crystal Taper Candle Holders
66
this latte lover's pick
Golde
Superwhisk
67
this Bluetooth speaker
Marshall
Emberton Portable Speaker
68
these colorful placemats
Bed Threads
100% Linen Scalloped Placemats (Set of 4)
69
this dutch oven
Ayesha Curry Kitchenware
Cast-Iron Enamel Dutch Oven With Lid
70
these combat boots
Aldo
Reflow Combat Boots
71
this eyeshadow palette
PAT McGRATH LABS
MTHRSHP MEGA: Celestial Nirvana
72
this virtual personal trainer
Future
1-on-1 Remote Personal Training
73
this sparkling wine
McBride Sisters
Black Girl Magic Sparkling Brut
74
this stunning ring set
Rellery
Checker Rings Sunrise Set of 2
75
this breakfast duo
DASH
Mini Waffle Maker + Griddle
Advertisement – Continue Reading Below