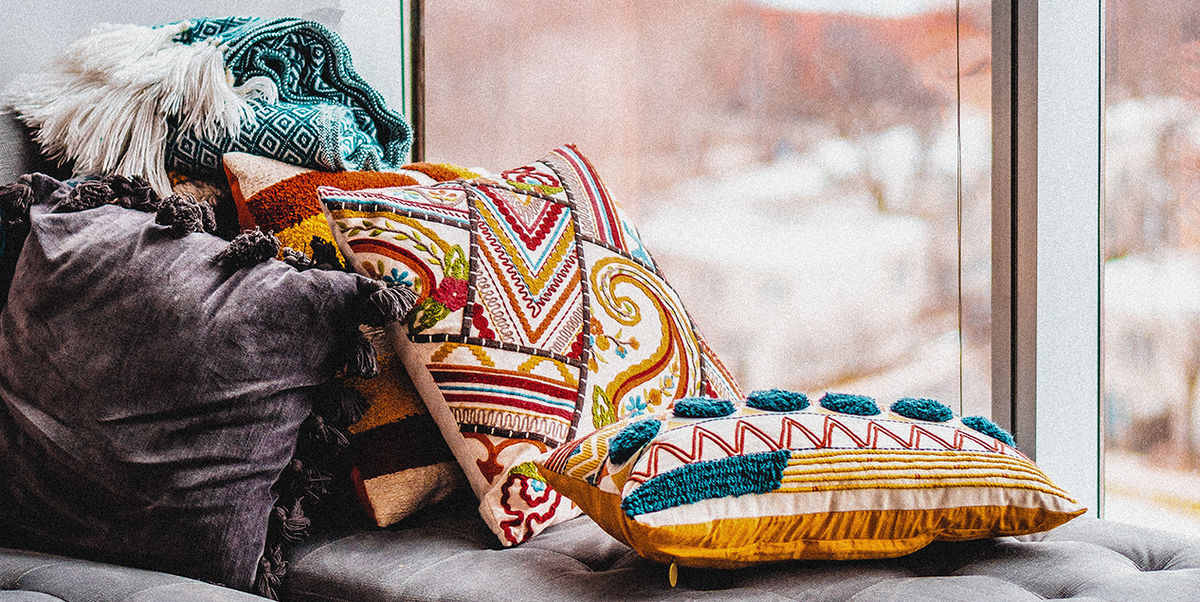 A telltale sign you're becoming an adult: You've started getting over excited about little things like throw pillows (and new Trader Joe's items…and finding a good dishwasher detergent). And honestly y'all? That's great. You're growing up, and your home is about to be so much cleaner and cuter as a result. Three cheers for maturity!
I personally skipped past the "adult" step and arrived at straight-up grandma years ago, because ya girl has a LOT of throw pillows. I have at least five on my sofa and a bunch scattered around the living room and my bedroom (they're pretty much everywhere but my kitchen and bathroom, TBH, but I wouldn't be surprised if they ended up there too one day). There's just something so fun about finding the perfect pillow to fit your room's aesthetic, then combining and arranging them all to make a space feel fresh. It can work like magic, and honestly, if you feel like something is missing in your apartment or in a certain room, the answer is probably…a cute throw pillow.
Yes, they can be expensive and in some cases, you have to pay extra for a pillow insert (read the description!), but many of them are handwoven or dyed and feature gorgeous textiles that are well worth the investment. And, since they're mostly decorative and you're not sleeping on these every night like your regular pillows, they'll also hold up so much longer and will likely even last you through multiple moves (although buying new pillows for every new place can also be somewhat irresistible).
Long story short, if you're looking to brighten up your boring beige sofa, make a seating area more inviting, or you just want to impress your friends and parents with your cool decor (same), here are 26 of the best throw pillows on the market. Promise you'll find one for you, no matter what aesthetic you're into.
Advertisement – Continue Reading Below
1
This one ft. Queen Bey
CreateTheCulture Slay Beyoncé Pillow
2
This neutral cutie
Parachute Bouclé Pillow Cover
3
This one worth ~tweeting~ about
54Kibo Haiti Multicolor Bird Pillows
4
This terrycloth one
Maaari Checkered Terry Pillow
5
This rattan-esque option
Serena & Lily Madera Pillow Cover
6
This hooked heart pillow
Peking Handicraft Heart You Hook Pillow
7
This tasseled beauty
Made In India Woven Striped Pillow
8
This faux-leather cutie
Akwaaba Inns for Hotel Collection Pleated Faux Leather Decorative Pillow
9
This knotty pick
Sioloc Soft Knot Ball Pillow
10
this ombre one
CB2 20″ Blurred Ombre Pillow
11
This "let's stay in" inspiration
Furbish I Want to be Where the People Aren't Needlepoint Pillow
12
this 3D cutie
Jungalow Primavera Hook Pillow
13
these striped ones
Hckot Patchwork Farmhouse Throw Pillow Covers — Set of 2
14
this bold guy
The Citizenry Las Gradas Pillow
15
this tufted one
Vanncio Boho Tufted Throw Pillow Cover with Handwoven Stripes
16
this neutral knit throw
Famibay Knitted Throw Cover
17
this seashell one
MoiMili "Gold Pearl" Velvet Pillow Shell
18
this velvet set
Monday Moose Decorative Pillow Covers – Set of 4
19
this flower one
Dusen Dusen Flower Pillow
20
this faux-fur one
Phantoscope Merino Style Fur Throw Pillow
21
this round one
Kelly Clarkson Home Robertson Button Pillow
22
this two-toned one
Bolé Road Kombolcha Pillow
23
this abstract one
Goodee Tapestry Pillow 14
24
this supportive bb
Johanna Howard Lagom Pillow – Long Lumbar
25
this velvet one
Lucca Persimmon Orange Pillow — Set of 2
26
this vintage-inspired pillow
Lulu & Georgia Jorine Pillow, Cream and Black
Advertisement – Continue Reading Below