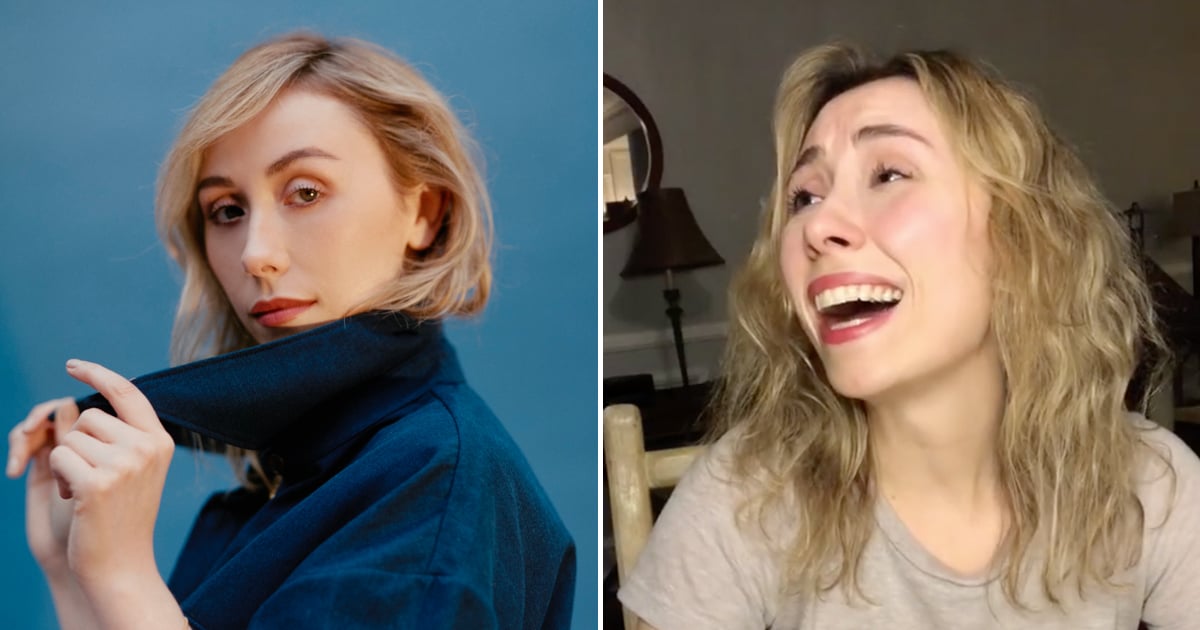 Image Source: Sela Shiloni; Stylist: Kevin Ericson; Hair Stylist: Richard Collins; Makeup Artist: Cedric Jolivet
Take a scroll through TikTok's For You page on any given day, and you'll likely encounter footage of Caitlin Reilly doing what she does best: impersonating people you love to hate. The 31-year-old actress unexpectedly catapulted herself into the TikTok spotlight in 2020, attracting nearly 2 millions followers who can't get enough of the painfully accurate and oddly specific characters she's created. In the blink of an eye, she can morph into the stuck-up mom asking for almond-shaped nails at the salon, and moments later, you just might mistake her for the woman who ran the horse camp you went to in 8th grade or the guy who thinks loving dogs is a personality.
Simply put, Reilly's videos have that secret sauce: a rotating blend of cringe-worthy facial expressions, spot-on vocal inflections, and impeccable comedic timing, with the occasional prop or green-screen background sprinkled in to really set the scene. It's hardly a surprise that she's such a natural in front of the camera; although often referred to as a "TikTok star" these days, Reilly has years of on-screen (and not just phone screen!) acting experience under her belt. The LA native has appeared in various shorts, including Die! Sitter! Die! Rupert!, Love and Paint, and Downstairs, and she's set to star on an upcoming General Hospital episode that pays tribute to her late father, soap opera icon John Reilly.
Seeing as Reilly was a source of much-needed levity for me and countless others during an otherwise heavy past year, I craved more details about the woman behind the viral videos. During our recent phone interview, she got real about how TikTok helped her rediscover her passion for acting, the pressures of having a big social media following, the touching messages she's received online, and so much more. Check out our conversation in full below, and prepare for your obsession with the comedian to grow tenfold.
POPSUGAR: When did you first express an interest in acting?
Caitlin Reilly: I did plays in high school and also my dad was an actor for a long time, so I grew up around it. I wanted to act when I was about 10 years old. I wanted my parents to pull me out of school and be a child actor, and they refused, rightfully so. When I graduated high school, I went to a theater arts conservatory, The American Academy of the Dramatic Arts, and I graduated from there. Since then, I've been acting and hustling and auditioning and doing the actor hustle, as they say.
PS: The hustle has definitely been paying off because you have such a huge following on social media! What made you want to join the world of TikTok?
"It's brought me back to having my passion be my main focus."
CR: I was in a really weird place in my life where I was going to take a break from acting. I started this job, two months before lockdown happened, working for a real estate agent. Then we went into lockdown, so I downloaded TikTok. I needed a creative outlet. I started making videos, and then the rest is history. It's brought me back to having my passion be my main focus.
The first couple of weeks of lockdown, we didn't really know what was happening and what this was all going to turn into. TikTok sort of became this comfort blanket for me. Even before I started posting videos, I would just spend a lot of time being like, "What is this all about? What is this world?" There are so many different kinds of videos, different kinds of pages you could be on. I started just posting character videos, and they took off and I was like, "Wow, I was not expecting that at all."
PS: Do you remember the first TikTok video that really took off and went viral for you?
CR: The first one that took off was the very first "WASP Mom" video that I did, where she was Facetiming with her friends. I posted it, I put my phone down, then I checked my phone an hour later, and it had 10,000 likes, which at the time was astronomical for me. Then, it just kept going. I posted "The Coworker You Hate on Zoom," and that one took off as well. I was like, "What is happening?" I just kept posting all these characters that I cooked up in my head, and people liked them, which is lovely.
PS: Do you ever feel any sort of pressure to be constantly cranking out new content for your followers?
CR: Oh yeah. Right now, I'm currently experiencing content anxiety. I used to post two videos a week when I was just doing videos and this was all starting out for me on TikTok. Thankfully, I'm a lot busier now and I'm doing a lot of other fun, exciting career things, having meetings, auditioning a lot. I'm too busy to post as many videos. When I do post a video, it's once every 10 days, and I'm always worrying, "Is this funny? Am I not funny anymore? Have I exhausted all of my characters? Do people not care?" You fall into that talk so easily.
What's really hard is you have to not do that and just focus on, "What do I think is funny?" If I feel like posting, I'm gonna post, and if I don't feel like posting, I'm not going to. At the end of the day, it's art, it's creation. Front-facing comedy has definitely become its own genre now — do what you want and don't overthink it, which I try really hard to do, even though it's difficult.
PS: For what it's worth, I definitely still think you're funny! You have all of these hilarious characters you impersonate — there's the overactive listener, the influencer, the girl who bullied you in high school. What made you want to hone in on these types of characters specifically?
"It was this weird catharsis of me working through my own depression, my own insecurities, my own frustration."
CR: To be totally honest with you, it was this weird catharsis of me working through my own depression, my own insecurities, my own frustration. When you live in a city like Los Angeles and you're an actor, it's tough and it's hard, and you feel like you're running in place. Other life things are happening, and you start to get really cynical. You start to sit back and observe, like, "God, why do so many things and so many different kinds of people piss me off?"
I had this one person message me and asked, "How come you post videos of annoying people you can't stand? Why can't you post videos of cool people?" Well, what's the fun in that? That's not comedy. Something that I also love is cooking up these characters where they're so deeply flawed and you can tell that they're kind of barely holding themselves together in a way. Everyone's experiencing imposter syndrome and there are so many people on social media and in society that are trying to fit into this mold that they've created for themselves — like influencers, I just think they're fascinating.
PS: Oh my gosh, so fascinating.
CR: What's also weird is that once I started to get popular and get a following, I started to accidentally become an influencer myself, doing ad videos and feeling pressured to share political information and needing to answer questions. All of the sudden, I was like, "Wait, have I become the thing that I hate?"
Once you have a very large following and a blue check next to your name, being yourself online feels a little scarier. Mind you, I don't think I'm anyone special. I've shared my political opinions online, I've shared my views about things online. I guess you wheedle out the crazies over time. I've gotten some crazy messages. It's a part of this that I accidentally stepped into, that I did not expect.
PS: The internet can be a scary place.
CR: It's not scary, I mean, it is, but it's strange. Thank God I'm at the age that I'm at. I've gone through my 20s and am 31 years old. I feel like I know myself pretty well, so I don't let it get to me. Social media is such a wonderful place, but also it's such a weird, crazy kind of scary place.
PS: Honing in on the positives of social media, your videos have been such an awesome source of comic relief and escape during a pretty dark past year. How does it feel knowing you've provided that to thousands of people online?
CR: I didn't expect that. I've gotten a lot of messages from people being like, "Hey, I went through a miscarriage and you basically pulled me out of my depression," or "Hey, I'm a nurse at a hospital and during my five-minute break from helping COVID patients, I watched your videos and they put a pep in my step." I don't know how to respond to it. I'm so grateful that they shared that with me. I'm grateful that I could be that for them. You just don't realize how things affect people.
It's weird for me because at the beginning of lockdown, I was in an incredibly dark place. I was really depressed. I didn't know what this lockdown and what this pandemic was going to look like for my life. I was living at home with my mom. I had no money. I was in a long-distance relationship. My career was nowhere. Then all of this TikTok stuff started happening, and my life drastically changed because of all these people that showed me support and shared my videos and commented. I owe my life to those people. To get those messages from them that I put a pep in their step during a dark time, that's the best thing you could ask for.
PS: I know you were cast in a General Hospital episode that will pay tribute to your father who was on the show and recently passed away. Are you able to share a bit about what your appearance will entail?
CR: When the news came out, I think everyone was really confused why I was cast on General Hospital. My dad was actually on the show for 11 years. Before his passing, he had been retired for a very long time, but he was very loved as a person. They dedicated an episode to him and asked me if I wanted to be involved, and I said of course. I thought I was going to have a very small involvement because soap operas are big running ships and they have lots going on. But I ended up having a very, very large involvement in the episode, which was shocking, but super exciting and also very special and cathartic for me. It's very special to my family as sort of our own little mini memorial. We haven't been able to have a big, huge celebration party for him yet because I have 9,000 family members in Chicago. But it was the most incredible thing to honor him that way.
PS: That sounds incredible. What would you say is your dream acting gig, besides being able to honor your dad on screen, of course?
CR: Oh God, I don't know. I love comedy. I also love drama. I love dark comedies. It's weird, I'm sort of all over the place. I would love to be on a show like Succession or Search Party, which I think is one of the most brilliant shows I've ever seen. I would love to be on Saturday Night Live. I mean, that's the dream for so many people. I'm excited to see what the future holds.
PS: Do you have any advice for aspiring TikTokers or actors in general?
"Post or create what you think is good, interesting, funny, moving, or original."
CR: I very often feel like I'm the oldest person on TikTok, even though I know that's not true. I don't have much advice for TikTok stars. Even though I'm technically seen as one, I don't know that world very well. I would say, if you're an actor and we're still in a space where we're very much on our own island and needing to create ourselves, do what you think is good or funny. Don't try and do something that someone else has already done. Don't try to fit into some kind of mold or some kind of character that you think is popular. Post or create what you think is good, interesting, funny, moving, or original, because I feel like social media, in the last couple of years and especially in the last year, has really catapulted careers and different mediums.
There are different forms of content, even not comedy, that I think are brilliant because people are fearlessly putting out what they need to put out from their hearts, what their point of view is or their mission or what they need to say. Don't try and look at what's working and what's popular because the reason that became popular is because it was different and original.