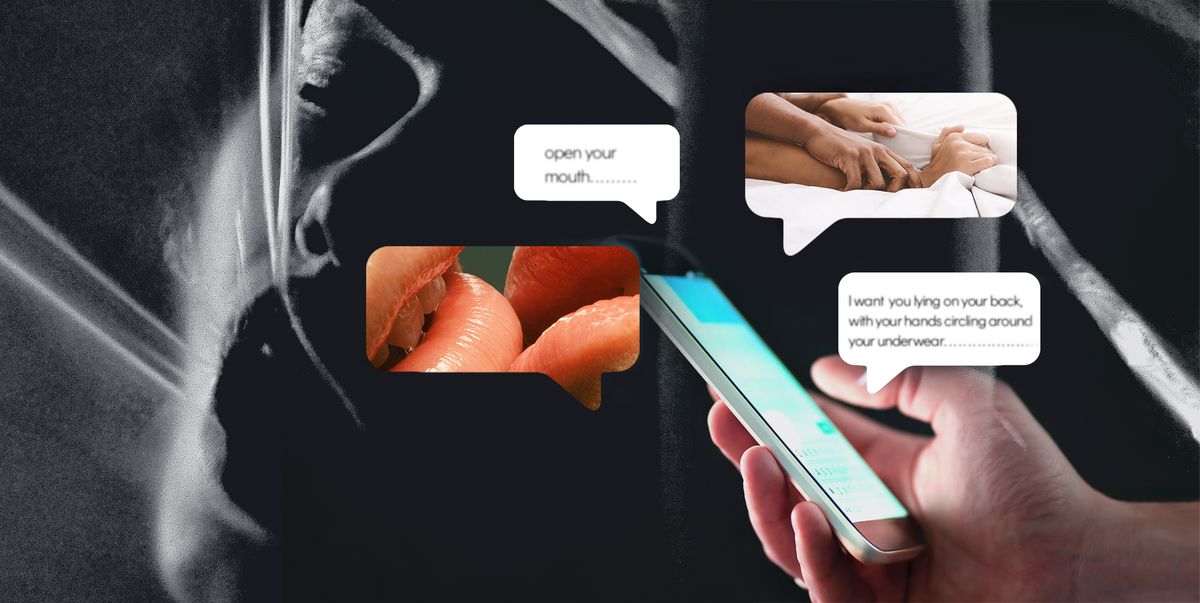 Some people say sexting is just for horny teenagers. Those people are what I call "wrong." (Also "blatantly incorrect" or, "freaking missing out, losers.") Spoiler alert: sexting is for horny people of all ages, genders and relationship statuses—it's basically the great equalizer, TBH. Not to mention, sexting apps have come a long way since the days of SMS and emoticon winky faces.
In our advanced technological age, sexting has undergone a major glow up from the "last resort" option it one was, says sex tech publicist Melissa A. Vitale, a publicist for pleasure tech brand ZALO USA. "With advances in technology offering apps, questionnaires, or toys to be added to your play, sexting has matured like fine wine." Consider us your sexting sommeliers.
In addition to being a hell of a good time, sexting can also be ~educational~, by which I mean it can provide an opportunity to learn more about what you and your partner(s) are into in bed, navigate boundaries and consent in a low-pressure environment, and, of course, turn each other on in the process.
If you've just started seeing someone or are lost in the throes of a hot and heavy FWB situation, sexting is the perfect way to keep the horny energy flowing in between IRL hookups. For people in relationships, it can be a fun way to deepen your sexual connection, reignite a certain spark, or even get each other in the mood for your next date night. (Spend the whole day trading dirty sexts from work and you might just end up skipping the actual date part of date night, if ya know what I mean.)
Oh, and BTW, you don't actually need a romantic partner or a designated F-buddy of any kind to get your sext game on. In this advanced age of virtual horny communication, there are apps that can link you up with like-minded strangers (or robots) who just wanna trade some sexy messages. Which brings us to: all the best apps for sexting that you may not know about (but probably should!).
Sure, some people are cool with simply sexting on iMessage, but some of us would prefer to keep our more, uh, intimate exchanges separate from the platform where we also text our moms. Maybe you're looking for a little more privacy, maybe you want to find a new sexting partner, or maybe you just don't want to accidentally text the word "Daddy" to your actual dad. Whatever your sextual needs, there's a sexting app out there that's perfect for your exact situation. Happy sexting!
1. Headero
In case you missed it, there's a brand new generation of sex-positive dating apps on the rise, and Headero is very much at its forefront. An inclusive environment where open-minded daters can be up front about their sexual desires and boundaries, Headero is the perfect place to start some steamy chatting with a new sext partner. And if you're just looking to sext with no expectation of taking your sextuationship offline, Headero even lets users slap a handy "chat only" label on their profile. "Some folks have felt pressure on other dating apps to go outside of their comfort zone to avoid being called a 'tease,' says Headero creator, Stephen Quaderer, CEO of ThotExperiment. Headero lets you say bye bye to any such shamey nonsense and sext your little heart out. Download Here
2. ZALO
Yes, ZALO makes some of the most beautiful, high-tech pleasure products out there, but did you know that gorgeous thrusting vibe can also be part of your sext game? The ZALO Remote app boasts all kinds of cool features​​—like connecting your toys to your favorite songs so you can literally vibe to your fave music—including the ability to sext with a partner from afar while you play. Oh, and if video sex is your thing, the app's video-chatting feature puts Skype sex to shame. Download Here
3. HUD
Another rising star in the sex-positive dating app space, HUD (which stands for "Hookup Dating," BTW) is all about hookups and casual sex. While some hookup apps of yore have gotten a bad rap for being a little on the skeevy side (*cough* Tinder) HUD provides a platform that prioritizes open communication and consent. If sexting is what you seek, HUD users can specify that they're open to chatting (including voice calls, video chat, and sending pics) right in their profile. Download Here
4. Dust
Dust functions like Snapchat by adding disappearing messages and pictures. All communication within the app is encrypted and deleted within 24 hours. Another plus? Dust won't show your name on the same screen as your messages—avoiding any association between you and what your thumbs are typing. Low-key, this could be your way to say "I don't know her!" should you want to be president someday, or something. Download Here
5. Confide
If you're into sending sexy pics, this is definitely the app for you. While it works similarly to Dust, Confide has a "screenshot blurring" mechanism to its functioning. If a screenshot is attempted, it not only ejects you from the app and notifies the other user, but, wait, it will also gray out that screenshot and make it unrecognizable. Download Here
6. Signal
This app uses end-to-end encryption, meaning it ensures that once you've hit "send," a message cannot be intercepted and read by anyone else until it reaches the device of the intended recipient. Trust, there will be no weirdos reading those texts. You can video call, message, or group message as you please on this *chef's kiss* sexting app. Download Here
7. Wickr
Want to up your sexting game? Why not use Wickr to leave sexy, erotic voice memos with your boo. With trusted end-to-end secure sharing of files, images, and videos, you can do lit-er-a-ll-y whatever your heart, mind, or lady bits desire. Download Here
8. Juicebox
Now, if you need help sexting, Juicebox should be downloaded on your phone RTFN—it's like *the* virtual guide for sex and intimacy. It offers one-on-one coaching with a professional sex and relationship coach, customized tips, and for your purposes, lets you practice how to sext using its virtual Slutbot, a chatbot designed to help you improve your sexting skills. Download Here
9. Justbewild

Okay, so maybe you're horny AF and in the mood to sext but don't have anyone on your roster? No biggy. Don't go knocking on your neighbor's door asking for, ahem, a "spatula" (or do, if you have a sexy neighbor that has a spatula), but download Justbewild. As the name rightly suggests, it is one of the fastest growing hookup apps with options for juicy content. The good thing is, only your matches can text you. Download Here