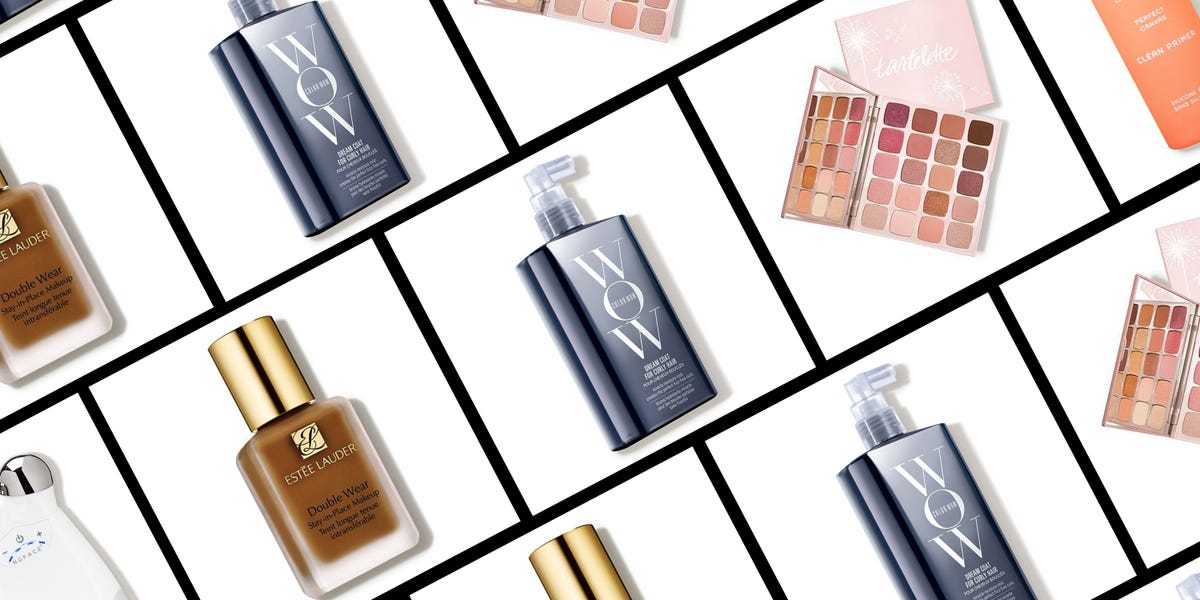 Summer is here. Meaning it's time to swap out your favorite beauty products for ones that are a bit lighter, offer more sun protection, and are packed with ingredients and benefits required to take you through the next couple of warm-weather months. So if you need one new product, or two (or three), you're in luck: Dermstore's annual Summer Sale is going on now, which means all our favorite must-have beauty products are up to 20 percent off. The sale officially kicked off on May 24th and is running until June 1. Simply just use the promo code "SALEAWAY" at checkout to get massive savings.
The best part? If you're a Dermstore member, you'll not only get the discount but double points on select brands like Color Wow, SkinMedica, and more. With a sale this extensive—finding the best products can take a bit of a search. To help, we've gone ahead and rounded up a list of the best skincare, haircare, makeup, and tools to scoop up today. Whether you need a new shampoo and conditioner or a face serum that can practically turn back time, this summer beauty sale has everything. Ahead, 21 of the best products to add to your cart before they start to sell out.
Advertisement – Continue Reading Below
1
Haircare
Perfect hair Day Dry Shampoo
Dermstore reviewers are obsessed with Living Proof's Perfect hair Day dry shampoo—and so are we. It's the only dry shampoo that doesn't just disguise dirt and oil—it actually removes it. 
2
Concealer
"Un" Cover-Up Concealer
This buildable cream concealer not only blends beautifully, but the organic coconut and jojoba oils work to replenish dehydrated areas long after application. 
3
Face Primer
Perfect Canvas Clean Primer
Not only does this silicone-free primer keep your makeup fully intact, but it smoothes and diminishes pores and wrinkles as well. Plus, the genius serum-like glass dropper delivers the perfect amount to make sure you don't overuse it. 
4
Face Sunscreen
UV Sheer Broad-Spectrum SPF 50
Summer calls for a durable sunscreen that does more than just sun protection. Besides being water and sweat-resistant, this formula boasts hyaluronic acid and squalane to hydrate and restore skin without leaving your face oily. 
5
Makeup
Ultimate Lipstick Love in Rouge
There's no such thing as owning too many red lipsticks. We're partial to this one for its eight-hour wear time and creamy application that goes on like butter. 
6
Skincare
TNS Advanced+ Serum
SkinMedica
$295.00
$265.50 (10% off)
If you're looking for a face serum that dermatologists love, you've found the one. SkinMedica's TNS Advanced+Serum won a 2021 Anti-Aging Award because the proprietary growth factor dramatically boosts collagen and elastin production.
7
Foundation
Double Wear Stay-in-Place Makeup
Estée Lauder's foundation has long been a favorite in the beauty world. Available in over 55 shades, this skin-like foundation stays on all day. While it promises full coverage, it'll feel as if you have nothing on, a perfect quality for summertime wear. 
8
Haircare
Recovery Shampoo
Virtue's Recovery haircare line uses human-identical keratin to make hair noticeably healthier, shinier, and more resilient. It's no wonder we've awarded it multiple accolades over the years.
9
Haircare
Elon Matrix 5000
This highly-rated hair vitamin is packed with biotin, silicone dioxide, and l-cysteine to help hair grow longer and stronger. Expect results in as little as 30 days. 
10
Eyelash Serum
Advanced Eyelash Conditioner
RevitaLash Cosmetics
$98.00
A 2021 BAZAAR Anti-Aging Awards winner for best lash serum, this biotin- and panthenol-rich formula has it all. As it brings your lashes to elongated glory, it also prevents breakage and brittleness over time. 
11
Eye Cream
Revision Skincare D.E.J eye cream
Revision Skincare
$100.00
The skin around your eyes is some of the most delicate on your body, meaning it needs special care. Not only does this eye cream tighten and replenish the skin underneath your eyes, but it works its powers on your lids, too, a rarity in most eye creams. 
12
Haircare
Dream Coat for Curly Hair
Humidity is no match for your curls thanks to Color Wow's anti-frizz spray. The secret is the addition of keratin, which adds moisture and strengthens each coil.
13
Face Moisturizer
Elta MD PM Therapy Facial Moisturizer
Niacinamide is a powerful ingredient that speeds up your skin's repair process, and this nighttime moisturizer is full of it. Put this on as your last step to your bedtime skincare routine and let it help restore your skin while you sleep.
14
Hair Mask
Don't Despair Repair Deep Conditioning Mask
All hair types can benefit from Briogeo's beloved Don't Despair, Repair! Deep Conditioning Mask. This silicone-free mask will help revive even the most dry, damaged, and brittle hair.
15
Eye Cream
Universal C Eye Perfector
BeautyStat's award-winning Universal C Eye Perfector brightens, softens lines, and diminishes dark circles and puffiness. Feel free to use it day or night to really see this product work its magic. 
16
Skincare
Trinity Facial Toning Kit – White
NuFACE
$325.00
$260.00 (20% off)
The 2021 Anti-Aging award winner for best lifting device is a fan-favorite, so grabbing it at 20 percent off a steal. Using microcurrent technology, the mini device tones and tightens your skin muscles, giving you a five-minute mini facial right at home. 
17
Skincare
Mineral Tinted Sunscreen SPF 30
If you're not up for putting on a full face of makeup in the summer, turn to a tinted sunscreen. This SPF 30 mineral sunscreen takes a moment to blend in as the blend of shea butter, vitamin E, coconut oil, and five different fruit extracts work to moisturize and protect your face. 
18
Haircare
Cleansing Purifying Scrub with Sea Salt
This clarifying scrub can be used as your go-to shampoo or a once-a-week ritual to help get rid of buildup from styling products and dry shampoo. The smell is divine, yet the best part is that a little goes a long way. 
19
Skincare
The Cult Classic Purifying Face Cleanser
Tula Skincare's best-selling facial cleanser washes away makeup, grime, and oil without stripping your skin.
20
Haircare
Sun Catcher Power C Boosting Leave-In Conditioner
Protect your hair from the sun's harmful rays with this ultra-nourishing leave-in conditioner. The hyaluronic acid keeps hair moisturized all day, while the addition of vitamin C works to protect hair from UV damage.  
21
Eyeshadow
Tartelette Juicy Amazonian Clay Eyeshadow Palette
Including a mix of matte, pearlescent, and metallic shades, this palette offers more than just your basic taupes and nudes (though it has those too).
This content is created and maintained by a third party, and imported onto this page to help users provide their email addresses. You may be able to find more information about this and similar content at piano.io
Advertisement – Continue Reading Below