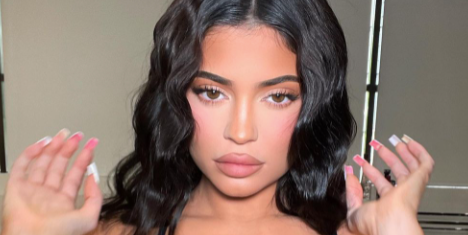 Looks like Kylie Jenner has some new billion-dollar business ideas in the works and might be launching a line of baby products? At least that's the vibe we're getting from some early morning sleuthing. As celeb news podcast @notskinnybutnotfat first pointed out, Kylie fan accounts noticed that something mysterious called @kyliebaby popped up on Instagram, and it's straight up verified. Sure, any other Kylie in the world could have potentially made this account, but it's almost definitely the work of Kylie Jenner due to the fact that she took out a trademark on Kylie Baby.
In fact, just yesterday TMZ reported that Kylie has a buncha new trademarks in the works, and recently filed docs for "Kylie Swim" and "Kylie Swim by Kylie Jenner." Meanwhile, Kylie Body, Kylie Baby, and Kylie Hair were trademarked in 2019/2020.
According to TMZ, Kylie Baby "wants to crank out baby furniture … like cribs, bouncers, changing tables and baby walkers" and could also cover "linens, swaddling blankets and crib jumpers."
Before you start envisioning your future child chilling in a Kylie Baby bouncer, please note that celebs often apply for trademarks they don't intend to use in order to protect their name. Then again, that verified Twitter account is telling a STORY. And it's also worth pointing out that Kylie recently wiped every photo from the Kylie Cosmetics Instagram page except for this, so she definitely seems to be up to some business things!
This content is imported from Instagram. You may be able to find the same content in another format, or you may be able to find more information, at their web site.
Meanwhile, if you head to KylieCosmetics.com, all you see is a splash page, which offers visitors an opportunity to sign up and find out that "something" is coming.
INTRIGUING.
---
You love all the deets on celeb news. So do we! Let's overanalyze them together.
---
This content is created and maintained by a third party, and imported onto this page to help users provide their email addresses. You may be able to find more information about this and similar content at piano.io