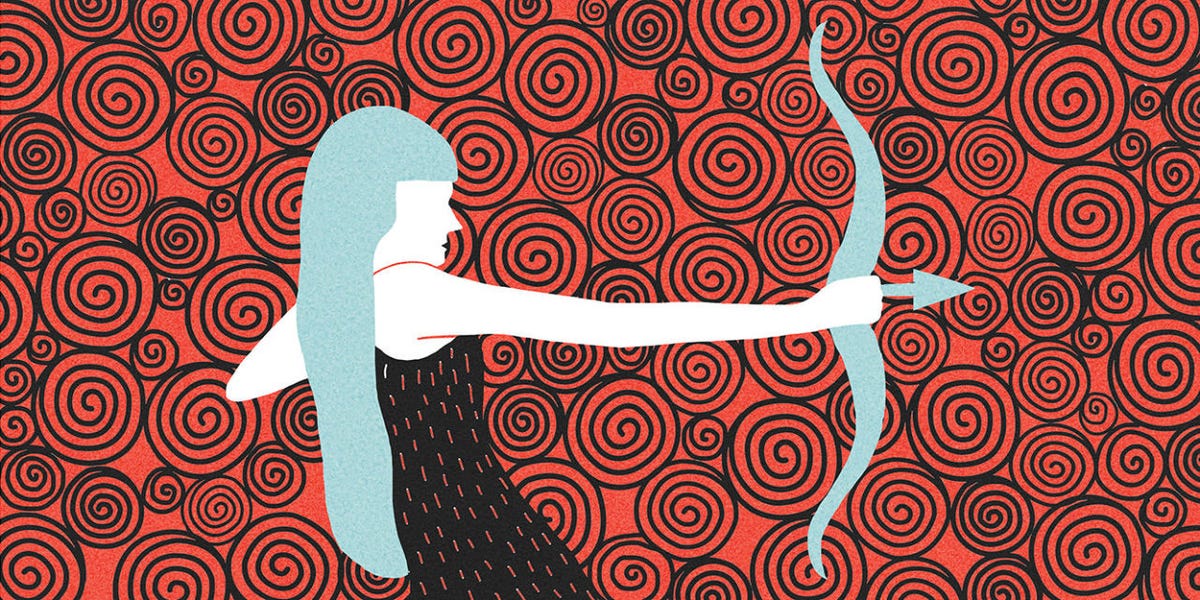 WEEK OF August 29 – September 4, 2022
No one puts Sagittarius in the corner! And for those who have dared to try recently, the joke's on them. This Thursday, September 1, a flowing alignment between unbridled Mars and your ruler, take-no-prisoners Jupiter, pumps you up with major confidence. Is it time to tell YOUR version of the story to the world? If so, you're here for it. But take note of other people's comfort levels and boundaries in the process. What you DON'T want to do is expose someone else's private issues against their will. That would just defeat the whole purpose of you coming across like the wise and dignified creature you intend to be. So without directly naming names or throwing a friend under the bus, reshape the narrative on your terms.
Do you hear what they hear? On Friday, the answer is "definitely not," as messenger Mercury locks into a direct opposition with your ruler, strong-willed Jupiter. The effect could be massively scrambled signals with your squad or a lover's quarrel that blows WAY out of proportion. The tail end of your workweek might feel like a frustrating game of "he said, she said," with you literally fielding calls and texts about false rumors that are circulating. On your end, make sure you aren't spreading any gossip—even under the guise of "concern." If you can't say it to someone's face, you definitely shouldn't be whispering it behind their back! The walls have ears, Sagittarius, and even standing silently by while someone else drags a friend through the muck could leave you labeled an accomplice to the crime.
Balance is a lofty goal for your excitable, "more is more" sign. But under the stabilizing influence of Saturday's quarter moon in Sagittarius, you may finally see the merits in simplifying a project or plan that has ballooned beyond reasonable proportions. On the other hand, if you've been hoping to be "invited" to come out and play, these moonbeams remind you that Archers don't wait; they initiate! But even as you come bounding off the sidelines, pause long enough to consider what might have been holding you back. Is there some fear, anxiety or sense of "I don't belong" or "deserve" this opportunity? It's important to find that piece so you can work on it directly by appropriate means. This is an excellent time to launch an initiative you've been quietly developing or make a big reveal on a passion project. Remember, though: This quarter moon helps with recalibrating scales that have tipped to one side. So while your sign is all about independence, if you've been doing a little too much by yourself—and are struggling or growing resentful—now's your chance to come out and ask for an assist. If you don't have the funds to hire a pro, see who's open to a professional barter.
Identical twin sisters Ophira and Tali Edut (The AstroTwins), have been ELLE.com's official astrologers for over a decade. They are the authors of several astrology books, including their popular yearly horoscope guides, and have read charts for celebrities including Beyonce, Karlie Kloss and Emma Roberts. For their spot-on predictions, books and online courses, visit them at  astrostyle.com.