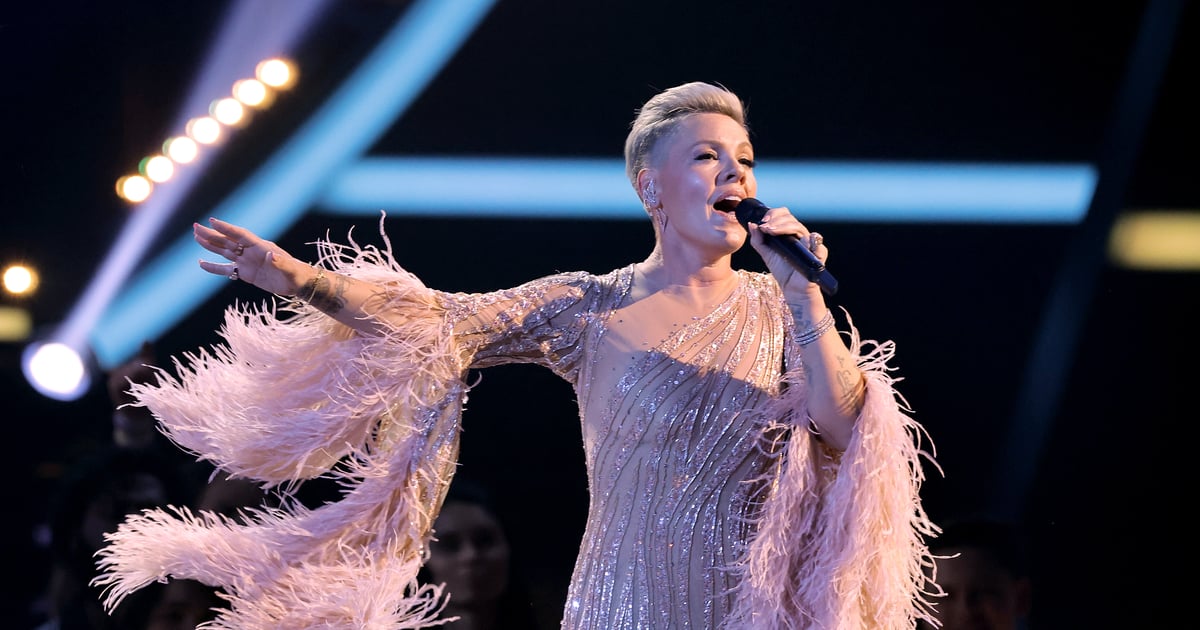 In her second performance of the night, Pink graced the American Music Awards audience with a moving tribute to the late Olivia Newton-John. The artist sang a gorgeous rendition of "Hopelessly Devoted to You," taking to the stage to flawlessly belt the high notes on the classic "Grease" ballad, which, of course, Newton-John famously sang as Sandy in the 1978 movie. Though Pink wasn't accompanied by any backup dancers and flashing lights like most of the night's other performances, the extra space allowed the song's emotional power and her voice to shine, and the tribute was made all the more moving by the portraits of Newton-John that filled the screen behind her.
While on the red carpet at the start of the night, the artist honored Newton-John, who died on Aug. 8. "She was an absolute icon, and also, she was a wonderful human being," the artist told Entertainment Tonight. "I loved her voice. My daughter just got done doing Grease in her theatre production, and she actually helped me learn the song."
Earlier in the night, Pink brought the house down with her first live performance of her new single "Never Gonna Not Dance Again." After showing a clip from the song's music video, the star roller-skated onto the stage along with a host of acrobatic backup dancers to deliver a 1980s-inspired performance of the track. The artist, who was joined by her family at the AMAs, released "Never Gonna Not Dance Again" on Nov. 4, complete with an accompanying music video. In the video, she roller-skates and dances her way around a grocery store until she turns it into a full-on party.
On Nov. 14, Pink announced a massive summer concert tour titled Summer Carnival 2023. She'll play 21 ballparks across North America, with support from Brandi Carlile, Pat Benatar, Grouplove, and KidCutUp. It seems she'll release a new studio album — her ninth — before then, though a title and release date haven't been announced. In 2021, she released a live album, "All I Know So Far: Setlist."
On Nov. 6, Pink was one of the artists who helped induct Dolly Parton into the Rock & Roll Hall of Fame. She shared photos from the night on Instagram at the time, "Just casually inducting DOLLY PARTON into the Hall of Fame, singing with my buddy Brandi CARLILE and Sheryl CROW and DOLLY!!!!! Oh and Annie LENNOXXXXXXXXXXX and just hanging out in the hallway with my new bestie Olivia RODRIGO who is by the way SO SWEET!" The ceremony aired on HBO Nov. 19.
Ahead, check out more photos of her AMAs performances.