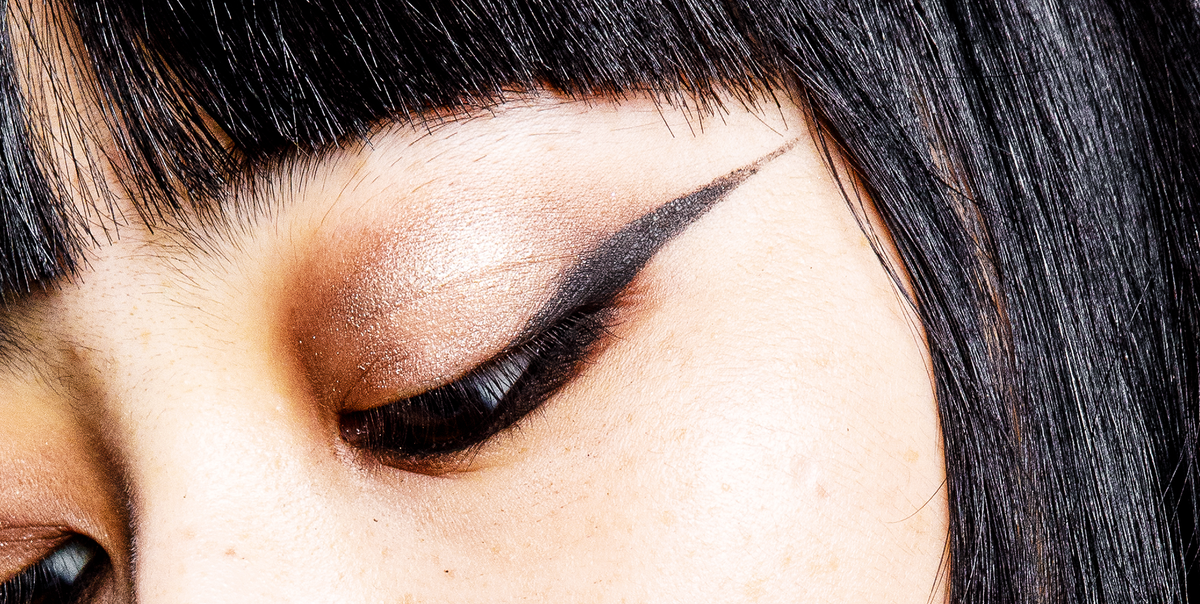 My holy grail beauty product? Gel eyeliner. I've never been much of a liquid eyeliner fan. Like, why would I spend 15 mins drawing and re-drawing a winged liner when all I need is a few seconds and my favorite gel eyeliner? Not only is gel eyeliner super soft and silky against my lids, but it's surprisingly versatile—you can smudge it out to make the smokiest smokey eye (good hack for when you mess up, FYI), or let it dry down to create the sharpest, ultra-precise line.
Considering that the world is loooooaded with long-lasting, smudge-proof formulas right now, there's honestly never been a better time to get on board Team Gel. Don't believe me? Check out a sneak peek of the best gel eyeliners below, and keep reading for the full list. You'll see what I mean, trust.
Our top picks for the best gel eyeliners in 2022:
So without further ado, here are 13 of the best gel eyeliners that are long-lasting and smudge-proof from brands like Pat McGrath, Tarte, Bobbi Brown, and more. You're welcome in advance.
Advertisement – Continue Reading Below
Best Drugstore Gel Eyeliner
Revlon Colorstay Eyeliner Pencil
Best Gel Pot Eyeliner
Morphe Gel Liner
Best Cream Gel Eyeliner
Black Radiance Continuous Black Cream Gel Eyeliner
Best Overall Gel Eyeliner
Pat McGrath Labs Permagel Ultra Glide Eye Pencil
Best Precise Gel Eyeliner
Hourglass 1.5mm Mechanical Gel Eyeliner
Best Kohl Gel Eyeliner
One Size by Patrick Starrr Point Made 24-Hour Gel Eyeliner Pencil
Best Hydrating Gel Eyeliner
Wander Beauty Side Liner Automatic Gel Eyeliner
Best Matte Gel Eyeliner
Melt Cosmetics Gel Eyeliner
Best Shade Range Gel Eyeliner
Haus Laboratories by Lady Gaga Eye-Dentify Gel Pencil Eyeliner
Best Gel Eyeliner Duo
Tarte Tarteist Double Take Eyeliner
Best Long-Wear Gel Eyeliner
Bobbi Brown Long-Wear Gel Eyeliner
Best Gel Eyeliner for Blending
Smashbox Always On Liquid Waterproof Eye Liner
Best Cult-Favorite Gel Eyeliner
Urban Decay 24/7 Glide-On Waterproof Eyeliner Pencil
How to choose the best gel eyeliner
Choose your formula
The choice between gel and liquid eyeliner ultimately depends on what kind of eyeliner look you're going for and which consistency you prefer. Liquid eyeliner is typically used for precise, bold lines, whereas gel eyeliner can be used to blend or build up product. I may be biased, but if you don't necessarily have the precision and skill of a pro makeup artist (which, like, who does?!), gel eyeliner is wayyyy more forgiving if that's what you're in the market for (which, like, who isn't?!).
Determine what eye look you're going for
And for the fun part: It's time to pick your eye look. Other than the obvious color choice, you should also consider if you want a shimmer, satin, or matte formula. And for the not-so-obvious decision: It's important to consider how fast the liner will dry down. If you're going for a precise winged line, you want a liner that'll dry almost immediately upon application so that it doesn't budge. However, if you're going for a smokey look, you want your liner to be super creamy and allow for a minute or two of leeway before it sets so you can blend it appropriately.
Why trust Cosmo?
Siena Gagliano is a contributing beauty editor at Cosmopolitan and has two years of experience writing about beauty, fashion, and lifestyle news. She's an expert at researching and writing beauty stories, like the top eyelash curlers and why hair gel on your eyebrows is the ultimate beauty hack and feels especially knowledgable on gel eyeliners thanks to years of trying to find the best one for the perfect smokey eye. She regularly tests and analyzes gel eyeliners on herself for efficacy, while working with the industry's top makeup artists to assess new brands and products.
Ruby Buddemeyer was the beauty editor at Cosmopolitan for nearly three years and has five years of experience writing about beauty, fashion, and celebrity news across print and digital, including the best skincare fridges and best travel hair dryers on the market. Her gel eyeliner picks were based on product reviews and ratings.
Advertisement – Continue Reading Below