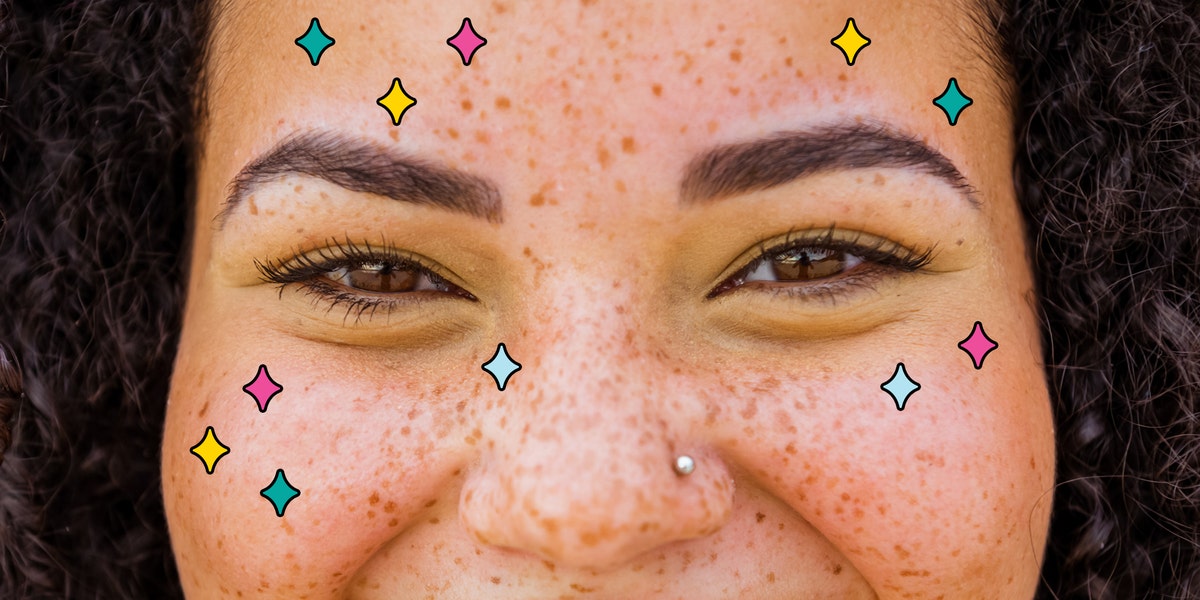 By now, we all know the basic guidance on sunscreen: Derms want you to wear it every day. Use a full shot glass for your body and a half a teaspoon for your face. Reapply, reapply, reapply. But in practice, that's not always how things go. For folks that don't make sunscreen a habit in childhood or have stayed lax about SPF into adulthood, the consequences can range from annoying to pricey to down-right scary. Here, four women tell their stories, detailing what can happen when sunscreen isn't a big factor your whole life. Then, to pay it forward, they've shared their current favorite SPF-packed picks that make diligent UV protection a no-brainer.
"I didn't think SPF was necessary for dark skin."
"As a black woman, I was never taught the importance of sun protection," says Christian, 35, from Minneapolis (who preferred not to share her last name). "It wasn't a day-to-day practice around me growing up," she says. "If we were going to a waterpark, that is the only time that I ever actually saw anyone—especially a black person—wearing sunscreen." And the girls she saw in teen magazines advertising SPF didn't exactly look like her.
In her 30s, she got more interested in skincare. "I learned being black doesn't exempt me from UV protection," she says. But finding formulas that worked for her took trial and error. "The physical [mineral-based] ones turned me purple, like Barney. I don't always seem to have the same definition of 'invisible' as some brands."
Because she wishes she had known about the importance of SPF sooner, Christian is trying to help others by speaking out. "I talk about it with people who are open to it. I think overall there's a lack of awareness and knowledge of accessibility for sunscreen for dark skin—I think more needs to be done to reach everybody."
"My sun-worshipping ways gave me skin cancer."
For Kerry Spindler, 47, of Boston, it was her sunscreen habits—or lack thereof—that landed her with a stage 2 melanoma diagnosis at the age of 27 after she had an itchy spot on her chest checked out. "I was so surprised—I was a gym rat, and, at the time, I thought I was the picture of health. My tan was part of [what I thought made me look healthy]," she explains. And forget sunscreen. "I used tanning oil."
Melanoma is a dangerous form of skin cancer that can spread to the lymph nodes and internal organs if left untreated—and it's also more common than you may realize. The American Cancer Society estimates that about 106,110 new melanomas will be diagnosed in the United States in 2021 alone.
She had several surgeries over the next three years. "My right breast was left disfigured, so I ended up with implants. But I got lucky and went into remission. There were other people I knew around my age in treatment who unfortunately didn't survive," she says. "That's really hard."
Since then, she's dedicated her life to taking care of others' skin at the medspa she owns, and she created a sun safety bracelet called Sundicators that tells you when it's time to reapply. "And I carry a Supergoop! Setting Spray at the spa that I make my clients buy. I want people to have zero excuse, so they won't end up like me," she says.
"I've spent a fortune reversing sun damage."
Not only does Christina Appleton, 38, of Los Angeles, wish she had been better about sunblock growing up, so does her wallet. "I don't know how much I've spent, but what I do know is if I had started with sun protection earlier, it would have saved me a lot of time, energy, and money."
She didn't think much about her sun habits until she moved to image-conscious L.A. in her late 20s. "I went to a medspa where they took one of the UV-damage photos, and I had so much damage! That image was a wake-up call." Her mind flashed back to her younger years soaking in the summer sun in Michigan—and hitting the tanning bed to fend off seasonal affective disorder in the winter.
In the years that followed, she started to see some of the effects of her sun-worshipping youth in the form of sun spots, loss of elasticity, and lines, sending her on a journey of Botox, facials, laser treatments, and chemical peels to try to slow down these visible signs of aging.
"I see the scary impact of the sun on patients every single day."
"Classify me as a dermatologist that knows better now about UV protection," says Dr. Brooke Jeffy, 45, of Phoenix, AZ. In her practice, she says she sees the impact of the sun all the time. "I diagnose non-melanoma skin cancer on a daily basis, and a new melanoma about once a week," says Dr. Jeffy. "Living out here in Arizona, everyone has some damage."
But growing up in Kentucky, she wasn't so aware. "I worked at a tanning salon in high school, and when there were no customers, I would put my legs in the tanning bed and talk on the phone or do homework," says Dr. Jeffy. "I also did not mind getting sunburns—I loved peeling off my skin in sheets."
And now that she's a dermatologist? "I am now the person at the pool or beach wearing a huge hat, sunglasses, and swim tights," she says. She can't go back in time, so instead she focuses on helping her patients. And, she adds, "my husband and son are pretty well-trained at this point!"