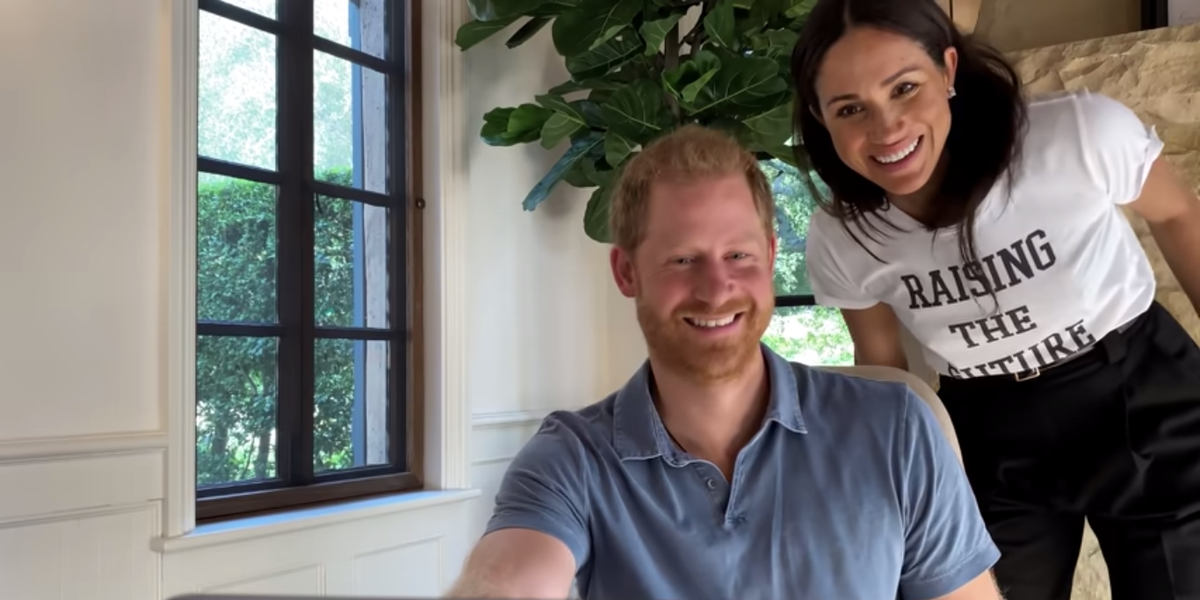 The trailer for Prince Harry and Oprah's new mental health series The Me You Can't See dropped yesterday, and Meghan Markle made a brief and super-cute appearance. The Duchess was seen on screen as Harry was Zooming from what looked to be their home, and was notably wearing a t-shirt that said RAISING THE FUTURE by U.K. brand Mère Souer—which retails for just £27.00 (~$38.00).
Designer Carrie Anne reacted to the moment on Instagram, writing "Excuse me but 🤯🤯🤯🤯🤯 if you know how my brand started and why then you'll understand why I shed a small happy tear just now 🥺🤣❤️ Endlessly grateful to be here always 🙏🏼 #raisingthefutute #meghanmarkle #meghanmarklestyle PS. THEY'RE ONLINE NOW!"
The shirt is currently in stock in a few different sizes, and the product details note "However you choose to do it, whatever your parenting choices, we're all doing it. The greatest and hardest job you'll ever have."
TBD on how much Meghan will appear in The Me You Can't See, but Harry is prominently featured in the trailer, saying "To make that decision to receive help is not a sign of weakness. In today's world, more than ever, it is a sign of strength." He also notes that "The results of this year will be felt for decades. By kids, families, husbands, wives – everybody."
The Me You Can't See premieres on Apple TV+ on May 21.
This content is imported from YouTube. You may be able to find the same content in another format, or you may be able to find more information, at their web site.
---
You love all the deets on royal news. So do we! Let's overanalyze them together.
---
This content is created and maintained by a third party, and imported onto this page to help users provide their email addresses. You may be able to find more information about this and similar content at piano.io