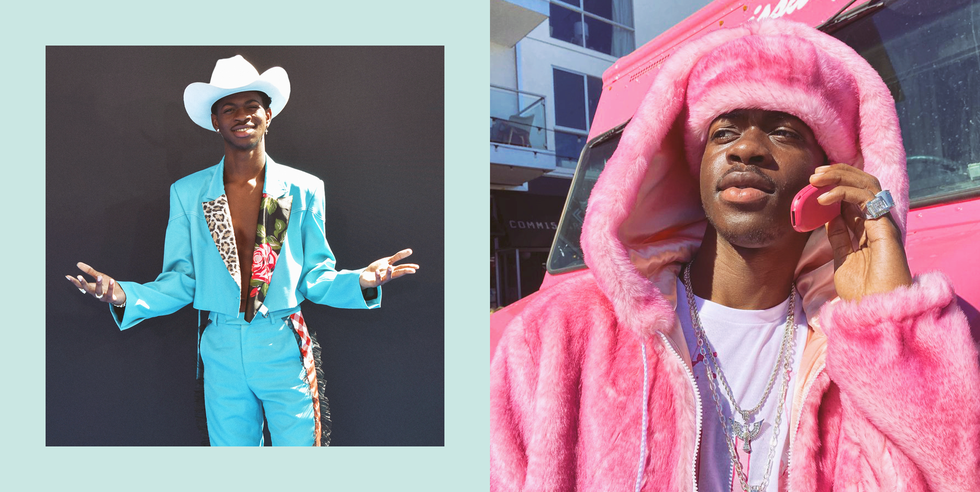 Menswear does not have to be dull, and if anybody understands the assignment it's Lil Nas X. The artist behind hits like "Old Town Road" and "MONTERO (Call Me By Your Name)" is known to step out in jaw-dropping, bold looks ever since he emerged onto the music scene. He's been working with the stylist Hoda Musa since May 2019, and it's safe to say that together they've established a unique game-changing style for the young star. Click through to check out 30 of his coolest and best fashion photos.
1 of 30
April 2019
At Stagecoach, the singer wore a dyed denim jacket, studded belt, and a ton of silver jewelry. I have my eye on the one that's in the shape of a horseshoe.
2 of 30
May 2019
Hello, streetwear meets…desert-wear? Rodeo-wear? Whatever it's deemed, the rapper really managed to make the modern cowboy look pop.
3 of 30
May 2019
Even chart-toppers have to keep it laid back sometimes! Here, he donned a neutral tracksuit with a white shirt and blue sneakers.
4 of 30
June 2019
It's prob too on the nose the say this look was fire, but it's the truth! Something about this artist's commitment to matching sets always works. Example number 856? This outfit at the iHeart Radio Music Festival, from the vest to the kicks.
5 of 30
June 2019
The patterned lapels on this custom suit by Pyer Moss are e-ver-y-thing. At the BET Awards, Lil Nas X also added a pop of white with the matching hat and boots.
6 of 30
June 2019
This is a man who never shies away from bold colors, and they work in his favor every time.
7 of 30
June 2019
You can never go wrong wearing Miley Cyrus merch, TBH. It's the pinnacle of fashion.
8 of 30
July 2019
Lil Nas really repped the US of A from head to toe on a Fourth of July press trip in the UK.
9 of 30
August 2019
He showed up to the VMAs looking flashier than the "Moon Man" trophy itself. This sequin Christian Cowan tuxedo was taken to the next level with a frilly white dress shirt. Very Prince-esque, no?
10 of 30
August 2019
At the MTV VMAs he came through in all red! The embroidery on this blazer and pants was absolutely gorgeous. Flaming Hot Cheetos could never.
11 of 30
August 2019
The best accessory on this sunny look is his bright smile! (Do I sound too much like a proud mother? It's because I am.)
12 of 30
October 2019
For Halloween the year before, he paid his respects the rapper, Cam'ron. Fun fact: He wore this to Beyoncé and Jay-Z's Halloween party, so of course he had to show out.
13 of 30
November 2019
Hats off to this glittery ensemble for the Country Music Awards. It doesn't go too heavy on the sparkles, but just enough to catch the eye for sure.
14 of 30
November 2019
He once told Variety that he felt like "this [was] the craziest outfit [he's] ever put on." To be fair, this tux for the American Music Awards was worn before the "Montero" video was filmed, but it's true that the Christopher John Rogers look was bold as hell. Look at those zebra-print gloves!
15 of 30
November 2019
He wore this stylish look to a CFDA/Vogue event honoring his frequent collaborator, the designer Christopher John Rogers.
16 of 30
December 2019
He had to show out at this "Hitmakers brunch" event looking like the hitmaker he is. Lil Nas X is no stranger to glasses on the red carpet, but this orange leopard-print turtle neck was a fun departure from the cowboy aesthetic he was devoted to in 2019.
17 of 30
December 2019
With a sparkly mesh top peeking through, this electric blue suit at the GQ Men Of The Year Celebration was such a moment.
18 of 30
December 2019
At The Late Late Show with James Corden he made an appearance in this leopard 'fit and his signature cowboy hat. What an ensemble!
19 of 30
January 2020
During this quick photo-op, Lil Nas X showed off more of his 21st-century ranchero style.
20 of 30
January 2020
He stepped into Spotify's Best New Artist party just radiating cool. Lil Nas X traded in his cowboy boots for some chunky combat boots, and wore this neon fringe look with his name on the top.
21 of 30
January 2020
For his first-ever Grammy's red carpet look, Lil Nas went full-out pretty in pink in Versace. He paired his sheer top with a cropped jacket and buckled details. Elle Woods would approve.
22 of 30
January 2020
While accepting his Grammy Award, the rapper wore an all-white shirt and pants combo, with a wide-brim hat to match. I mean, he does love his hats.
23 of 30
January 2020
For his performance on stage at the event, he went for a Matrix-inspired patent leather trench and an embroidered hat.
24 of 30
February 2020
You know Lil Nas had to be extra sharp for a Tom Ford event. This well-tailored leopard-print suit was the perfect combo of personality and sophistication.
25 of 30
October 2020
Watch out Heidi Klum, there's a new Halloween costume master at work! This was flawless homage to the queen of rap/his personal hero: Nicki Minaj.
26 of 30
October 2020
The hair. The glasses. The earrings. Every about this bright green custom Gucci ensemble at the Billboard Music Awards was giving off even more Prince inspo, and we're not mad at it.
27 of 30
December 2020
Here, he sported a futuristic Santa Claus look around Los Angeles to promote the track "Holiday." He definitely turned some heads wearing the all-metallic outfit.
28 of 30
March 2021
For his lyric-explaining interview with Genius, Lil Nas X looked pretty chill from the neck up. It's the finger armor and structured top that give the look his own personal touch.
29 of 30
April 2021
The music video for the rapper's latest single, "Montero (Call Me By Your Name)" caused quite a bit of conversation. But! No one can say he didn't take major risks fashion-wise.
30 of 30
April 2021
In this look from the "Montero (Call Me By Your Name)" vid, he looked like Marie Antoinette meets Britney Spears in her denim 2001 AMAs gown.
Advertisement – Continue Reading Below
This content is created and maintained by a third party, and imported onto this page to help users provide their email addresses. You may be able to find more information about this and similar content at piano.io