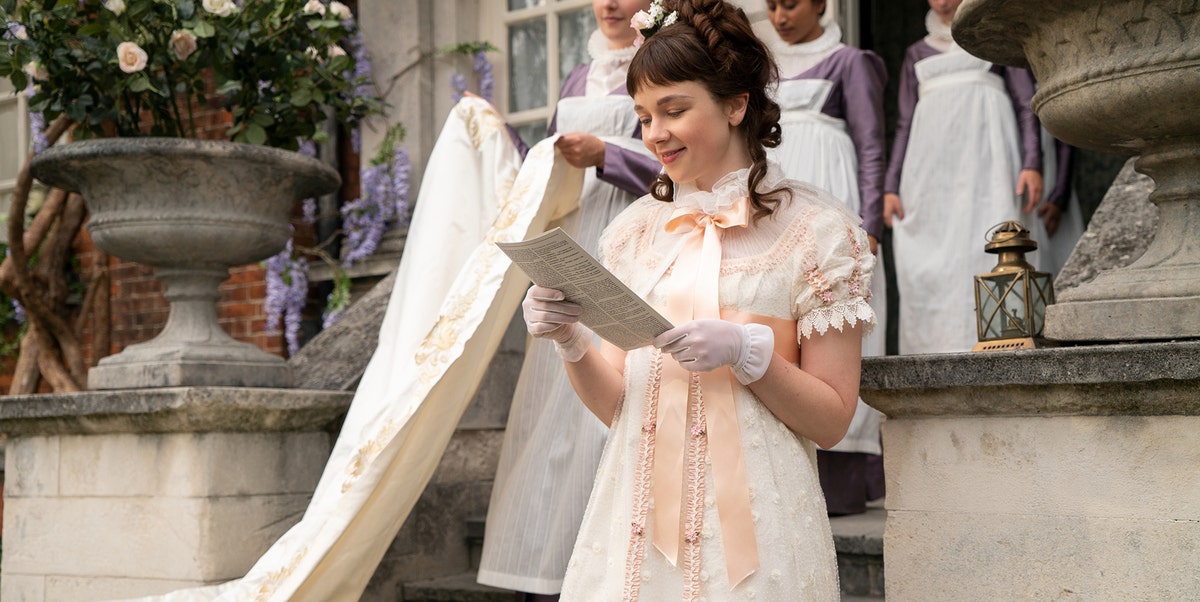 I made a delightful discovery back in December 2020: There might be no better way to close the door on an insane year than by stuffing your face with Christmas cookies and bingeing eight straight episodes of a period drama by Shonda Rhimes. The steamy, lavish Regency-set Bridgerton—Rhimes's first new scripted series as part of her massive deal with Netflix—is not my typical Netflix fodder; I usually find period pieces tired and overstretched. But Bridgerton moves along with the captivating clip of one of those fancy horses the leading ladies ride side-saddle.
The story of Daphne Bridgerton's (Phoebe Dynevor) scheme to avoid a loveless marriage with the doltish Lord Berbrooke (Jamie Beamish)—by stirring up a fake romance with the Duke of Hastings (Regé-Jean Page)—might seem shallow on the surface, but Bridgerton does a delightful job of manifesting real intimacy between the two leads. The result is a fun bit of escapism that still manages to feel significant and special.
So, the question on everyone's lips is, of course, if there's more. And with Netflix's official announcement, it's only a matter of when. Here's everything we know about Bridgerton season 2.
Netflix renewed Bridgerton for season 2 in January 2021.
On January 21, 2021, Netflix officially announced plans for a second chapter in the form of one of Lady Whistledown's infamous gossip pamphlets.
"The incomparable cast of Bridgerton will return to production in the Spring of 2021," the letter explained. "This author has been reliably informed that Lord Anthony Bridgerton intends to dominate the social season. I will have my pen ready to report on any and all of his romantic activities."
When the cast first started hinting that a second season might be on the horizon, we had two additional reasons to suspect the rumors were true: 1) The series has been a huge hit since its debut on Christmas in 2020, and 2) reports from production schedules seem to imply season 2 was already in the works. In particular, a recent listing from Production Weekly shows the season is set to start filming in Uxbridge, England, in March 2021.
Daphne's older brother, Anthony (Jonathan Bailey) will be the focus of season 2.
A book series by Julia Quinn forms the basis of Bridgerton, and just as season 1 focused on Daphne and Simon, the protagonists of The Duke and I, season 2 will chronicle Anthony's own search for love. You see, Anthony—scorned by his former lover, opera singer Siena (Sabrina Bartlett)—is convinced he should marry for duty, not love, and refuses to marry someone he actually cares for. In the book, titled The Viscount Who Loved Me, he chooses a Sheffield daughter as his wife, but Kate Sheffield steps in to protect her younger sister from marriage to London's most famous bachelor. Then Kate realizes her own heart might be at stake. Sounds delectable.
Netflix renewed Bridgerton for seasons 3 and 4 on April 13, 2021, with executive producer Shonda Rhimes telling Vanity Fair the series hopes to follow all eight children, including Hyacinth—when she's old enough.
Simone Ashley will star as Anthony's love interest.
On February 15, news broke that Sex Education actress Simone Ashley will star as Kate Sharma, based on the Kate Sheffield of the books. According to Netflix, she's a "smart, headstrong young woman who suffers no fools—Anthony Bridgerton very much included." Ashley's casting reaffirms Bridgerton's commitment to reinventing the Regency era with a much more diverse high-class society.
"Anthony is going to have a love interest next season, and I think it's going to be as sweeping and moving and as beautiful as viewers of the first season have come to expect from the show," showrunner Chris Van Dusen told Today with Hoda & Jenna in January.
Season 2 is now filming.
On April 13, 2021, Vanity Fair confirmed the new season starts filming this week. The series held its first season 2 table read on Monday, March 29, according to The Hollywood Reporter.
The first photos see Anthony and Kate attending a horse race.
On May 1, 2021, People published paparazzi photos of Bailey and Ashley filming season 2—the first look at the new set of episodes. Though grainy, the pics promise lots of chemistry, along with Bridgerton's signature candy-colored costumes.
Regé-Jean Page will not return for season 2.
Per Deadline, Page will not be coming back for the second season of the popular Netflix series. The publication notes that the star was only contracted for one season, but his character will be mentioned on the show.
The series' Twitter account also announced the news.
This content is imported from Twitter. You may be able to find the same content in another format, or you may be able to find more information, at their web site.
In an interview with Variety, Page explained why he appreciated the single-season commitment for Bridgerton: "It's a one-season arc. It's going to have a beginning, middle, end—give us a year," he explained. "…It felt like a limited series. I get to come in, I get to contribute my bit and then the Bridgerton family rolls on."
He continued, "I have nothing but excitement for Bridgerton continuing to steam train off and conquer the globe," he says. "But there is also value in completing these arcs and sticking the landing."
The actor also posted a tribute to his time on the show on his Instagram.
This content is imported from Instagram. You may be able to find the same content in another format, or you may be able to find more information, at their web site.
Such a revelation is interesting, considering that, in December, Page told TV Guide he wanted to see more of Daphne and Simon's relationship in season 2. "As far as continuing to explore characters, I think that love is an evolving thing," he said. "It's a living, breathing thing that needs tending, that needs looking after, that needs mending when it gets worn or torn. They get married very young. They still have a lot of growing to do. They have a lot to do, and I think it'll always be fun to watch them do that together."
Page was reportedly never supposed to appear in season 2.
In fact, production didn't ask him to return until early 2021, weeks after the series became a blockbuster Netflix hit, according to an April 6 report in The Hollywood Reporter: "With Page's film career taking off and an awareness that Simon would not be a focal point in season two, the actor declined to return to the Shondaland drama."
Kate's sister, Edwina, has also been cast.

Deadline confirmed on April 1 that Charithra Chandran has been cast in the role of Kate's younger sister, Edwina. As Variety reports, "She's kind-natured and endlessly endearing. But while she may be young and naive, she also knows what she wants: a true love match."
This content is imported from Instagram. You may be able to find the same content in another format, or you may be able to find more information, at their web site.
This is Chandran's first major role; she has one previous IMDB credit for the show Alex Rider.
Other new cast members include Shelley Conn, Calam Lynch, and Rupert Young.
Say hello to the Sharma matriarch: Conn (Charlie and the Chocolate Factory, Nina's Heavenly Delights) will play Kate and Edwina's mother, Mary Sharma, an Earl's daughter who's no stranger to controversy—her marriage to a tradesman threw her family into scandal, Variety reports.
Meanwhile, Calam Lynch (Derry Girls) will play Theo Sharpe, a printer's assistant and "an intellectual who fights for the rights for all."
Finally, Rupert Young (Merlin) will star as the mysteriously named "Jack," simply described as a well-connected new member of the ton. Deadline reports the character is completely new and does not appear in the books; he also boasts "a connection to…a Bridgerton mystery." Intriguing!
The rest of the cast is excited to return.
Dynevor told ELLE.com she would love to come back to the show, so long as she gets to have a little fun with Jonathan Bailey's character, Anthony. "I want to see Daphne get involved in Anthony's love life a bit, as he sort of meddled with hers quite a lot," she joked. "I think that will be fun."
Nicola Coughlan, who plays the darling Penelope Featherington, has her own plans: She told Radio Times she, too, is thrilled come back for more—especially if Penelope gets more screen time. "I'd love to go on that journey with [Penelope], to see how she's changed," she said. "I'd really love to come back, because I feel like we've just scratched the surface. And because there's such a huge cast in this show, there's so much more of all the characters."
The creator is already gunning for, well…seven more seasons.
In an interview with Collider, Bridgerton creator Chris Van Dusen said he has big plans for the future. In keeping with the eight books that make up the Bridgerton series, he's hoping for eight total seasons of the Netflix show as well.
"This being a family of eight children and there being eight books, I would love to be able to focus and really tell stories and love stories for all the Bridgerton siblings. For each character, for sure," he said. When Collider asked to confirm if that meant he wanted eight seasons, he responded, "I would love that. In success, I would love that."
If all goes well, we can expect more of those delicious "married ladies" parties.
In season 1, Lady Danbury (a delightful Adjoa Andoh) hosts a party for married women to gamble, drink, and generally get into trouble. Even the picture-perfect Daphne gets involved! Andoh says she wants to see much more of this.
"I would love to really develop those female friendships, for Lady Danbury to be a sort of conduit for doing that. For making things happen. For making space for these women to develop," she told Decider. "I would love to see some development of the friendships between the older women, particularly, and also more of that bohemian, artistic scene."
Lady Whistledown might reveal herself…at least to one character.
We learn at the end of the series that Lady Whistledown is not, in fact, the modiste (Genevieve Delacroix)—she's the seemingly innocent Penelope. Says Claudia Jessie, who plays Penelope's best friend Eloise, that revelation might finally be spilled to the people of the ton…and it could change everything.
"Eloise and Penelope's relationship is gonna change!" she told Decider. "Obviously they're best mates, but there's a lot that Penelope hasn't shared with Eloise. And I'm sure there are loads of secret love and romantic desires that Eloise has had that she hasn't been brave enough to share."
"I'd hate to think of the fallout that's gonna happen with Eloise," Coughlan added. "That like, makes me feel like ill inside."
This content is created and maintained by a third party, and imported onto this page to help users provide their email addresses. You may be able to find more information about this and similar content at piano.io