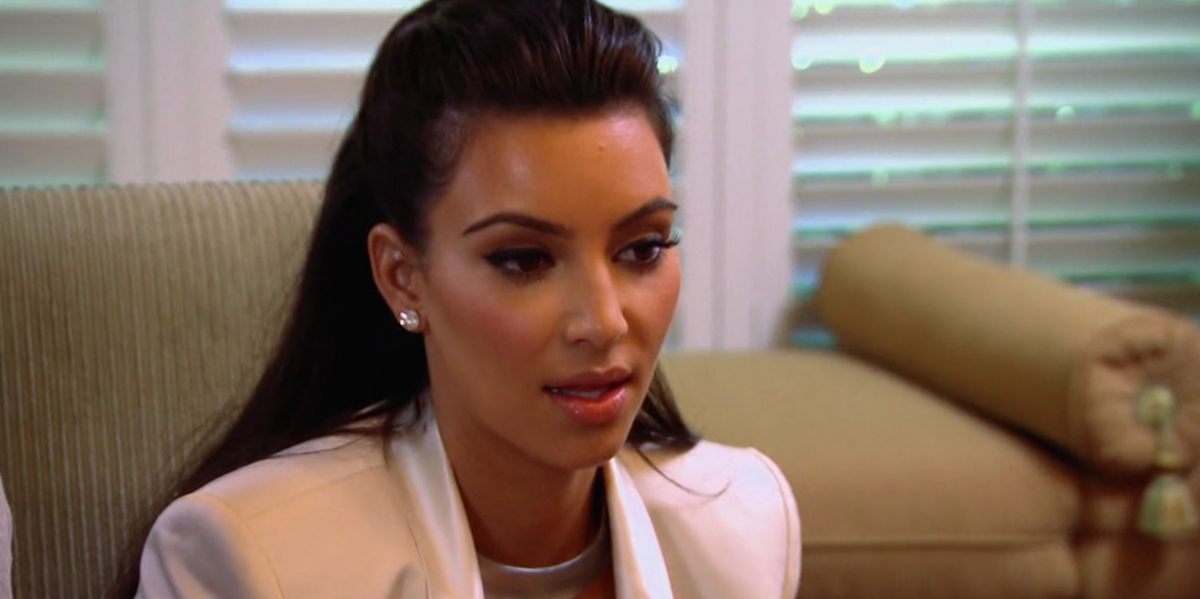 Not sure if you're aware, but every single episode of Keeping Up with the Kardashians (not to be confused with totally different and original show The Kardashians) is available to stream on Hulu, and let me tell you: the re-watch is wild. Mostly because of the many hilarious and questionable things that this family got up to before they were A-list levels of famous, but also because their fashion was truly unhinged in the best way possible. Like, before Kim dressed herself exclusively in Balenciaga, her style was best described as ¯_(ツ)_/¯ while Kourtney was a long way from being the unofficial Hot Topic mascot she is today. That said, who wasn't wearing platform fur boots and juicy tracksuits during this era? It was! a vibe!
Due to spending hours (weeks?) of our lives re-watching every single episode of Keeping Up with the Kardashians instead of doing…literally anything else…we've amassed a huge collection of archival outfits from the early seasons of KUWTK that I can only assume The Library of Congress will be filing away any moment now. My personal favorite? Kris Jenner naked and wearing only a flag, which I think we can all agree is one of the finer moments in our nation's history. On that note, check out 50 outfits you fully forgot the Kardashians wore on camera but will live on forever in our minds, and, obviously, this gallery.
When Kim Wore This Pussy Bow Shirt
Can only assume Kanye burned this during the closet makeover.
And When She Wore This Plastic Headband
It's giving Lauren Conrad from The Hills and we're here for it.
When She Decided There Was No Such Thing as Too Many Necklaces
If you aren't wearing a giant gold necklace with your initials, what are you even doing?
When Kim Wore These Earrings
When Kris Did This Iconic Nude Shoot
I, for one, have never felt more patriotic.
When Kourtney Was in Her Mini Vest Era
2022 Kourtney would simply never.
When Kim Wore This Fabulous Bikini
I believe this was when Kim poetically declared, "My jiggle is out for the world to see! There's no covering it!"
When Khloé Had These Bangs
And When She Wore This Bandana
Choices continued to be made.
And This Bandana
She was in her bandana era, if you will.
When Kim Stepped Out in This Jacket
Have no choice but to assume it's Ed Hardy.
When Khloé Wore This Coat
Honestly, having a hard time focusing on the coat due to being attacked by the various patterns on the furniture behind her.
Honestly, She Loved a Plaid
She looks like she's attending CPAC.
When Kylie Had This Hair Streak
Little did everyone know they were chilling with a future billionaire.
When Khloé Wore This Giant Green Hat
I have questions and none of them are rhetorical!
And This…Headband?
Upon closer reflection, I'm not confident Khloé knows how a headband works.
When Scott Showed Up in This
Not the over-the-shoulder sweater!
When Kim Did Her Iconic Famous Cupcakes Photo Shoot
Cupcakes, as a confection, were never the same after this.
When Kim Brought This Sad Lost Dog to the Pound
He hasn't been seen or heard from since, but at least her outfit was cute.
When Scott Entered His Cardigan Era
The Hamburgler could never!
And Then Kris Wore This
Update: Hamburgler found deceased.
When Jonathan Cheban Rocked This Hair
The Outfits Kourt and Scott Wore to Therapy
Scott's serving pure, unadulterated Christian Bale in American Psycho.
When Kris Wore This for Scott's Birthday
Is it a shirt? Is it a necklace? Is it a necklace attached to a shirt? The world may never know.
When Khloé and Kourt Hit the Beach in These Fits
Stressing out over the tan lines that might be happening here.
When Khloé Wore a Fedora to Family Game Night
More importantly, cheese.
When Kris Wore Yet Another Amazing Sweater
Kris' face = me re-watching this show.
When Kourtney Was in Her Indoor Scarf Era
Reminder: they live in Los Angeles.
Kim's Street Style Moment
I demand she bring this back for Fall 2022.
When Kylie Wore This Headband
When Kris Was Casually Playing Pool in This
You don't wear a purple bodycon leapord print dress to play pool at home? Weird.
When Kim Wore This Confusing Shirt
Someone get Balenciaga on the phone, this is an emergency.
When Kris Wore This in Greece
And Kourtney Wore This in Greece
Honestly, the Kardashians' Greece trip was a lot to process. Which brings me to…
When Everyone Wore Flower Crowns at Kim's Baby Shower
Kardashians but make it Midsommar.
When Kim got Married to Kris Humphries
Every other headband moment has been leading up to this.
And When She Wore This to Sign Her Marriage License
The face of someone who definitely wants to get married!!!!
When Kim Attempted to Play Tennis
Give her the Wimbledon trophy, you cowards!
And When She Attempted to Play Golf
Gotta appreciate her commitment to the looks.
When Kris Mixed Every Available Print
She looks incredible, tbh.
When Kourtney Wore This Floppy Hat
The Kardashians wear many hats. Quite literally.
When Kris Matched Her Hair Rollers to Her Shirt
When Kourt and Kim Wore These Bikinis
Inspo for the next Skims swimwear launch?
When Kim Wore a Blonde Wig
Please be advised that she exclusively spoke in a Southern accent while wearing this.
When Kris Wore This Off-the-Shoulder Number
When Kourtney Wore What I Can Only Assume Is a Bump-It
The higher the hair, the closer to god Kris Jenner.
When Khloé Wore This Vaguely Sideways Baseball Hat
Truly, just, nonstop hats on this show.
When Kim Ventured Out in Lime Green
Somewhere, Kanye is screaming.
When Kourtney Looked, Honestly, Super Chic
Bangs, silk, and a bold red lip just work for her!
This content is created and maintained by a third party, and imported onto this page to help users provide their email addresses. You may be able to find more information about this and similar content at piano.io