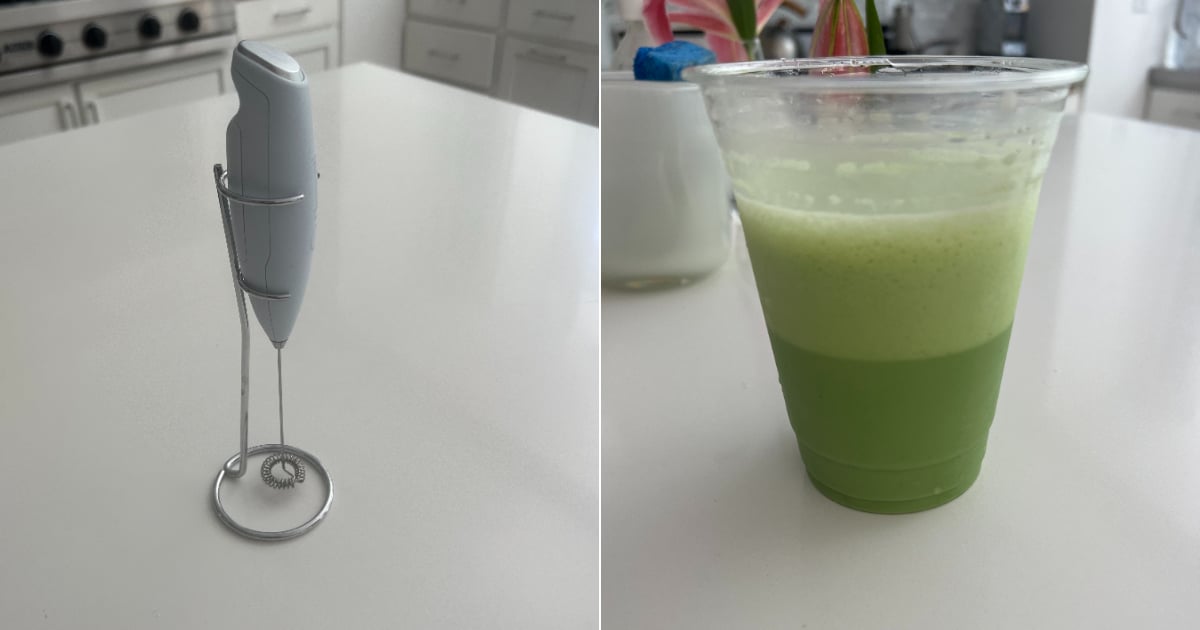 Without exaggeration, my matcha latte is what gets me out of bed every day. It's my favorite part of every morning, and though I've been drinking matcha for almost seven years, I only perfected my at-home technique in 2020. Now, I kind of think I make it better than any coffee shop or teahouse. My recipe is a bit specific, with a particular kind of tea I love and a few required tools, but hands down, the most important addition is the Zulay Milk Frother ($15, originally $22) that I bought on Amazon. I love this milk frother so much, I took it with me on a recent European vacation, and I will bring it anywhere I plan on staying longer than two days. Plus, I'm not alone; Ashley Graham is also a fan of this frother.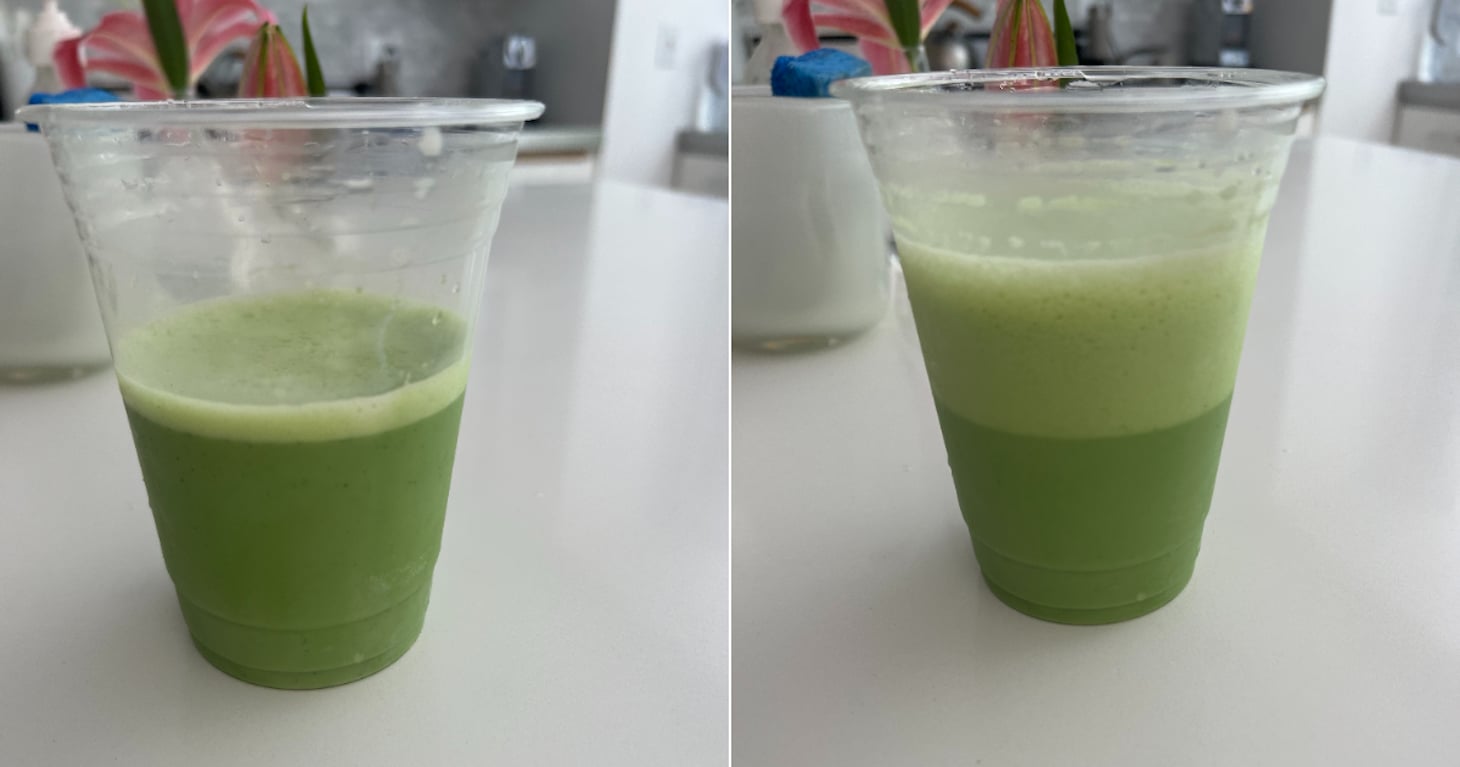 What I Like About the Zulay Milk Frother
It might sound obvious, but the best thing about this milk frother is, you guessed it, its ability to froth. You can see the difference in the matcha latte before and after frothing above. I had a different handheld milk frother before this, and it's like comparing a Toyota to a Ferrari. No disrespect to the Toyotas of the world, but the power and speed are incomparable. It moves so fast, and the benefit to that is it froths like no other. I vastly prefer this frother to both other handheld varieties and more expensive frothers that work automatically. I make my matcha with two ounces of water, then add the remaining water and milk combination to make my latte, and that's when I use this product. The creaminess and lightness I get from this milk frother are what make my matcha lattes so delectable, and when I add some powdered collagen to the mix, it takes the drink to a whole other level.
What's Worth Noting About the Zulay Milk Frother
This Zulay Milk Frother ($16, originally $26) needs two AA batteries to work. It has a button at the top that you press down to make it froth. In my experience, the speed and intensity of the machine will vary based on the pressure you put on the button, so if you want more or less power, you can play around with it and adjust to your ideal speed. Also, cleaning couldn't be easier; you just run it under some warm water (cold works too in a pinch) and turn it on for a few seconds. Voila! No scrubbing or dishwashing required.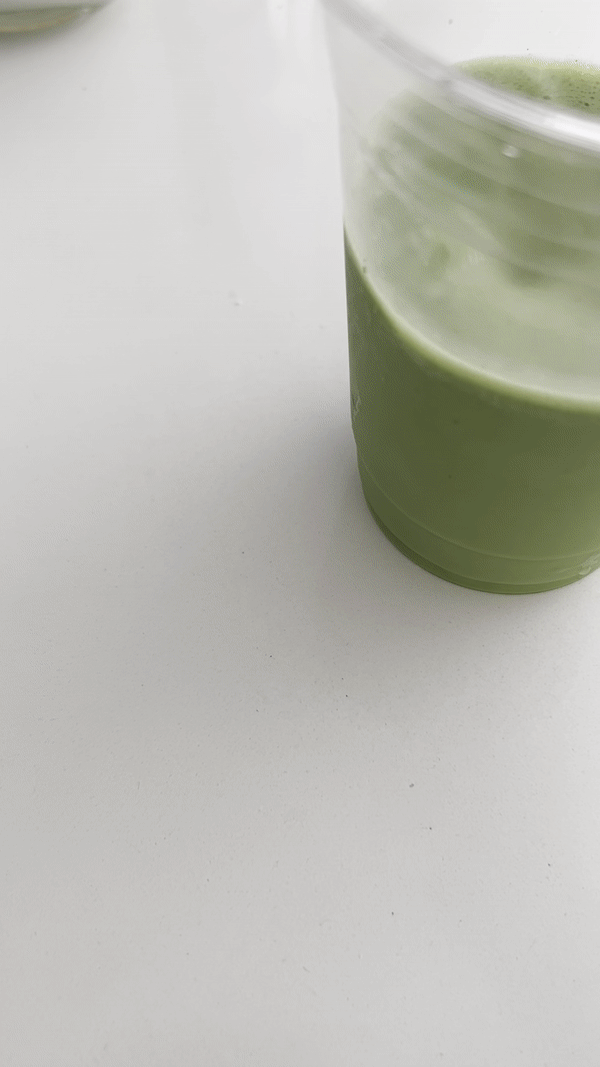 Who the Zulay Milk Frother Is Best For
This milk frother is best for people who like really frothed drinks but don't mind if the foam isn't warm. It's also great for people on the go or who need to make coffee or tea in a communal space like an office kitchen. If you don't have a ton of counter space in your kitchen and want to make a yummy drink quickly, I recommend this frother.
Additional Details
This milk frother comes in a whopping 42 colors, so you can pick your favorite shade.
It's also very affordable, as in under-$20 affordable.
It comes with a little metal stand, so it's very easy to store. I keep mine in a cupboard in my kitchen along with my measuring cups.
This is also a tool that can be used for scrambling eggs or adding protein powder to drinks; it's not exclusively for coffee and tea.
Making matcha requires two steps: whisking a shot of matcha and then adding the remaining liquid mixture, usually some combination of milk and water. Purists will say the whisking of the matcha should only be done with a bamboo whisk, but as someone who's used both, this works just fine. It's most important that you're using a high-quality powder if you want matcha that's well-blended and not chalky.

Where the Zulay Milk Frother Is Available
Image Source: POPSUGAR Photography / India Yaffe