Image Source: James McCloud
Sunday's Grammy Awards were basically a three-and-a-half-hour concert lined back-to-back with performances that both wowed us with the sheer level of glam and spoke to important social justice issues. One such memorable moment was Roddy Ricch's stripped down medley of "Heartless" and "The Box," performed alongside a talented ensemble of musicians, including Instagram-famous harpist Madison Calley. In an interview with POPSUGAR, Calley spilled some behind-the-scenes details about what it was like to prepare for her Grammys debut, including the styling directions they were given, meeting Ricch, and how she was almost cut from the performance entirely.
""It was very last minute," she said. "I hadn't heard anything and I was wondering should I be practicing something or what?"
Calley was first recruited for the performance after being spotted by Stephanie Matthews, the owner of entertainment company StringCandy, who follows her on social media. "It's interesting how the whole thing came about, because initially, I got cut from the performance," she told POPSUGAR. "I got an email and it was like, 'Hi, I'm so-and-so from Roddy Ricch's team. I'm sorry to inform you guys that we won't be needing you for the performance. The Grammys have decided to go in another different creative direction, but we'll keep you in mind for other performances.' And so I was like, 'Oh, that's who the performance is with.' I didn't know beforehand. I had just happened to do a cover of Rockstar for the REVOLT TV Summit, and so I forwarded his manager my performance video of the song, and then his manager emailed me back right away and was like, 'Wow, this is so amazing. I've forwarded this to the team and we're going to be in touch.'" The next day, Calley received a call that she was back in the show and the performance would be altered to accommodate her harp.
Next to learning her music, Calley was focused on what to wear for her Grammys debut. "They said [to wear] black; it was like dressy, but not tuxedo," she said. "So I was looking for some dresses that didn't look too fancy but look sharp. And so I ended up finding the dress that I wore and then they had a stylist there and so she kind of gave us a little direction on the finishing touches. I had to wear tights with it, and then I found some little black shoes that match."
When it came time to practicing for the actual show, Calley only had one week to prepare. "It was very last minute," she said. "I hadn't heard anything and I was wondering should I be practicing something or what? I had no clue what I was going to play . . . It was a little hectic because we do a number of run-throughs so that he can get down the camera movements and make sure that everyone's moving in the right direction and doing certain things at certain times for close-up shots . . . but the recording and the part that we were playing was already solidified probably like a week before the performance."
During practice, Calley met Ricch — who actually turned out to be a friend of a friend — and noted that "he was really, really nice and definitely a pro, and knows exactly what he wants down to the very technical aspects of everything dealing with the song and the performance." Come the night of the Grammys, Calley said she wasn't nervous because she felt prepared. She was also impressed with the new format of the show, which excluded the typical audience of celebrities in favor of fellow musicians watching each other play on the sidelines. "It went really well, and I was actually really impressed about how they showed the Grammys this year and how creative everyone got with their performances," she said. "It was a very intimate setting. I feel like they've set a new standard for these shows."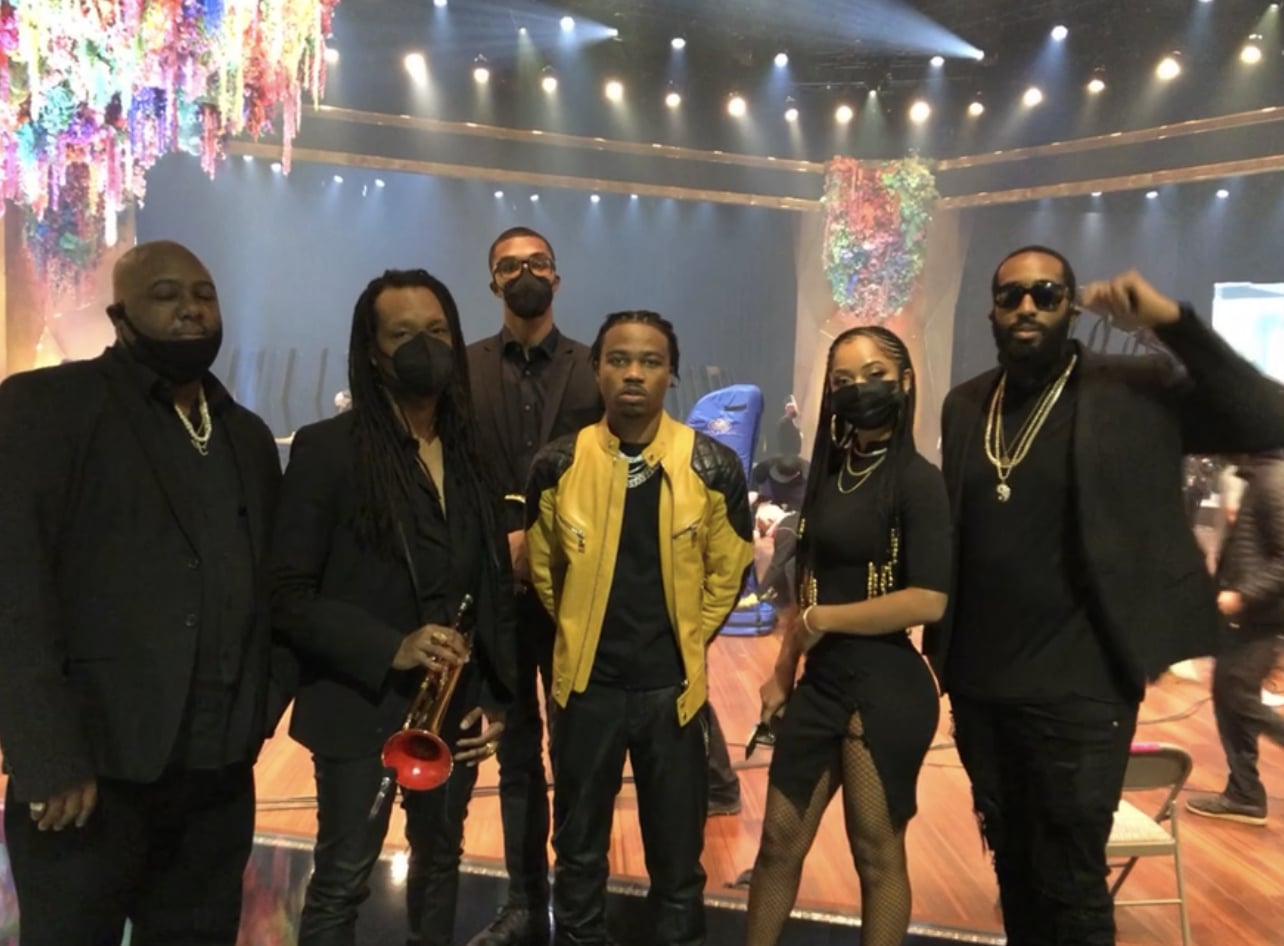 Image Source: Madison Calley
When she's not performing on one of the biggest musical stages in the world, Calley, who plans to put out an album later this year, posts covers of popular songs on her YouTube and Instagram accounts, surrounded by the many plants she's accumulated since the start of quarantine. "It's become a hobby of mine. There's a garden store maybe three houses down from me and so I've just gone a little plant crazy." Some of her favorite artists include Sade, Solange, Rihanna, Beyoncé, Erykah Badu, and Lauryn Hill, but she also loves jazz music, which she says has proven to be the most challenging genre to adapt to the harp.
Reflecting on the experience as a whole, Calley said, "Everyone's been super supportive and I'm really, really grateful for everyone that follows me. I can genuinely feel that they're rooting for me and that is everything. And it motivates me to keep going." Watch Calley's full performance of "Heartless" and "The Box" alongside Roddy Ricch here.