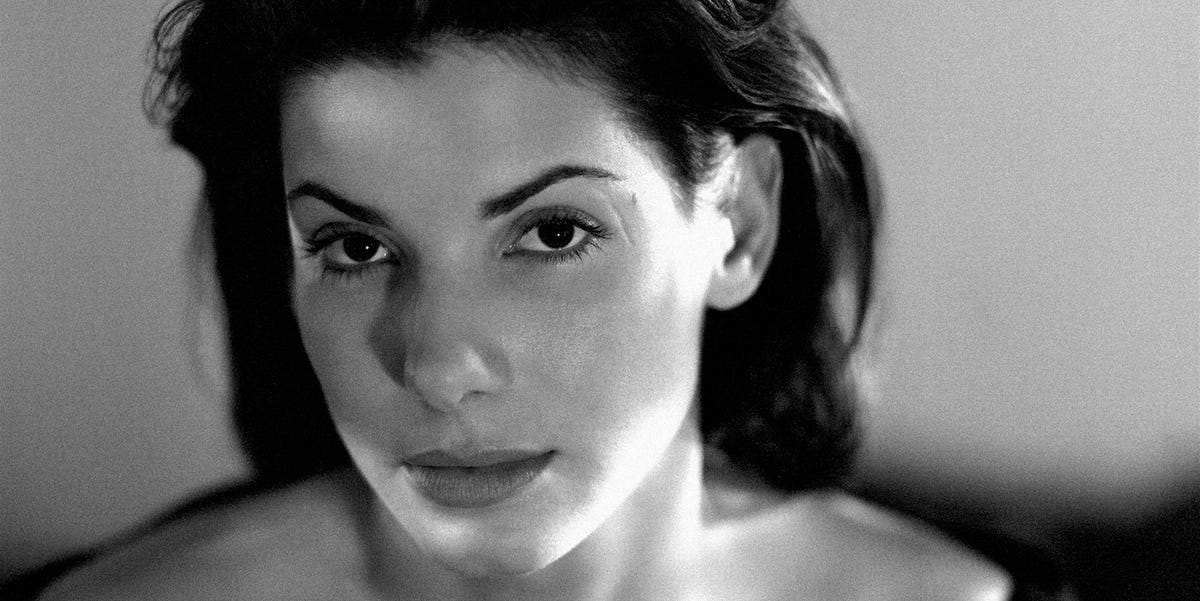 Before she emerged as one of the powerhouse actress/producers of her generation, Sandra Bullock made us take notice in Speed (1994), where she stole the show from co-stars Keanu Reeves, Jeff Daniels, and Dennis Hopper. It seemed like she came out of nowhere, but Bullock had paid dues for years. And as the child of performers—both parents were opera singers—she was already experienced beyond her years when Chris Chase caught up with her for the November 1994 issue of Cosmo. —Alex Belth, Hearst historian
---
Sandra Bullock, one of the stars of the hit movie Speed, is sitting on the floor scarfing down cheese and crackers and drinking a Diet Coke. "If I've got cheese on me, just let me know," she says.
She is wearing striped cotton pants and a white T-shirt, both perfectly cheese-free, and she is probably the only actress ever sent to New York City to do publicity who asked to have her hotel accommodations downgraded. "I mean they gave me the upstairs floor of this place, and I'm like, What am I going to do? Throw a party for four hundred?"
Now, in more modest quarters, she's content. "You know what's great about New York? You don't need to drive. Like last night, after a tremendously long photo shoot, I just wanted to smell things, and it was so nice walking. Some guy's selling incense, people are yelling at each other. And I was thinking, I complain a lot, I always want more, but carpe diem. Right now, carpe diem."
In Latin or English, she is seizing the day. Her next picture, While You Were Sleeping, is set in Brooklyn; and she hopes it will be shot in the East. "The first thing I would do is take the money they give you to live off—they're very generous—put a deposit on an old loft downtown, and start sanding. By the time the picture was done, I'd have a great place."
At the age of twenty-seven, Bullock is more practical than many of her peers. It's been reported that she'll make $1.2 million for While You Were Sleeping, a rumor she doesn't deny but is slightly defensive about. "Somebody once said, 'Show me a great artist, and I'll show you a lousy businesswoman.' I don't want to be stupidly looking at a contract and saying, 'Okay, I'll sign it,' and later realizing I have nothing. So I've forced myself to be very smart businesswise. When I'm old and gray, who's going to take care of me? Nobody but me.
"My mother instilled that in me and my sister. 'Make your own way, because what if you're married to someone and all of a sudden he dies? Or he leaves you? You don't need a man to get where you want to go. Make your own money, get your own career together, and then if you happen to meet a great guy, you'll meet him on a good level.'"
Bullock's mother is German-born, her father comes from Alabama, and they met—presumably on a good level—in Germany. "My father had a civilian job with the Pentagon, and my mother was his secretary. They're both mavericks. My dad was the youngest of eight children; he worked as a blacksmith to get to Julliard to become an opera singer. My mother's mother was widowed with three girls to raise, and my mother—like my father—said, 'I'm going to be an opera singer.'
"She's this hot-looking chick with a German accent, he's this good ole Southern boy, and they're both artists. It's neat now that I'm an adult, but as a child, it was 'Why can't you be normal people? Why do you have to be opera singers?' Nobody in our neighborhood—we lived in Arlington, Virginia—was an opera singer. When other kids would hear the lessons going on in the house, it was so embarrassing. My sister and I would think, Please, can you tone it down a little? We wanted them banned to the closet."
Helga Bullock was away from home a lot. "My mother's career was doing well in Austria and Germany, and my father said, 'Go do the opera season; I'll be here teaching.' She would take me and my sister with her—the opera is a great baby-sitting service. In just about any opera, there's a gypsy child in the background. That was my part. My mother would shove me upstage and say, 'Stay there.'
"It only became difficult when I hit like twelve and thirteen. It was hard to come back to the States and try to fit into junior high. Being thirteen is hard anyway, and here I was, not being the same as everybody else, and my mother wanted to keep me original. She was telling me, 'You don't need to conform.' But to be accepted, you needed to conform, and I was angry because she didn't understand and because I didn't want to travel anymore."
From the start, Bullock knew she wanted to be in the theater, but when it came time for college, she enrolled in East Carolina University. "My father would have preferred a school of the arts, but I wanted to go to a place that was normal, where there were boys, where I could hang out and go to football games and grow up. I was not ready to be thrown into a highly competitive situation."
Four years later, she was ready. "I left home at twenty-one. I just said, 'I'm going to New York.' There's so much fear of failure in me that if I think too much about something, I won't do it, so I sort of do things blindly. I packed up my little Honda Accord and my little dog and put all my junk in the hatchback, and I went. My parents were supportive—they said, 'Whatever you do, do it a hundred percent.' They'd had to struggle as artists, they'd beat a lot of odds, they expected no less from me."
In New York, she waitressed, which meant she wouldn't starve, and she also had somewhere to stay; her father kept an apartment in an old prewar building where he came once a month to give singing lessons. "It wasn't plush," she says, "but I don't need a lot of things."
At college, she'd drowned in technique—"I was so busy working at my craft that I didn't know how to use what I'd learned"—and now she was determined to stop worrying about styles and methods. "I decided, I'm going to just barge in an audition. I'm going to do little independent NYU films and learn how to hit my mark. Backstage magazine was my best friend. I did what everybody else does when they get here. You go to the cattle calls, you send pictures, you're lucky if they call you back.
"And I made a lot of mistakes. Just barreling into casting offices wasn't so wise because people remember. Later, I'd hear some casting director had said, 'I hate her work,' and I'd have to go back and re-audition. I'd say, 'Look, I didn't know what I was doing, but I had to learn somehow.' There's so much rejection; if you take it to heart, you're lost."
Her first New York break came off-Broadway, in a play called No Time Flat. "I played a Southern belle, and John Simon wrote something really nice about me. People were going, 'What? John Simon?' And that got me an agent. I didn't know from reviewers. I was just lucky."
In 1989, Bullock made two TV movies, The Bionic Showdown and The Preppy Murder, after which, despite her fear of L.A., she headed west and bunked with a friend in the Valley. "I had a rent-a-wreck, and I'd drive over the canyons every day to audition, and the car wouldn't go more than twenty miles an hour. So I'm sputtering up Bel Air Canyon, putt putt putt, and all these Jaguars are blowing their horns, and I'm like, Hey, I'm sorry, I'm just trying to make an honest living here."
In 1990, she worked, though most of the things she worked in nobody saw. She got the lead—the Melanie Griffith part—in a TV series based on Working Girl, but the series flopped; she also made a movie called Fire on the Amazon, which rendered her a nervous wreck because she had to do a naked love scene, and she didn't believe the director's promise not to show "any private parts." She masked her nipples with tape and threw up when the scene was over.
Ninety-one was even worse. "My season in hell," Bullock has called it. Almost no jobs, except for a movie called Love Potion No. 9, costarring her and Tate Donovan (they played scientists—she had buck teeth and a mustache—who invent a drug that turns them into sex objects). The love potion worked on Bullock and Donovan ("Three and a half years, the same guy," she says, "it's partly loyalty and partly stubbornness") but had no effect on the public, which stayed home. So did Bullock, waiting for her big break and watching her meager saving evaporate.
In 1992, everything turned around. There was The Vanishing, with Jeff Bridges and Kiefer Sutherland, and then one glorious afternoon, Bullock learned she'd be cast in two new movies, The Thing Called Love and Wrestling Ernest Hemingway. She was still reeling from this when Joel Silver chose her to play opposite Sylvester Stallone and Wesley Snipes in Demolition Man.
Speed was only a heartbeat away. And Speed did it. Bullock drove a bus—with a bomb on it—to fame and fortune. A critic for Rolling Stone said she raced off with the picture, adding that she'd have been a star sooner if her earlier films had only been "less dreary."
She's grateful for the compliment but disagrees. "I love small, noncommercial films. Wrestling Ernest Hemingway was beautiful. Richard Harris and Robert Duvall played these two old guys at the end of their lives. They're on the loneliness road, and I played a waitress who was lonely too, trying to find her way. Randa Haines is a brilliant director—she's not afraid to let a scene play out quietly—and Shirley MacLaine was wonderful, and Piper Laurie was wonderful, and I hope people rent it.
"The actors were all so talented, I would walk on the set every day with a stupid grin on my face. Same with The Thing Called Love, on a younger scale."
The Thing Called Love was the last picture River Phoenix completed before he died of a drug overdose. Had she seen any sign that he was in trouble?
"I wouldn't have known what to look for," she say. "But sometimes you meet people who are too good to handle the bad in this world, and I feel that's what happened with River. As an actor, he didn't play anything that wasn't honest, and in life, he was the same. If he had something to say to you, he'd say it, even if it made you want to punch him. So many people BS, but I trusted him."
Asked if she ever gets a crush on a fellow actor, she says, sure. "There are times when you come whistling to work. Crushes are wonderful—they make you feel like you're two years old, and you say the stupidest things. But I don't want to put myself in a position where I'm going to get in trouble, so I spend all my time in my trailer.
"On The Thing Called Love, my friend Samantha Mathis was in the cast, and she thought I was so funny. She would tell me she and River and Dermot Mulroney were going out to dinner and I should come, and she say I would go, 'No, no, I have to stay and read; I'm reading.'
"I don't go out to dinner, I go the other way. And if I develop a crush, it's quiet as quiet. I assume that everybody can see it, but like they say, give it two weeks.
"There's a lot of temptation out there, but give it two weeks. By then, it's Oh, well, he's just like everybody else. He just happens to have green eyes.
"Chemistry is natural; you can't deny it. If you have rapport with someone, and it comes across on the screen, there's obviously an affection there, but it doesn't mean you're going to go off and have a torrid affair."
Chemistry, she says, won her the role in Speed. "After Demolition Man, I didn't want to do another action film, but then I read the script and I was like, Oh, man, nobody should play this but me, so I agreed to go in and read with Keanu Reeves. And there's like fifteen other women reading too, and you know that whoever has the best rapport with Keanu is going to get the part.
"I thought he'd be this longhaired wild child, but I got in there, and he was completely transformed. He was huge, with a shaved heard. That took me aback—this was not the person I'd thought he was. And when we read together, there was such ease. I knew the studio wanted a busty blonde with long legs, but the director, Jan De Bont, fought for me, and I appreciate that more than he'll ever know."
There was much to appreciate. With a forty-million-dollar movie comes perks. Free meals, free hotel rooms, free haircuts. And with that particular forty-million-dollar movie came great reviews and great ticket sales.
After Speed, Bullock took six months off. "I wanted to wait for a great project. That's difficult for an actor, because you get neurotic; you think you'll never work again. But I'd worked nineteen months straight. I had nothing fresh to give another role, I was so burned out. Luckily, I had my house. I bought a really old—1936—house up in the oldest canyon in Los Angeles and stripped it, restored it to the original. It was the best thing for me, manual labor kept me sane; it kept my mind off all the mental anguish I put myself through and put it on manual anguish.
"My father buys old places and does them over, and he came out, and he'd install a toilet, and I'd tile the kitchen, and I've never been happier. I had bruised knuckles and scabbed knees, and friends would invite me to dinner and say, 'Sandy, put on some gloves and wear long pants; we don't want to see all that.'"
Even with a house in the hills to show she's made it, Bullock does not behave like a movie star. "At the premiere for Speed, I was hiding behind Keanu's back. I love to behind the scenes watching, but I can't command a crowd. I'm in the corner, sweating: I didn't wear the right thing, I don't look good enough, I spilled a drink all over my dress, I'm running into furniture. I'd rather just do the job."
But what about those publicity shots of her in short skirts and high heels and décolletage and ankle bracelets? "It's a game," she says, "I love it, but then I see the pictures, and I think, My God, that's me? In my life, I run around in overalls and clunky boots."
Sometimes her boyfriend (the previously-referred-to Tate Donovan) thinks she ought to lose the baggy T-shirts and let the world see how sexy she is. "I say, 'Why? It's nobody's business but yours and mine what goes on in my bedroom. Next thing you know, I'll have to buy the Wonderbra!'"
She's also cautious about using the word love. "I have a hard time saying it. People use that word so freely. Someone I barely know will say, 'I love you, talk to you soon.' I'm thinking, You love me? You mean if I were old and gray you would stay by my bed and help me to the bathroom?"
Sandra Bullock, old and gray; it's a theme she comes back to time and again: "Who's gonna be there when I'm old and gray?" Maybe Tate Donovan will be there.
"I do love him," she says, breaking down and uttering the L-word. "But he knows I'm petrified of marriage. I have this dream that I'm walking down the aisle, and as soon as I say 'I do,' I look over at the person opposite me, and this gloom comes over me, and I look back down the aisle and in the doorway is this little guy, backlit, and my heart sinks, I was supposed to marry him. I'm just afraid I'm going to marry somebody, and he's going to turn out to be an ax murderer.
"I hope one day I'll be ready to take the great romantic step. They say when you know, you know. You wake up one day and go, Okay, I do. I hope."
For the moment, she and Donovan are satisfied. "It's hard for me to click with somebody," she says. "I saw this poster in L.A. with a girl saying, 'I'm becoming the man I've always wanted to marry.' And you know what's funny? I'm doing exactly that. So I don't have to look to Tate for anything except a great playground. A jungle gym. Somebody who's there to enjoy life with me." Is he jealous, now that she's so much in demand?
"He's Irish," she says. "Very emotional. He pushes me—'Go wherever you want to go'—but then he says, 'Who's that guy you were talking to? He's mighty good-looking.'"
She's a tiny bit jealous herself. "Tate's an amazing actor, and I always think, every time he goes off to work, There are so many beautiful women, they're going to steal him away, and I'll be left here going, What do I do now?"
Does she want children? "Right now, I'm too career-minded," she says truthfully. "I'm sure my priorities will switch, but now I'm just so driven and so happy being in chaos and in work."
She's crazy about the script of While You Were Sleeping. "It's a great romantic comedy. Demi Moore wasn't able to do it because they couldn't work out her scheduling—I should call and thank her for being too busy"—and she's thrilled with the clout her new success has brought her.
"It allows me to have my own production company. I can make small films with my friends, employ them, option their scripts; I can pay off the house; I won't have to worry when I'm old and gray and alone. It always comes back to when I'm old and alone because I never assume anybody will be by my side. I always think the worst, so if I get a little extra, it's like wow!"
These days, it's more than a little extra. She's due to start filming Two if by Sea, costarring Denis Leary, sometime in March. Offers are rolling in, big offers. But if she were not what she refers to as "a viable commodity," if the work dried up, would her life be over? "Nope. I would redo houses, I would produce plays, I would do something. I'm like a shark. If I stop, I'll just die; if I keep moving, I'm okay."
Carpe diem, right now, carpe diem.