Image Source: Courtesy of Cary Lin
Too often, the best beauty stories go Untold, solely based on a person's skin color, religion, gender expression, disability, or socioeconomic status. Here, we're passing the mic to some of the most ambitious and talented voices in the industry, so they can share, in their own words, the remarkable story of how they came to be — and how they're using beauty to change the world for the better. Up next: Cary Lin, cofounder and CEO of Common Heir, a sustainable, plastic-free skin-care brand that aims to tackle the beauty industry's waste problem and POPSUGAR Beauty Award winner.
I was born in China and emigrated to the U.S. when I was about five years old. My dad and my mom moved to Berkeley, California, and that is where I stayed for my first 13 years of life. My mom has always been really interested in skin care. I remember going through her old suitcase — the original one that she took from that big trip from Shanghai to San Francisco — and she had these pearl powder creams from a Chinese department store. Then she became really into Lancôme and I would go with her to Macy's and I remember stealing all her gifts with purchases that she would get in her bag. I put them all over my face even though I had no idea what they were. I didn't get into skin care seriously until my first job.
I worked in management consulting, which meant I spent my entire life on airplanes and hotel rooms, and my skin just started exploding. I started looking into skin-care blogs and following brands. Then with my first big paycheck, I was finally able to afford some of the more premium beauty products and I really started to fall in love with these brands. That routine kept me anchored while I was on the road, not just for appearance's sake, but with everything around me changing all the time, it ended up being the one thing that felt like home. I began to really appreciate the emotional connection that skin care can have for someone.
Around this time I became really sick of my old job — I wasn't passionate about it. I became friends with one of the first beauty bloggers I'd ever followed and she introduced me to Victoria Tsai, the founder of Tatcha Beauty. She said, "I really like this brand and the founder is Asian American, and I think you might really enjoy talking to her." I was just floored by that, because I'd never met a founder who looked like me. Growing up in the Bay Area, entrepreneurship looked a lot like the typical Silicon Valley software type of entrepreneur. I dropped everything, left New York, quit my six-figure job, moved back to my parents' house, and started working for her. She really inspired my career path in beauty.
We were even told that if we had a man on our team, everything would be easier because as women doing it, it looks like a hobby, whereas, if a man is doing it, it's a real business.
But my parents were very perplexed by the decision. They wanted me to be a doctor because that was their background, but when I told them, "Hey, I wanted to drop everything and move back into my childhood bedroom to do this." They just said, "We don't understand this at all — we're so confused. But if you feel like this is something you need to do, if you haven't found your purpose in life and you think that this might be a way to do it, then, of course, we'll support you."
I ended up going back to school for business and after I graduated, I moved to LA to work for Jessica Alba with Honest Company for a bit. Then, I moved to a beverage company — I wanted to get as much industry experience and credibility as possible before doing my own thing. Across all of these roles, sustainability was a constant theme for me and a thorn in my side. Then, about a year and a half ago, right before I started Common Heir, I was walking along the beach in Santa Monica and I came across these old, washed up plastic lotion bottles and I just felt I had a hand in creating all of the waste sitting there. I thought to myself, Well, is there a better way?.
I began thinking about how I could create a beautiful, luxurious-feeling, efficacious, beauty brand that I would actually reach for as a skin-care fan, but do so without relying on generating plastic waste. That was 18 months ago.
My co-founder, Angela Ubias, and I began talking to some of the people behind the largest beauty companies in the world — people who know that there's an issue with waste in the industry — and they were really into our mission for Common Heir. We wanted to do these seaweed-based capsules so we pitched the idea to a couple of folks right before the pandemic. We had about half the original amount we wanted to raise verbally committed, which was really exciting, but when COVID-19 hit in mid-March, all of it just pulled out. We had to start from scratch and ask ourselves, Will people really care about sustainability now? But I feel like the need for sustainable options is quite obvious now in a way that it wasn't pre-COVID-19.
My co-founder and I come from such different backgrounds, so one of the initial challenges for us was, how do we stitch together a story — apart from the fact that we are these two women of color with very different experiences within the beauty industry and very different beauty and skin-care traditions? We felt that our connection to inheriting our skin as we inherit the earth, that desire to pass off a better beauty tradition to the future that would be more sustainable not compromising, was what we wanted to focus on. That that was the common ground that the two of us had beyond our identities and we wanted to build a brand focused around that.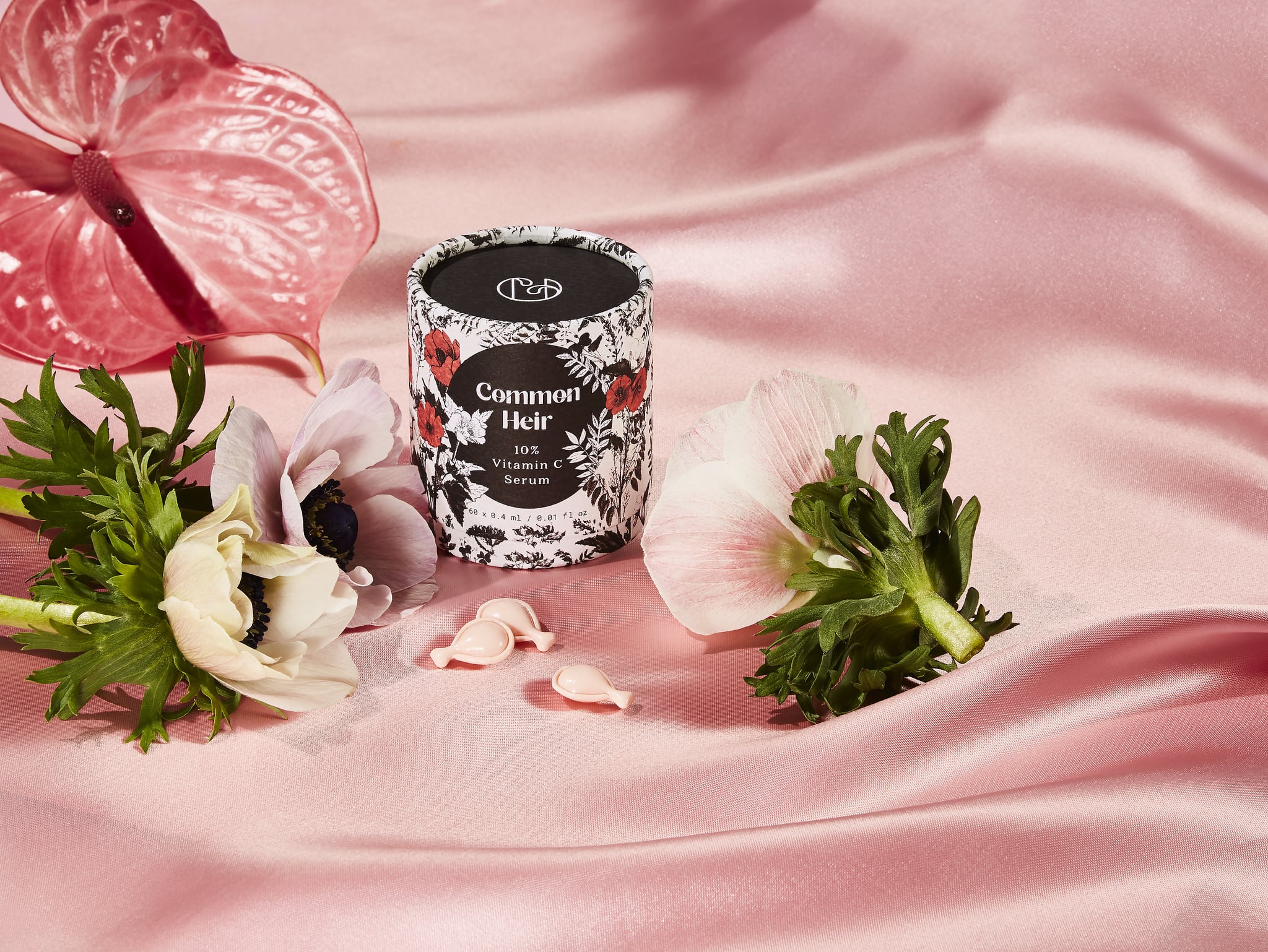 Image Source: Courtesy of Common Heir
But it was challenging, at the same time, because we had to have these really difficult conversations remotely. And we faced challenges in the industry with people questioning our backgrounds. We were even told that if we had a man on our team, everything would be easier because as women doing it, it looks like a hobby, whereas, if a man is doing it, it's a real business. That's why we think we owe it to ourselves to create a platform for other folks like us, because, in the same way that I had a mental model of women founders because of who I'd worked for, we want to be that model for somebody else and make them see this as a possibility.
Other beauty founders have been so gracious with their time and helping us, coaching us, giving us their thoughts — it's just one of the friendliest communities that we've been a part of. Some of our early mentors were women of color — the fact that they believed in us said so much and gave us the confidence to move forward and hit that next milestone.
We really want to disrupt the beauty industry, but more importantly, to change people's expectations of what it means to be a sustainable skin-care brand.
In July of 2020, we applied for the Credo Beauty Credo for Change initiative, which after June of last year, was part of the wave of folks trying to provide greater opportunities for BIPOC-owned brands. On a whim, we applied while we were pre-launched and we didn't think we'd get it. When we found out we were accepted to the program, Angela and I were so floored because it was the first sign of real traction. That was momentous because Credo took a chance on us and they are one of the industry leaders — we've always looked up to them.
After that program ended, they came back and said, "Hey, actually, we would love to be your first retail partners. Have you thought about that at all?" We hadn't even launched yet and we said, "Oh my God, absolutely." Not only did we feel incredibly supported through that program, but thought that there was alignment between us as a brand and what we wanted to build and where we thought Credo as a retailer was going. So, we're really excited to announce that we will be launching in all Credo Beauty stores, in stores and online, on May 18, 2021 — we're their first-ever retail partnership. It's really a dream come true. I'm still pinching myself — I can't believe this happened.
We really want to disrupt the beauty industry, but more importantly, to change people's expectations of what it means to be a sustainable skin-care brand. As consumers, both Angela and I saw this massive gap between where the consumer was already, in terms of calling for alternatives to plastic, and where the industry was, which was struggling to catch up. Everybody knows that they want to be doing better. The issue is the burden is foisted upon consumers — the individual mandate to recycle and learn about your city recycling rules — when in fact it's really our job as the brands to create better options so that the pressure is off individuals.