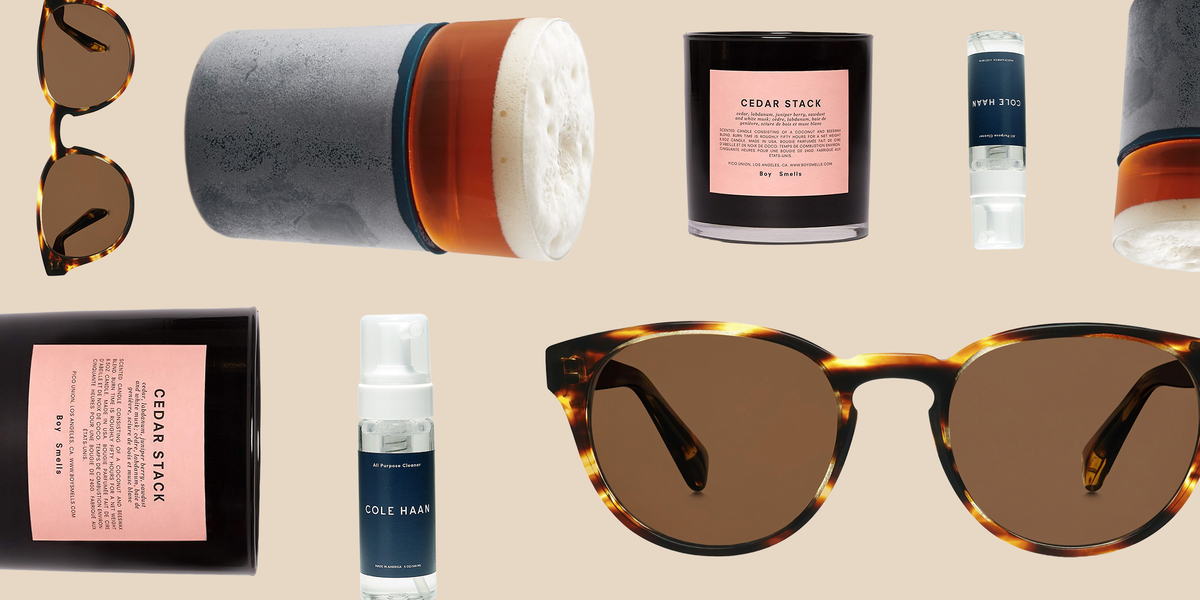 Collective deep sigh… We all know it's impossibly hard to shop for that dad who "doesn't want anything" because he already has everything. But don't fall into that trap and make the mistake of not sending your old man a little something this Father's Day. If all you had planned to give him this year was a phone call, you still have time to rethink that, seeing as Father's Day is coming up this June 20. And while that's still a little ways away, don't sleep on it! This holiday can sneak up on ya realllll quick.
But in case you do miss it, know that he would be just as happy to open a present a few days late as he would on the actual holiday—and that's definitely a relief to know since shipping times are a little unpredictable right now. After all, it's the thought that counts, right? Still, though, that doesn't mean you can't put a little extra effort into your last-minute Father's Day gift, so let us guide you with the 24 great gift ideas, below.
Advertisement – Continue Reading Below
1
This 2-in-1 Wash
Black Reserve Body & Hair Cleanser
Jack Black
sephora.com
$52.00
For reasons beyond me, dads like to keep the amount of bottles in the shower to an absolute minimum. So he'll love the smell of this cardamom- and cedarwood-scented cleanser almost as much as the fact that he can use it on both his hair and his body. 
2
This Sweet Gift
Signature Dark Chocolate Tackle Box
DYLAN'S CANDY BAR
nordstrom.com
$26.00
If it's a toss-up between your dad's love of sweets and his love for fishing, get him this assortment of chocolate candies that comes packaged in a tackle box.
3
This Multipurpose Oil
The Grooming Oil 3-in-1 Shave & Beard Oil
Whether he shaves every day or has a beard he'd absolutely never shave off, this multipurpose grooming oil (which is packed with sea buckthorn, jojoba, and sweet almond oils) works for both.
4
this record player
Cruiser Deluxe Vintage Bluetooth Suitcase Turntable
If he's always talking about "the oldies," get him this record player that he can play 'em on.
5
This Cleaner
All-Purpose Cleaner
Cole Haan
colehaan.com
$10.00
If your dad is very particular about his shoes, he'd love a bottle of this all-purpose cleansing solution to keep his footwear (or any leather accessories) spotless.
6
These Sunglasses
Warby Parker Percey Shades
Warby Parker
warbyparker.com
$95.00
These tortoise sunnies will make him feel as young and hip as he likes to think he is.
7
This Denim Jacket
Mens Trucker Jacket
If your dad's jean jacket has seen better days (and those days were in the '80s), replace his old acid-wash one with this nice new denim one.
8
This Automated Vacuum
V3s Pro Robot Vacuum Cleaner
Does anyone like to vacuum? Well, maybe if there were a cute lil robot doing all the work for your dad, he would. 
9
this cozy candle
Cedar Stack Candle
Boy Smells
amazon.com
$36.00
Moms aren't the only ones who enjoy a nice candle. This woodsy and robust scent is one your dad would definitely be into. 
10
this gourmet hot sauce
Gourmet Black Truffle Sriracha Hot Sauce
Trufflin
amazon.com
$18.99
Yeah, yeah, we all know about hot sauce, but this truffle-infused Sriracha will really take alllll his meals to another level.
11
These Warm Sneakers
Men's Wool Runner Mizzles
Allbirds
allbirds.com
$115.00
Comfortable sneakers that are waterproof, warm enough to wear in the winter, and machine washable? It's like a dad's dream.
12
this silky wrap
Sateen Robe
Ettitude
ettitude.com
$86.00
Your dad will never want to take off this silky robe, made from 100 percent organic bamboo. As if the guy needed another reason to wear his robe around the house all morning.
13
This Neck Pillow
Cooling Gel Neck Pillow
Travelon
macys.com
$26.00
If your dad is regularly falling asleep in his chair while watching TV (don't they all?), get him a neck pillow to keep his head propped and comfortable.
14
This Dress Shirt
Classic Fit Oxford Long Sleeve Button Down Shirt
Polo Ralph Lauren
amazon.com
$98.00
Your dad could always use a new dress shirt for those Zoom conference calls or a fancy dinner in with the wife.
15
These Beer Glasses
Freezable Beer Glasses, Set of 2
Rabbit
williams-sonoma.com
$28.00
If your dad likes to have a cold one at the end of the day, help him keep it chilled with these freezable beer glasses.
16
these cocktail sugar cubes
Instant Beer Cocktail Sugar Cube Trio
Allison DeVane
uncommongoods.com
$30.00
And now here's something to go with those beer glasses… These  sugar cubes will instantly turn any beer into a fun chelada, shandy, or radler cocktail.
17
These Classic Blue Jeans
221 Original Straight Jeans
Lucky Brand
zappos.com
$89.50
Your dad may not typically keep up with fashion, but he can always use a good pair of new jeans.
18
This Dad-Themed Cup
Best Dad Ever Double Old-Fashioned Glass
Williams Sonoma
williams-sonoma.com
$12.00
This gift has "dad" written all over it—no, literally. It's cheesy, but then again, a glass for an old-fashioned that says "best dad ever" will definitely make him smile.
19
These Swim Shorts
Backcast III™ Water Trunk
Columbia
zappos.com
$30.00
Dads aren't typically known for their swim style. Help him out by getting him a basic but well-proportioned pair of trunks that'll not only go with anything but will also work for everything, like these transitional swim shorts.
20
A Wine Chiller
Wine Insulator
Vinglacé
amazon.com
$89.95
If picnics and beach days are more his thing, he'll definitely appreciate this stainless steel chiller to insulate his favorite bottles of wine.
21
This Grilling Kit
Ultimate Backyard BBQ Grill Tools, 36-Piece Set
Cuisinart
williams-sonoma.com
$70.00
When they named this the ultimate grill set, they weren't lying. Inside this carrying case, your dad will find 36 pieces any master griller would appreciate.
22
This Skincare Starter Set
Starter Kit, Daily Age Repair
Clinique for Men
ulta.com
$15.00
If your dad's never been one for a skincare routine, it's not too late to get him started. This kit designed for skincare newbies comes complete with a face wash, shave cream, and anti-aging moisturizer.
23
this best-selling book
No Mud, No Lotus: The Art of Transforming Suffering
Thich Nhat Hanh
amazon.com
If he's all about self-help books or is interested in practicing mindfulness, gift him this bestseller. 
24
this portable library
Kindle Paperwhite
Amazon
amazon.com
$149.99
Or better yet, drop some cash on this Kindle reader and download books you know he'll love, like the above.
This content is created and maintained by a third party, and imported onto this page to help users provide their email addresses. You may be able to find more information about this and similar content at piano.io
Advertisement – Continue Reading Below