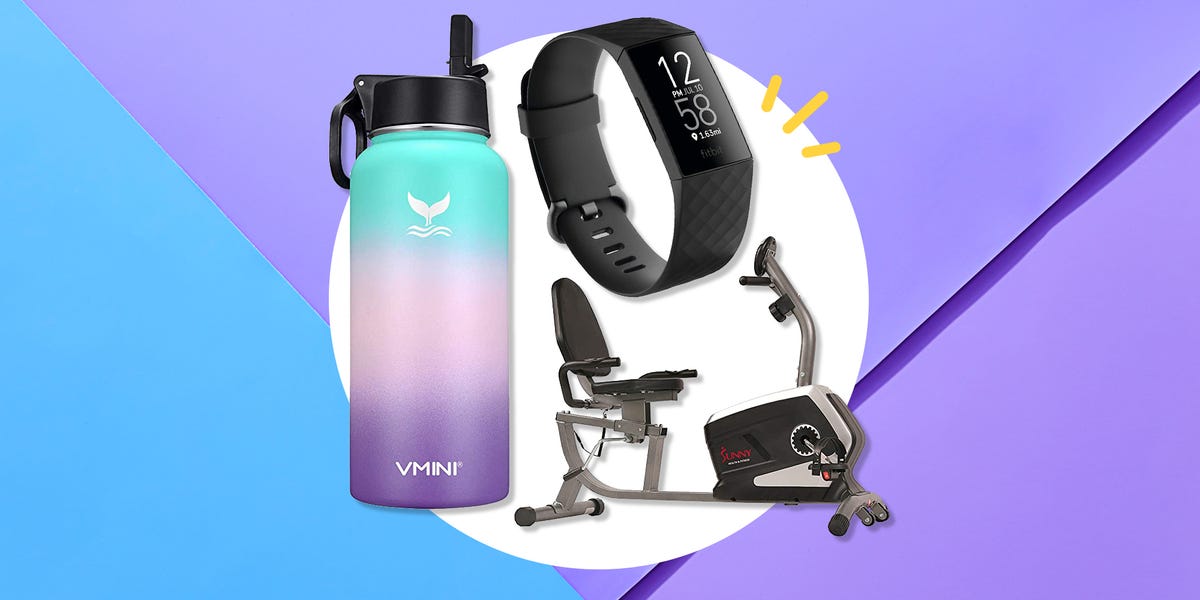 Amazon Prime Day has historically been every sale lover's favorite holiday. It's the best time of the year to restock on your essentials or finally grab those wish-list items you've been thinking about for months. Even better: Some of the best deals in past years have been on fitness gear. (Last year, deals included $50 off AirPods and 30 percent off Fitbits and Core10 Leggings, just to name a few.)
Though the exact dates for Amazon Prime Day 2021 have yet to be announced, it usually occurs in July. But hey, why not start preparing early?
That being said, if the allure of deals-to-come has got you feeling a bit impatient, you don't have to wait to shop the sales. Amazon just secretly dropped some insane early deals, including $50 off a stationary bike, 35 percent off Adidas x Pharrel Williams sneakers, and almost 20 percent off Alo Yoga leggings.
Fitness gear in particular can be expensive. It involves a whole new wardrobe and equipment—a lot of which (like socks, sports bras, leggings, and deodorant) needs to be regularly refreshed. With deals this good, feel free to hit "add to cart" on all the items on your list without any guilt.
See below for the 17 best fitness deals that Amazon secretly dropped early in advance of Prime Day 2021, including up to 50 percent off fitness gear like Beats headphones, goal journals, and yoga mats:
1
Powerbeats Pro Wireless Earbuds
These Beats headphones are ideal for workouts. They're sweat-resistant and feature a comfortable silicone frame that'll never fall out of your ears mid-run. 
It's likely you've been eyeing them for a while, and at $30 off, now is absolutely the time to snag them.
2
Charge 4 Fitness and Activity Tracker with Built-in GPS
Fitbit
$149.95
$129.95 (13% off)
There's a reason Fitbits quickly became a household name. The sweat and water-resistant technology can even be worn to track your swim workouts. And, if you're a fan of long outdoor runs, this even has GPS tracking for the utmost safety. 
Add it to your cart now, and have one on your wrist in just a few days for $20 off.
3
High Waist Airbrush Legging
When it comes to activewear that's equal parts style, quality, and comfort, Alo Yoga is unbeatable. Though their signature high-rise leggings are usually over $80, today they're just $65. It's a perfect time to grab one in each five cool, neutral colors.
4
Insulated Water Bottle
This insulated water bottle is a must-have for keeping your water nice and cool during those long outdoor bike rides or summer bootcamp classes. 
This one features a convenient straw for seamless mid-workout hydration and comes in 23 fun colors. At over 20 percent off, get one to match each cute workout outfit you own.
5
Sunny Health & Fitness Exercise Bike
Sunny Health & Fitness
$229.00
$179.12 (22% off)
There's a reason this is one of Amazon's bestselling exercise bikes. It has a comfortable, adjustable seat and eight versatile resistance levels. At nearly $50 off, it's a fun and budget-friendly way to switch up your indoor cardio routine.
6
A Year of Zen: A 52-Week Guided Journal
Whether you're training for a marathon or more into channeling your inner Buddha, this guided journal is a great way to record your goals and track your evolution over the course of a year. 
Now that this is under $10, you'll be more thankful than ever when you're taking the time to celebrate your progress and wins.
7
adidas Originals Women's PW Tennis HU W Running Shoe, FTWR White, FTWR White, Chalk White_110, 8 M US
Icons Adidas and Pharrel Williams came together to make these super cute running sneakers—an essential for every fitness wardrobe. But now that these are 35 percent off, you might as well grab a matching set for yourself and your workout buddy.
8
Foldable Treadmill With Desk
UREVO
$419.99
$359.99 (14% off)
The flat top on this foldable treadmill means you can use it as a walking desk to keep active during the workday, then easily pack it up to slide under the couch when you're done. 
Amazon took $60 off the tiny home-approved cardio machine today, so now's definitely the time to add this to your cart if you've been dying to upgrade your work from home situation.
9
Portzon Set of 2 Neoprene Hand Weights
Yup, hand weights are finally back in stock. These are Amazon's best-selling weights, and it's no secret why—designed with an anti-roll hexagon shape wrapped in anti-slip neoprene, they're comfortable to hold (and won't ruin your fresh mani!).
Available in eight different weight options and 11 colors over 20 percent off, feel free to make this a whole home gym set.
10
Cushioned Athletic Socks
These socks are over 40 percent off right now, but they're not skimping on quality in any way. With nearly 11,000 five-star reviews, they're comfy, cushioned, and blister-proof. If you're a fan of outdoor workouts, these are an essential. 
11
Medium Density Deep Tissue Foam Roller
This intense, deep tissue roller is a must for any fitness lover with tight hips or hamstrings. At 40 percent off, the Amazon bestseller is an inexpensive alternative to a massage if your achy muscles are in serious need of some release.
12
Adjustable Satin-Lined Knot Turban
Where most hair wraps are built to be worn overnight, Grace Eleyae's satin-lined turbans will fashionably protect your hair during your sweatiest workouts. Plus, the adjustable drawstring design means it won't budge. 
It's nearly 20 percent off right now, so you'll want to stock up on a few to wear throughout the year.
13
Heavy Jump Ropes for Fitness
Remember that jump rope you used to play with as a kid? This one's the upgraded version of that. Made with a heavy weighted rope and soft, anti-callus handles, it's practically made for travel. 
It's a whopping 43 percent off right now, so you can feel free to use the money you're saving on an extra marg (or three) by the beach.
14
Yoga Shorts for Women
Amazon reviewers are obsessed with how comfy these shorts are. Made with moisture-wicking fabric featuring a subtle side pocket large enough to fit your phone, wallet, and keys, these are already a no-brainer. The fact that these are 55 percent right now is just a happy bonus. And at under $20, you definitely need the fun snakeskin-printed ones, too.
15
Eco Friendly Yoga Mat
Nothing ruins the zen of a good downward dog like feeling your sweaty palms and feet sliding off your mat. This anti-slip mat is $13 off now, making it the perfect new addition to your at-home gym set up. Plus, the cute design on it is made to help you with your alignment, making it great for pilates workouts, too.
16
Ankle Weights Set
Ankle weights are a fun, seamless way to up the intensity on any at-home workout. Or, throw them on your ankles when you're out on a walk with your friends or running errands throughout the week. 
These are only $20 now, and are guaranteed to become an essential part of your workout routine.
17
Prebiotic Aluminum-Free Natural Deodorant,
Unless you've been biologically gifted, deodorant is something that you can always stock up on. While most clean deodorants can get a bit pricey, this aluminum-free, castor oil-infused deodorant is 33 percent off right now, making it the perfect time to grab a backup stick or two.
This content is created and maintained by a third party, and imported onto this page to help users provide their email addresses. You may be able to find more information about this and similar content at piano.io