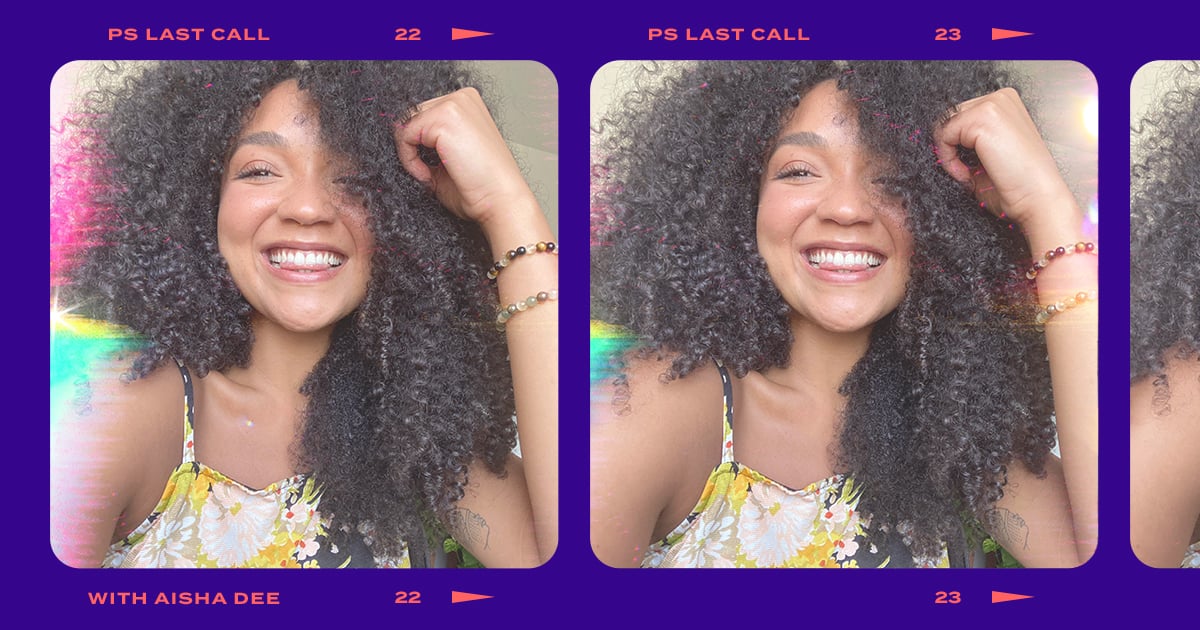 In our Q&A series Last Call, we get down to the bottom of every last thing with some of our favorite celebs — from the last time they were starstruck to the last song they listened to. This week, Aisha Dee takes our call.
The Bold Type is coming to an end with its upcoming fifth season, and we're not ready to say goodbye. Over the past few years, we've fallen in love with the series and all the incredible characters. It's almost like Jane, Kat, and Sutton are our friends in real life as well! The final season, which premieres on May 26, is no doubt going to be super bittersweet as we send off our favorite characters, and it seems like the cast is feeling just as emotional.
"I hope that this last season just brings people more comfort and maybe a bit of closure, too."
Ahead of the season five premiere, we chatted with Aisha Dee, where she gushed about her amazing costars. "We're super blessed to have not just Katie [Stevens] and Meghann [Fahy], but I think our entire cast is really incredible," she told POPSUGAR. "Everyone is a cute little weird family. I'm sure we look bizarre when we all used to go to dinner together, like an odd little group." As fans get ready for these final few episodes, Aisha also hopes they feel a sense of comfort from this final season. "I'm so grateful to be a part of the show for many reasons, but I think the biggest takeaway for me is the way in which these characters in the show has comforted people in low moments," she said. "When we're all stuck in lockdown and we just want to watch something that makes us feel good, I feel like The Bold Type has been that for a lot of people. So I hope that this last season just brings people more comfort and maybe a bit of closure, too, so that we can see these characters off in a way that feels good." As for what this final season will bring, Aisha perfectly summed it up in a few words: "Very bold, very brave, never regular." See what else she had to say about the show and her costars ahead.
What was the last day on set of The Bold Type like?
Oh boy, infinite emotions. I cried like a little girl who scraped her knee. It was way more emotional than I thought it would be.
Last thing you did for self-care?
I meditated this morning, burnt some incense, did my crystal thing.
Last song you listened to?
I have been listening to, pretty much on repeat, "Shackles" [by Mary Mary]. I think it saved my life several times over the course of my lifetime. [I'm] just bringing it back lately.
Last thing you did with one of your Bold Type costars off set?
We went for a little hike. We love to hike.
Last piece of advice you received that changed your life?
Actually, this advice came from Meghann, she said, "There's no such thing as one way liberation." I think that means whatever it means to whoever hears it, but it meant a lot to me at the time hearing it, "There is no such thing as one way liberation." In that, I think sometimes when you want to be liberated from submission or a thing or a relationship, it takes two people wanting that and being open to that and giving it to each other.
Last thing you texted?
I texted Meghann because I ordered some SZA "Good Days" merch months ago and it finally came, but it went to Montreal. So I have been on the phone to FedEx non-stop just like, "I have to have this package." I'm sure they think the package is my first born or something, but it's just some "Good Days" merch that I really need. So if anyone from FedEx is reading this, please give me my SZA merch. I'm really mad. I want it.
Last show you binge-watched?
I don't know if it's technically binge-watching because I think the season is still going, but I'm watching Legendary right now. It's been calming my anxiety and my nerves in a way that I really love.
Last thing you ordered online?
It's kind of boring, but a toothbrush. I needed a new toothbrush, so I made it happen.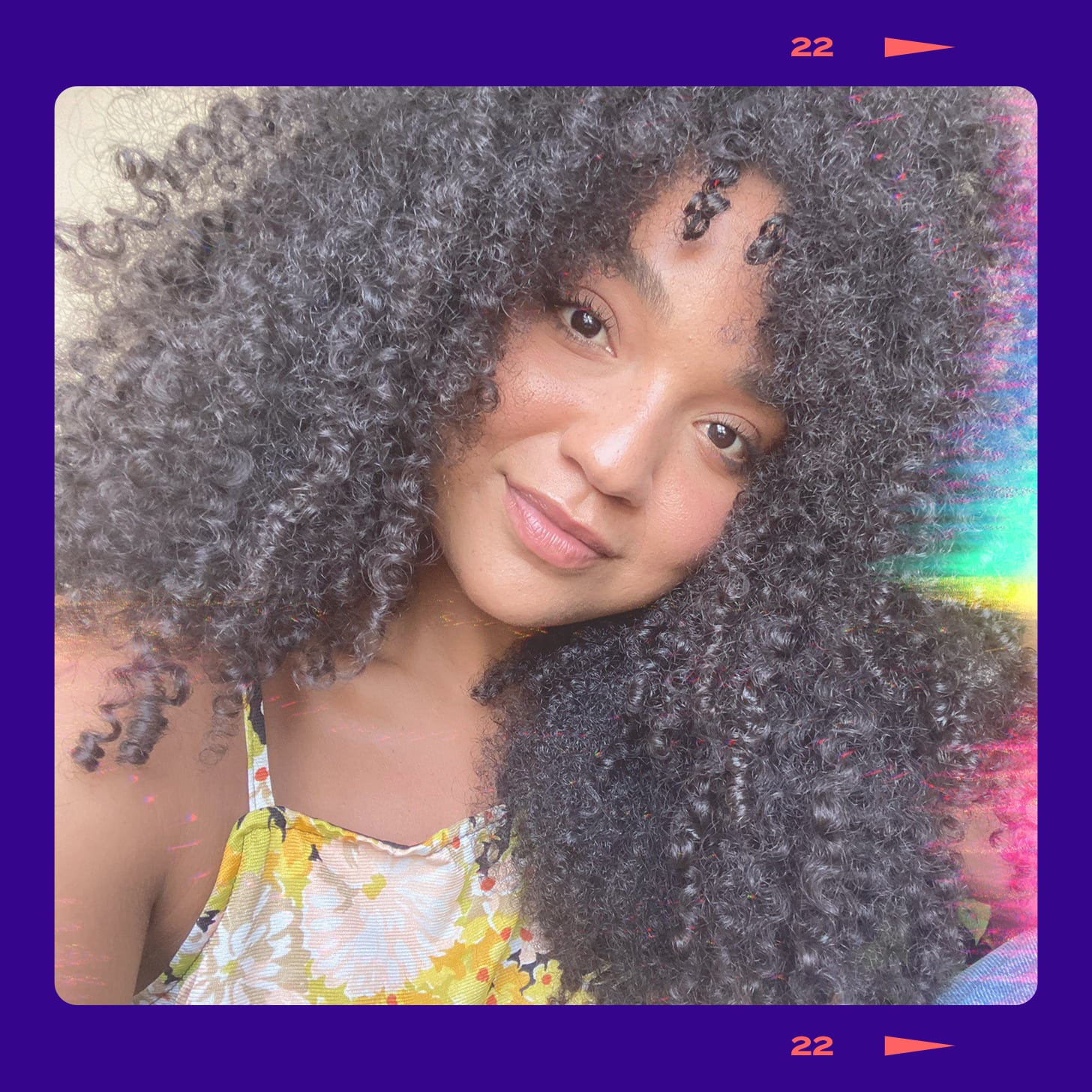 Last photo on your camera roll?
It is a picture that Katie took, actually. She sent it to me. She was like, "This is a really pretty photo. You should post it to your Instagram." And I was like, "Well, yeah, one day I'll re-download Instagram." [I'm] taking a little social media hiatus right now. It's a photo that Katie took of me and a little dog named Kevin who's the cutest dog in the world. He's the size of my pinky finger. He's cute.
Last thing you do before going to bed?
I have a very intense bedtime schedule now because I'm getting older, I have to arrange my pillows into a semi-circle around me. Because when we were in Montreal, Meghann, Katie, and I were having a lot of trouble sleeping, especially when we were in lockdown, and so we all bought these pregnancy pillows, which is just like a big circle of pillows that surround you. I left mine in Montreal, so I don't have one here and I just miss it.
Last book you read?
Oh, it was Assata, Assata Shakur's biography.
Last time you were starstruck?
Oh boy. [I] haven't left my house in a while. I don't even remember seeing people that aren't just people that I work with. Well, let me go ahead and say Katie and Meghann. I think they're very starry in my eyes and I love them a lot. So yeah, I would say the last time I laid my eyes on Katie and Meghann.
Image Source: Courtesy of Aisha Dee