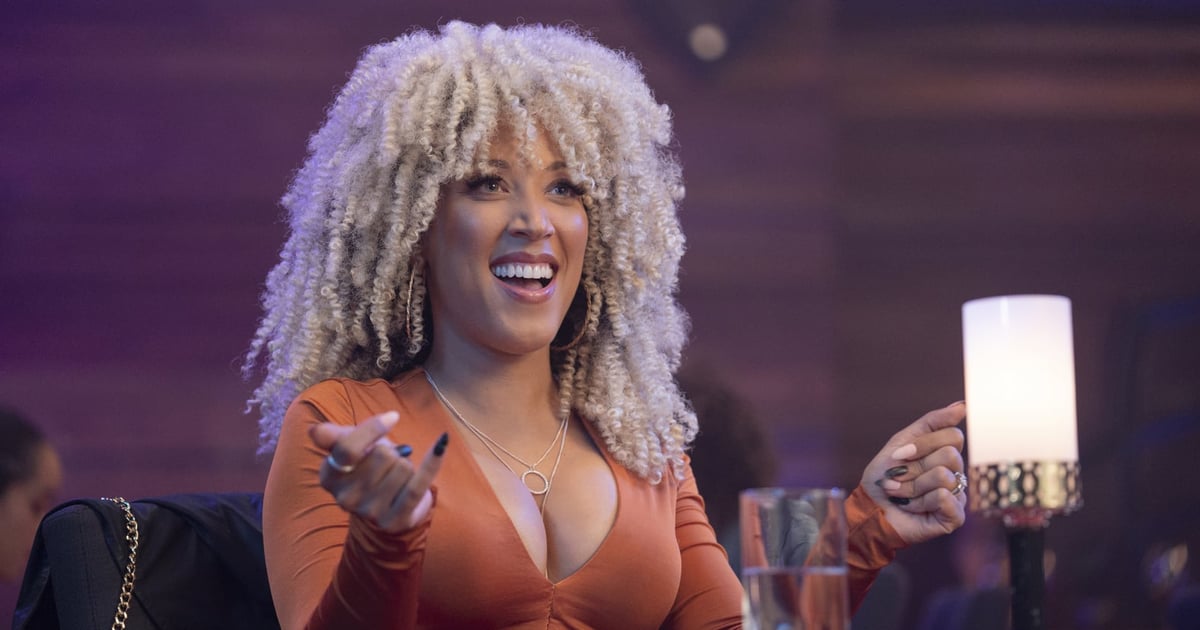 If you haven't seen the one-of-a-kind, comedic genius that is A Black Lady Sketch Show, I'm afraid you're missing out. If you have heard of the show, you're probably aware that the Black-women-led sketch series is paving the way for Black women in comedy in more ways than one. But did you know there's a deeper meaning and intention behind the show's name? On the press tour for A Black Lady Sketch Show, the show's creator Robin Thede, actress/writer/comedian extraordinaire, who also stars in the show, repeatedly pointed out that she decided to name the show A Black Lady Sketch Show instead of The Black Lady Sketch Show because she hopes the series is the first of many sketch shows that center Black women, not the only.
"There is so much more space for us," Thede said in an IG Live promoting the second season of the show, which premiered on April 23. "It's not The Black Lady Sketch Show. It's just a Black lady sketch show. We're just one. I want there to be 10 Black lady sketch shows."
"It's just a Black lady sketch show. We're just one. I want there to be 10 Black lady sketch shows." — Robin Thede
I, for one, second that. After the critical acclaim and popular success of the show, I was left asking myself, "When is Hollywood going to start green-lighting some more Black lady sketch shows?!" In hindsight, that might've been a case of wishful thinking. The reality is change happens very slowly in Hollywood, but the gatekeepers need to stop operating from a place of scarcity when it comes to widespread diversity in film and television, especially when it comes to Black women comedians, entertainers, and writers. There's this pervasive idea within studios and networks that there can be only one Black woman in a room or one Black TV show on air at a time, and we as audiences have been trained to accept and expect that. Luckily, HBO has become a major platform for Black storytellers and creators. Still, I fear that Thede's A Black Lady Sketch Show will be the only for the foreseeable future.
By no means has the road been an easy one for Black women in the comedy space, much less in sketch comedy. During Chappelle's Show's three-season run from 2003 to 2006 and Key & Peele's five-season run starting in 2012 – both on Comedy Central – there were no sketch comedy shows that centered Black women's voices and unique brand of comedy. Standup comedian Amy Schumer's sketch comedy show, Inside Amy Schumer, was on Comedy Central at the same time as Key & Peele, but as could be expected, the comedy focused on the perspectives and experiences of white women, since Schumer was the show's star. When actress and comedian Sasheer Zamata joined the cast of variety sketch show Saturday Night Live in 2014, she was the first Black woman on the cast since Maya Rudolph's exit in 2007. That means SNL, a show that's supposed to tap into the pop cultural zeitgeist, went a whole seven years without a Black woman in its main cast.
Long story short, A Black Lady Sketch Show is filling in a major gap that's been left wide open for decades in its representation of Black women on screen and behind the scenes. The beauty of a groundbreaking show like A Black Lady Sketch Show is that Black women get to see themselves as silly, weird, and playful. I mean, where else are you going to see a bit about aliens literally stealing your dance moves at the club or a sketch that uses ball culture to make fun of the appearance of dads at the cookout, exhaustion, or awkwardness? Or see Thede rock a beard or, in the latest season, a wig that gives her a wild receding hairline?
On top of that, we get to see Black women make fun of themselves without being the butt of jokes that are laughing at them and not with them. Every time Thede's character Dr. Haddassah Olayinka Ali-Youngman makes an appearance as a hotep Black lady who is so far on the spectrum of "wokeness" that she is really talking nonsense, my stomach aches from laughing so hard. In the latest season, a focus group of Black women from various backgrounds critique one insignificant frame of a show. The sketch itself comedically critiques Black women's high expectations for representation on television, and it's so hilarious because it's so accurate! TV and movies tend to take Black women quite seriously. Don't get me wrong – Black actresses have more than delivered in their dramatic roles, but that's not all Black women can do.
Even more important, A Black Lady Sketch Show not only provides so many opportunities to the actresses but also Black women comedy writers, directors, and producers who otherwise might not get a chance to flex their talent with a platform like HBO. The writers room for the first season was all Black women: Lauren Ashley Smith, Ashley Nicole Black, Akilah Green, Holly Walker, Brittani Nichols, and Amber Ruffin (who now has her own late-night show.) Dime Davis, who directed the first season, was the first (you read that right) Black woman to receive an Emmy nomination for outstanding directing for a variety series. The entire show was nominated for outstanding variety sketch series as well. It's just that good.
There's only so much one show can do because the Black experience is as varied as it is vast. A Black Lady Sketch Show may be the first of its kind, but hopefully it won't end up the only of its kind. I'll be waiting for 10 more Black lady sketch shows, but in the meantime, I'll continue tuning in every Friday at 11 p.m. to catch each unapologetically Black and hilarious episode.