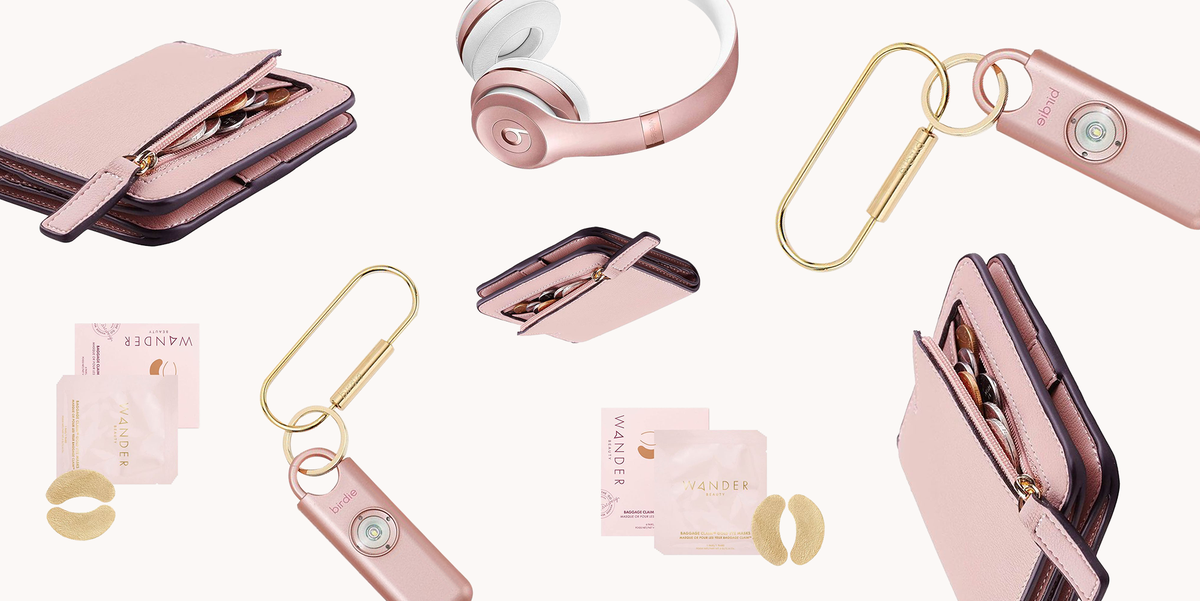 If you've got a jet-setting BFF (ugh, jealous of 'em) or a loved one who's rarely ever in the same area code for long, then welcome to this ultimate gift guide for travelers. I know gift-giving can be a hard feat, especially if you're trying to strike the perfect balance between thoughtful and practical. But that's why I'm here with 57 of the best travel gift ideas to royally spoil the frequent flyer in your life, while also making their whole travel experience easy-peasy.
Could they use a new carry-on? Or maybe some life-changing travel accessories and ways to level up their airport 'fits? Maybe a cool coffee table book of their fave vacay spot, or, heck, a book on how to properly pack a suitcase (I know you have someone in mind for this one). Whatever their needs are, I'm sure you'll find the perfect gift for 'em, below! Scroll on through, and maybe even pick up a lil somethin' for yourself, too.
Advertisement – Continue Reading Below
1
these packing cubes
fancyou 8-Piece Packing Cube Set
Packing cubes can be seriously helpful with staying organized, especially if they're headed on a long journey with a ton of stuff to take with them. This set features three clothing bags in different sizes, two cosmetic pouches, a shoe bag, an underwear bag, and a drawstring laundry bag for any dirty clothes.
2
a film camera
Polaroid Originals Now I-Type Instant Camera and Film Bundle
Sure, they can take all the pics on their phones, but over time pics get lost or even erased. Instead, with this polaroid, they'll be able to capture those special moments on film.
3
this travel-sized skincare set
Fenty Skin Travel Size Start'r Set
If they're beauty enthusiasts, they'll be over the moon to receive this coveted skincare set in TSA-approved sizes.
4
this smart carry-on
July Carry On
Considering how pricey these suitcases can be, they probs won't flat out ask you for one directly. But I guarantee a smart carry-on with a battery pack is definitely on their list. They'll never have to worry about a dying cellphone while traveling again.
5
A quiet getaway
Getaway Often Three Night Pack
Maybe they love traveling but just haven't been able to take a trip yet, because, ya know, ~life~. Surprise them with a cozy three-night stay that they can book for whenever they'd like at any of Getaway's outpost locations. They have different sites all over the US and even offer luxe camp-grounds if they're into that too.
6
this luggage tag
Calpak Portable Charger
This marble luggage tag can still do the trick if a battery-pack suitcase is out of your budget. It has a hidden rechargeable battery pack with a USB outlet, so their phone can still charge up while sitting pretty on their carry-on—but at a fraction of the price.
7
this suitcase with shelves
The Castle Classic Black
If your giftee is the type to live out of their suitcase, then this check-in rollerboard was made for them. It features two interior shelves that fold out when it's open so that your giftee can set up and organize their suitcase as if it were a closet. Genius!
8
this easy gift box
Box Fox Let's Get Away Gift Box
Crunched for time? Get this ready-made travel-themed gift box from Box Fox. It comes with a coffee table book, a leather luggage tag, a sensual-scented candle, and sweet gummies, all in a pretty wrapped box.
9
this phone camera lens kit
Selvim 4-in-1 Phone Camera Lens Kit
If they're an iPhone user, get them this lens kit that they can just simply clamp on and get to snapping stunning travel pics worthy of the 'Gram. Plus, it comes with a mini tripod!
10
this pretty pillow set
Calpak Neck Pillow and Eye Mask
They'll be able to rest in style with this pretty paisley-printed neck pillow and matching eye mask.
11
this waterproof phone case
Case-Mate Pelican – Marine Series Waterproof Floating Phone Pouch
If their destination plans include being in a body of water, they'll appreciate this waterproof phone pouch. They'll still be able to take pictures and send messages without experiencing water damage.
12
these cute eye masks
Wander Beauty Baggage Claim Eye Masks
Traveling can wreak havoc on that delicate under-eye area. With these gold foil eye masks, they'll be able to de-puff and brighten up those tired eyes during their journey.
13
this international outlet
SAUNORCH Universal International Travel Power Adapter
If they're traveling overseas, they'll definitely need one of these power adapters to keep all their devices charged. It features several prongs that'll fit different electrical outlets from around the world (over 150 countries, actually!). It also has a USB-C port, three USB ports, and a built-in smart chip that'll recognize your giftee's different devices and adjust the power output so that it can safely charge their electronics faster.
14
these cute safety alarms
Birdie Set of 2 Personal Safety Alarms
It's sad to say, but sometimes, traveling can be a bit dangerous—especially if they're going solo. These personal alarm key chains can offer a sense of security and peace of mind. If your giftee happens to feel threatened or unsafe, all they have to do is press the button in the middle, and these lil guys will activate a seriously loud siren and a bright flashing strobe light.
15
this lightweight travel blanket
Parachute Home Merino Travel Kit
Airplanes, buses, and trains can get chilly, so gift them this soft 100 percent extra-fine merino wool travel set. Not only will they stay warm and cozy, but they'll also look pretty stylish with this simple yet sophisticated design.
16
an airline gift card
Southwest Airlines $200 Gift Card
While gift cards can be a cop-out, I'm sure they'll still be delighted to receive this one. It can help them get to their next destination or be the match to spark travel plans in the first place.
17
this roomy duffle
Dange Dover Landon Mediem Carryall Bag
If their old duffle bag always ends up in a jumbled mess, here's a bag that can help them stay organized. This lightweight option from Dange Dover features a padded sleeve large enough to hold a 16-inch laptop, an air mesh pouch, a water bottle pocket, a key leash, and a shoe duster bag all inside. And it even has a trolly sleeve so it can easily sit on top of their suitcase.
18
this relaxing eye mask
Ostrich Pillow Hot & Cold Eye Mask
Ostrich Pillow creates some pretty cool accessories for lounging, and this eye mask is one of them. Your giftee can alleviate irritated, dry eyes, muscle tension, and much more with thermal therapy.
19
these toothbrush caps
Steripod Toothbrush Protectors
Toiletries, like a toothbrush, are usually the last things to get packed and often just tossed into a tote or duffle all willy-nilly. These lil clip-on caps will keep their toothbrush free of germs or bacteria on the bristles.
20
this classic bacpack
Herschel Supply Co. Little America – Mid Volume Backpack
Backpacks are great personal item bags on airplanes. They can hold a lot of stuff without taking up too much space in the overhead bin or under the seat. This bb can fit up to a 13-inch laptop and uses a drawstring and magnetic closure for easy access, so there's no need to loosen those leather buckle straps.
21
this convenient sling bag
Metro Sling
This leather sling bag is the perfect way for your giftee to keep all their essentials super close while traveling. And seeing as pickpockets love backpacks and open purses…this close-to-your-torso option is key.
22
this waterproof toiletries bag
Waterproof Travel Kit
If your toiletries bag isn't waterproof, then I don't know what to tell ya other than to buy this Caraa one right now. Plus, it comes with two complimentary pouches reserved for shoes and wet clothes.
23
this sleek weekender
BEIS The Weekender
Designed for a quick weekend getaway, this travel tote has compartments for everything you can think of—including an extra pair of shoes.
24
this protective wallet
RFID-Blocking Wallet
Keep their identity and credit cards safe from electronic pickpocketing with this RFID-blocking wallet.
25
this subscription
Tripadvisor Plus Membership
For the ultimate jet setter, consider getting them this travel subscription service. For $99 a month, they'll get tons of members-only deals on hotels, awesome savings on tours and experiences, and loads of other juicy perks.
26
this suitcase set
Coolife Luggage 3-Piece Set
This three-piece set is lightweight but sturdy for a bespoke travel moment. Oh yea, and when they're not in use, the two smaller ones can be stored inside the bigger suitcase. Space-saving FTW!
27
this best-selling mask
Jet Lag Mask
This face mask is a bestseller for a reason, folks. They can wear it overnight or while actually traveling to keep that face looking (and feeling) fresh.
28
this ipad case
Cognac Faux Crocodile iPad Case
If your giftee always has the best shows and movies downloaded on their iPad while traveling, they def need this faux-crocodile case to make watching easier and chicer.
29
these comfy sneakers
Sorel Kinetic™ RNEGD Lace Sneaker
Odds are you have a pal who walks everywhere while traveling. (Couldn't be me!) Their feet will thank you for these comfy sneakers.
30
these noise-canceling headphones
Beats Solo3 Wireless On-Ear Headphones
Noise-canceling headphones are a travel must-have. And these bbs can hold up to 40 hours of battery life after just five minutes of charging, which means your giftee can be running late and still charge their headphones.
31
this cute travel kit
Ultimate Travel Set
We all know someone who tries to take giant bottles of shampoo and lotion on the plane every! Single! Time! Save them from themselves with this cute travel kit.
32
this airpod holder
Baggu Puffy Earbud Case
Earbuds are a travel must-have, and they need to be kept safe. This puffy case is a cute way to keep your giftee's essentials in tip-top shape.
33
this cashmere travel sleep set
Ultra Luxe Cashmere Travel Set
I know, I know, the price tag on this one is pretty high. But if you're down for a luxe gift, then this cashmere travel set (complete with a blanket, travel pouch, socks, and sleep mask) is a worthy pick.
34
This nylon toiletry bag
Hanging Toiletry Bag
Let's get real for a moment: Bathroom countertop space is never a guarantee when you're traveling. But this hanging toiletry kit will fix that problem for your giftee! Help keep all their ~beauty tingz~ together in one sleek and organized place.
35
This cute pet carrier
Global Citizen Pet Carrier Bag
If they love going on trips with their beloved fur bb, then get them this super plush pet carrier that's airline compliant and has a nice faux sherpa lining.
36
This convenient travel mug
Collapsible Travel Cup
This travel mug folds down to be only two inches tall when empty, so they can take it anywhere without sacrificing valuable bag space.
37
this hardcover journal
Thick Classic Notebook
Here's a hardcover notebook that can withstand the natural wear and tear of travel. It's great for jotting down notes, travel itineraries, or even just thoughtz and feelingz when they're far from home.
38
this comfy sweatsuit
Evening Sweat Set
I'm just sayin', everyone could use a good sweatsuit for travel days. And this one by Cosmo (that's us!) has a cheeky "evening sweats" on it, so your giftee can let people know this is their fahncy set.
39
this laptop backpack
Metro Backpack
Long gone are the days of shoving a laptop, clothes, and travel miscellaneous in a flimsy backpack. This one by Monos is designed specifically for travel. It'll keep laptops protected and clothing neatly packed.
40
this how-to guide
How to Pack: Travel Smart for Any Trip by Hitha Palepu
Behold: the ultimate guide to packing. Give the gift of knowledge and prepare to be thanked forevermore.
41
these easy slides
Birkenstock
Retweet if you agree: Going through airport security is a whole different level of stressful. So a pair of comfy slides that can easily be slipped on and off is a must.
42
this travel jewelry case
Mark & Graham Travel Jewelry Case
This vegan leather travel case is just *chef's kiss* for housing all their precious jewelry for the length of their trip. Plus, there's even an option to monogram it for a sweet personalized touch.
43
this stunning carry-on
The Frame Carry-On
Here's another travel must-have: a durable suitcase that 1. is gorgeous and 2. can withstand being thrown around at baggage claim.
44
this fun travel map
Scratch Off Travel Map
Your loved one will have so much fun scratching off each place they've visited after coming home.
45
this cool glass
Urban Map Glass
For a sentimental keepsake, get them a drinking glass with their favorite city etched in.
46
this sleek tote
Away The Latitude Tote
If you're looking to gift a fab travel bag, then this leather tote is a great choice. You betcha it can hold a 15-inch laptop, a change of clothes, and all the other travel essentials.
47
this friendship necklace
Friendship Compass Necklace
Here's a sweet gift for any BFF you've promised to travel the world with.
48
these chic sunnies
Vehla Dixie Sunglasses
They'll never forget to pack sunglasses this chic.
49
this travel wrap
Charleston Wrap
TBH, airplanes can get pretty cold. But good thing travel wraps exist!
50
this waterproof ebook reader
All-New 8G Kindle Paperwhite
Alllll their favorite books on one lightweight ( and waterproof!) device. This is what dreams are made of.
51
this must-read
They'll Never Catch Us by Jessica Goodman
Hundred percent, they're gonna need a good read for the trip there and back. And this one by a former Cosmo editor (hi, Jess!) is a certified must, especially if your giftee is into female-led thrillers.
52
this travel coffee table book
Capri Dolce Vita Coffee Table Book
When they're not traveling, they'll love this absolutely gorg travel coffee table book in their living room.
53
this waterproof camera
Action Camera
Gift them this waterproof action camera and ask 'em to shoot some seriously cool travel footage so you and everyone they know can experience serious FOMO. (Cue: tears.)
54
This luxe passport case
Leather Passport Case
A sleek passport wallet made with sustainable leather would make for a seriously sweet gift.
55
this hanging toiletry organizer
Hanging Toiletry Bag
I can't even explain to you how life-changing traveling with a hanging toiletry organizer is. Well, for one, it keeps all their stuff in one place—which is clutch, especially if where they're staying has minimal counter space.
56
this chic pillbox
Pillbox
What's that? An actually chic pillbox that'll keep all their meds, vitamins, and supplements organized so they won't have to travel with all their pill bottles rattling about in their suitcase? Sold.
57
this stylish tote
Small Traveler Canvas Tote
If your giftee could use a good personal bag for flights, might as well get them one that's super chic, no?
This content is created and maintained by a third party, and imported onto this page to help users provide their email addresses. You may be able to find more information about this and similar content at piano.io
Advertisement – Continue Reading Below