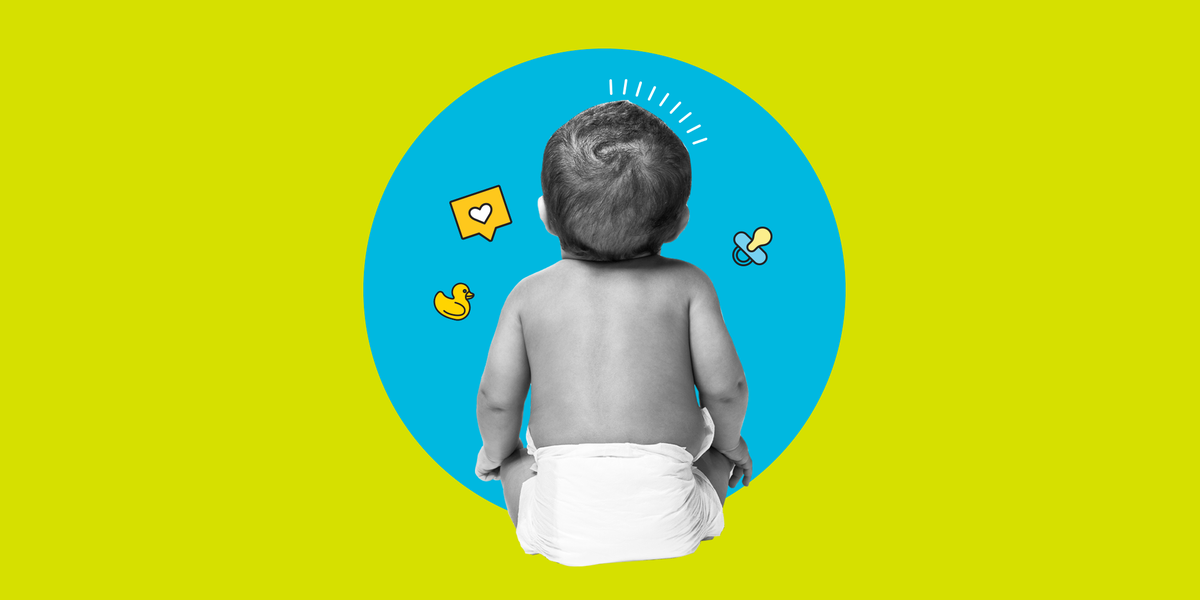 Full transparency: I used to judge people who had their baby names picked out before they were pregnant. My cousin had a list of 10 full names (first and middle) stashed away in the Notes app on her phone before she was even of legal drinking age.
At the time, I fully laughed, but I've since learned. When you find a name you like, it's worth starting a list on your phone, JIC. Bless you, technology.
No matter what stage you're at in the baby-naming process, it never hurts to actually do some research. Yes, even if you're only at stage one, which is sticking your bottom lip out and sighing every time you see a pair of baby Uggs or Vans. And, honestly, what better route to go with than names of Spanish descent?
Every name on this list derives from the Spanish language, which probs dates back to the 13th century and is the second most spoken language on the planet. That said, most of the names below are anglicized or modified to make them easier to spell, pronounce, or understand in English.
Whether you've found yourself here because you're expecting and looking for a cute bb name (congrats!) or you're planning out your future family with someone you've gone on two dates with (we've all been there), peep below for a list of 40 Spanish baby names.
---
Looking for more baby name inspo? Subscribe to Cosmo Unlocked for all the popular, unique, and downright adorable names for your wee one.
---
1. Yamilet
This name, used by Daddy Yankee and wife Mireddys González for their middle daughter, means "beautiful and elegant." I'm sure we'd all like to think our child will be beautiful and elegant, but if you go with Yamilet you're literally ensuring it.
2. Alejandro
Alejandro means "defending men." It's also the name of a very popular Lady Gaga song, and if that's not convincing enough for you, I don't know what is.
3. Fernando
Also a featured name in Lady Gaga's hit "Alejandro," this name is another great option that means "bold voyager." Perfect for a future lil traveler and ABBA fan.
4. Santiago
Taking the meaning "of St. James," Santiago is somehow the Spanish version of the name James. Eva Longoria and Jose Baston gave this name to their beautiful baby boy.
5. Diego
Another Spanish name translating to the English name James, Diego started gaining popularity in the 1980s and reached the top 100 names in 2002. Childhood.com has even named it #35 on its list of up-and-coming baby names for 2020 if you wanna be a trendsetter.
6. Carmen
This name translates to "garden" in Spanish, which is great for raising a lover of nature.
7. José
This name is about as classic as they come, always maintaining a spot in the top Spanish names. When translated, it means "God will increase."
8. Valentina
Salma Hayek and François-Henri Pinault's daughter's name means "strength and health." It's also a reminder of Valentine's Day, so a perfect name for a loving and strong bb.
9. Paloma
Although it most likely reminds you of a delicious tequila cocktail, this darling name means "dove."
10. Manuel
Manuel translates to "God is with us" and has maintained its popularity in the middle of the pack for Spanish baby names. And if you're a Broadway fan, this would be a perfect name for your newborn as an ode to Lin-Manuel Miranda, genius extraordinaire.
11. Juan
This is another Spanish classic and translates to "God is gracious." Bachelor fans will think of the worst Bachelor, Juan Pablo, but don't let that deter you from choosing this name for your future babe.
12. Miguel
This name is the Spanish equivalent to the English "Michael" and means "Who is like God?"
13. Lucia
This beautiful name translates to "light," which is why it was traditionally given to babies who were born around the break of daylight.
14. Esmerelda
This name means "emerald" and was given to the firstborn daughter of Eva Mendes and Ryan Gosling. You may recognize this name from Disney's The Hunchback of Notre Dame, in which Esmeralda is the name of the Romani heroine. Who doesn't love a Disney reference for their future princess?
15. Antonio
If you are looking for a popular name but want something with a little bit of flair, this name is for you (or rather, your future child). Antonio, meaning "priceless one," has been in the top 100 Spanish baby names since 1880. It's also great for Shakespeare lovers—it's been featured in at least five different plays.
16. Maceo
Halle Berry and Olivier Martinez chose this name for their son, which translates to "gift of God."
17. Francisco
Traditionally a Spanish and Portuguese name, this name means "Frenchman" or "free man." It has gained more popularity in the U.S. likely due to parents starting to name their children after more creative things, like…cities. We love Francisco, but please don't put the San in front of it (or do, it's your baby!).
18. Joaquin
This name, meaning "God will judge," has gained popularity over the years thanks to celebs. From the rise of actor Joaquin Phoenix and the name of Mark Consuelos and Kelly Ripa's son, Joaquin has become a trendy name for babies.
19. Alicia
This name is the Spanish version of the name Alice, originally of German descent meaning "noble." Actress Alicia Silverstone and singer Alicia Keys are great representations of this beautiful, feminine name.
20. Maria
Ah, Maria. It is considered a timeless classic and translates to "bitter or wished-for child."
21. Cristian
This name quite literally means "follower of Christ." Marc Anthony and Dayanara Torres gave this name to their son, while soccer star Cristiano Ronaldo also sports a variation of the name.
22. Sofia
This is a popular one all around the world. Carrying the meaning of "wisdom," this name hits the top of the baby name charts in countries like Italy, Spain, and the U.S. It's also popular amongst celebs, given to people like past Cosmo cover star, Sofia Richie, and Modern Family favorite Sofia Vergara.
23. Jaime
Another great option for a gender-neutral name, Jaime is the Spanish version for the English name James. It can be pronounced differently depending on which gender you're going with.
24. Luna
Javier Bardem and Penelope Cruz named their daughter Luna, which directly translates to "the moon." Not sure if they're fans of astrology, but this is a great option for those who are.
25. Rafael
This popular name means "God has healed." It's also the name of successful tennis star Rafael Nadal, so you could be willing a hot tennis star to your fam with this name.
26. Hugo
This name has a hefty cultural background. Originating from Germany, Portugal, and Spain, it carries the meaning of "mind, intellect." So maybe you want to bless your baby with some natural brainpower, or maybe you want them to be as successful as Hugo Boss. There are many directions you can go with this one.
27. Lourdes
Originally of Basque origin meaning "craggy slope," but we prefer the more modern reference the name has for the Virgin Mary. I can only assume that Madonna and Carlos Leon, who named their daughter Lourdes, are more Virgin Mary fans than "craggy slope" as well.
28. Carlos
This is another Spanish name that translates to "free man." It continually climbs the charts of popularity but narrowly misses the top 100 every year.
29. Catalina
The meaning of this stunning name is "pure" and, honestly? Yeah, that sounds about right.
30. Vida
This name, chosen by Matthew McConaughey and Camilla Alves for their daughter, carries the meaning "life." If it's good enough for Matthew and Camilla, it's sure good enough for me.
31. Angel
This name originates from Greece but reached peak popularity from 2005 to 2007 due to Spanish-speaking families in the U.S. The original meaning of the word is "messenger from God."
32. Lola
Translating to "lady of sorrows," this name has only gotten more popular as the years go on. Speaking of, celebrities like Kelly Ripa and Mark Consuelos, Lisa Bonet, and Chris Rock all have all named their daughters Lola.
33. Mateo
This name also means "gift of God" (see: Maceo), but is much more popular. It can also be spelled in a variety of ways (Matteo, Matheo) so you can get creative when choosing this name!
34. Cruz
Victoria and David Beckham used this name for their third son, which means "cross." Although not a classic name, Cruz is becoming trendier, especially for those looking for a gender-neutral name.
35. Manolo
The name of the shoes you wish you could afford AND the name of Joe Gonzalez and Sofia Vergara's son, Manolo translates to "God is with us."
36. Emilia
This name means "rival" which definitely stays on-brand with Emilia Clarke and her Game Of Throntes character.
37. Santana
Looking to have the holiest of babies? Go with the name Santana which, you guessed it, means holy!
38. Pedro
Pedro derives from the words stone and rock. If you go with this name, you're pretty much setting your kid up for the best Halloween costumes. Hint: Vote for Pedro.
39. Enrique
This name means "home ruler," a perfect name for any future leader of the house.
40. Julieta
Funnily enough, this name translates to "little Julia." It's a great name for any Shakespeare lover, giving a nod to the classic Romeo and Juliet.
This content is created and maintained by a third party, and imported onto this page to help users provide their email addresses. You may be able to find more information about this and similar content at piano.io