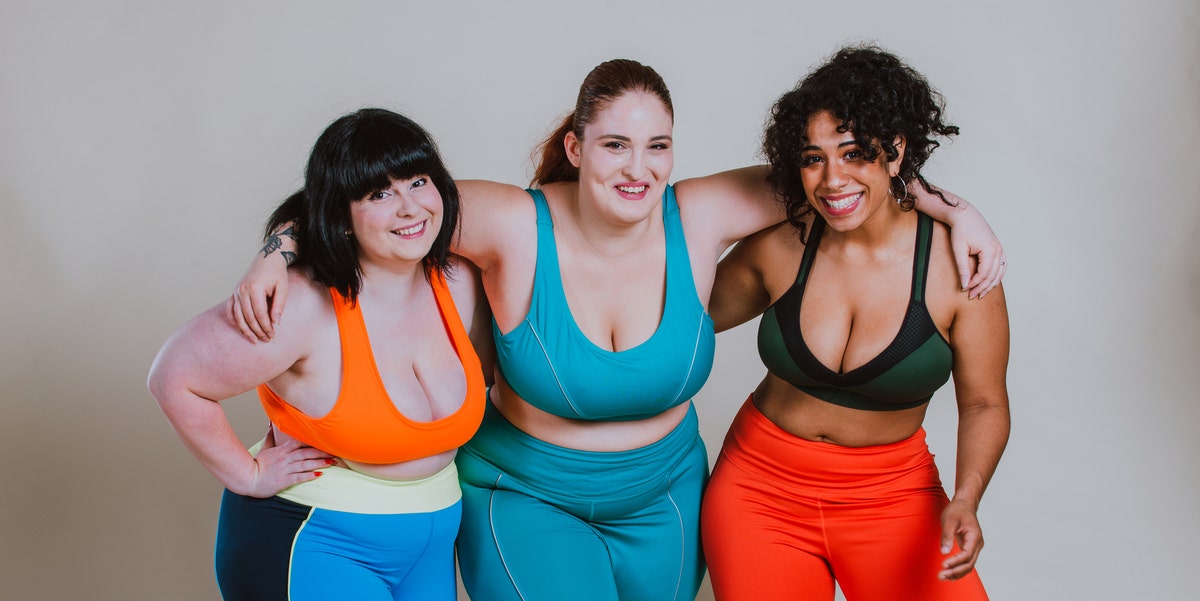 Fabio Formaggio / EyeEmGetty Images
In 2020, we were all understandably creatures of comfort. But as we reenter the world this year, we're starting to think that maybe coffee-stained sweatpants are not the look. The solution? Athleisure. The clothing style confuses the viewer with its "will they, won't they, go work out?" aesthetic, which appeals to our new mentality. It's blazers with biker shorts. Sports bras and denim. Leggings and sneakers you can't actually do burpees in. Athleisure's hybrid nature blurs the line when moving through spaces in your home, office, and gym (and let's be real, most of us haven't stepped foot in a physical gym in well a year). And it's not just us that feels the shift.
According to Technavio, the athleisure wear market has an expected growth of over $80 billion from 2020 to 2024. With a rise of people working from home and staying inside due to the global pandemic, these numbers will likely grow as more people start swapping their pantsuits and track suits, regardless of your physical activity. Torrid CEO Liz Muñoz has seen a rise of the athleisure desire even after people are vaccinated. "The trend continues today," shes told ELLE. "As things are opening up, (our customers are) getting out of the house wanting to look put together without giving up that comfort factor."
Thankfully there are numerous brands out there marrying athletic gear with leisurewear. Below we listed 26 of our favorite brands for any activity. We won't judge.
The Exercise Dress
Outdoor Voices
outdoorvoices.com
$100.00
Nothing represents the hazy line between workout gear and real-life clothes better than Outdoor Voices Exercise Dress. Get a dress who can do both. 
Style pictured available XS to XL. 
Beyond the Studio Jogger
Lululemon
lululemon.com
$118.00
Lululemon's cult-favorite yoga leggings tend to get all the attention, but take your life off the mat with their athleisure offerings. We're particularly drawn to these joggers, which edge on gorpcore territory. 
Style pictured available 0 to 20. 
Aces Tennis Skirt – Green Apple
Alo Yoga
aloyoga.com
$68.00
The tennis skirt trend is seeing exponential growth on TikTok, but this is one you could actually wear both on and off the court. It's also a recent fave of Kendall Jenner, so act fast before this style sells out. 
Style Pictured Available in 00 (XXS) to 14 (L)
Floral Wicking Active Sports Bra
Muñoz saw a huge shift in Torrid shoppers in 2020-2021 and says, "with the onset of the pandemic last year our girl substituted her workwear for clothes that were comfortable with a casual vibe, like our matching athleisure sets in cool prints." BTW, if you're into those bright colors and patterns Muñoz mentioned, you're going to want their entire Love Sick collection. 
Style Pictured Available in 00 (M) to 6 (6X)
Hijab 2.0 Nike Pro
Nike is pretty much the go-to when it comes to brands that mix streetwear with athletic gear, but in recent years they've become so much more. In 2017 Nike released the sports-inspired Hijab and they've been expanding their inclusive styles ever since (including their recently launched Fly Ease sneaker, a shoe designed to get into hands-free). With plus-size clothing too, Nike makes athleisure for all. 
Style Pictured Available in XS/S & M/L
Adicolor 3D Trefoil Track Jacket
Yes, Adidas has athleisurewear but more importantly, they sell Beyonce's Ivy Park. While we'll have to wait for the next launch to snag an item from that collaboration, but their Adidas Originals line has plenty of stylish options to choose from. 
Style Pictured Available in XS to XL
Blocked K Hooded Sweatshirt
KENZO Sport
kenzo.com
€206.50
Kenzo Sport knows how to do luxury athleisure wear. Their simple styles are perfect for creating endless outfits. This hemless hoody pairs well with jeans, leggings, joggers, or hey, no pants at all. 
Style Pictured Available in XS to XL 
Multifunctional Women's 3/4 Sleeve Adaptive Top
Reboundwear
amazon.com
$90.95
Adaptive wear has come a long way and Reboundwear has choices that don't skimp out on the style. Their clothing is organized by the specific needs of those with varying disabilities and takes into consideration space for heart monitors, ports, and infusions. This specific style has five zippers that make for easy access for the wearer and the helper. 
Style Pictured Available in S to XXL
Cropped Ombré Hoodie
Champion
macys.com
$55.00
Nothing beats the secure feeling of wearing an OG Champion hoodie. Yes, it's athleisurewear, but yes you should break it out for all occasions. 
Style Pictured Available in XS to XXL
Real Me High Waisted Crossover Legging
You might know them for their bras, but Aerie has some of the most comfortable leggings that don't roll down your stomach. This specific style has been making its way around TikTok for its flattering look and flexibility with movement. 
Style Pictured Available in XXS to XXL
Go Far Fleece
Alder Apparel
alderapparel.com
$152.00
Crafted with sustainability in mind, this women-founded brand focuses on offering snug and colorful apparel that is made for those who like to be outdoors. The brand is all about inclusivity and diversity and wanted to make athleisure wear that you'll feel good in no matter the activity.  
Style Pictured Available in XS to 5xL
Getaway Sleeveless Romper
Zella
nordstrom.com
$69.00
With a catchy motto of, "Life is lived in motion. Zella is made to move," it's easy to see why the brand is so well reviewed on Nordstrom. Their breathable clothing options are made for the active parent or busy multi-tasker. There's something so comforting about a romper, especially one with pockets.
Style Pictured Available in XS to XL
Free People
Friday Love Set
freepeople.com
$168.00
Two words: matching sets. Free People's FP Movement line has plenty of options you'll want to snag, including joggers, shorts, tanks, sports bras, and more, but velour suits are on track to surpass sweatpants this year. Oh and this set has zipper pockets!
Style Pictured Available in XS to L
Knockout Tank
Under Armour
underarmour.com
$35.00
Under Armour is known for its innovation, so their athleisurewear takes breathability to a new level with styles made from lightweight materials that absorb sweat quickly and have an anti-odor technology built into the fabric. In other words, feel free to roam the grocery store post-workout. 
Style Pictured Available in 1x to 3x
Plus Size Split Neck Sweatshirt
Calvin Klein
macys.com
$29.75
If you're a part of the, "not wearing pants unless I absolutely have to and I'm only wearing a large sweatshirt if I do," club then Calvin Klein has plenty of choices for you. Don't worry, I'm not even wearing pants while writing this.
Style Pictured Available in 1x  to 3x
Reebok
Reebok x Cardi B 7/8 Leggings
nordstrom.com
$60.00
Similar to Adidas, Reebok has a variety of sophisticated looks that can be worn in and out of the gym. But more importantly, they just released their collection with Cardi B and yes, there are plus sizes. Check out the collaboration before it's gone, and embrace your inner Cardi. 
Style Pictured Available in 1x to 3x
High-Waisted PureLuxe Maternity
Fabletics
fabletics.com
$94.95
The Kate Hudson-founded brand has something for everyone, from plus sizes to petite options to maternity clothes that aren't boring. Specifically, with these leggings, pregnant people don't have to worry about a too-tight waist. Oh, and did I mention most of their leggings come with pockets?
Style Pictured Available in XXS to 4XL
Sports Bra With Snake Print
ASOS 4505
ASOS.com
$29.00
Whatever you're looking for, ASOS has it. And their athleisure wear is just as cute and fun to wear as their other brand-owned clothing. Wear this sports bra to the gym to keep your boobs in place or  under a blazer for a girl's night out. 
Style Pictured Available in sizes 14 to 26
Pocket Crop Leggings
Girlfriend Collective
Nordstrom.com
$78.00
Sustainability, transparency, and inclusivity— that's the goal of Girlfriend Collective and they succeed every time. With sizing available in XXS to 6XL their colorful muted styles of joggers, bras, sweatshirts, and leggings, give an ethical voice to the athleisure wear lifestyle. 
Style Pictured Available in XXS to 3XL
Kuwaa Top
Roam Loud
roamloud.com
$40.00
Founder Toyin Omisore created Roam Loud to be a premium activewear and athleisure apparel brand that made her feel seen. As she states on the brand's website, "I wanted to unapologetically create a lifestyle where brown skin is at the forefront and not an afterthought." With darker complexions in mind, you'll find a set that complements you, inside and out. 
Style Pictured Available in S- to XL
Game Changer Seamless Back Yoga Pant
IZ Adaptive
izadaptive.com
$105.00
Adaptive clothing has come a long way, and IZ Adaptive is making sure to keep the options going. Made with materials and closures that are created for those with disabilities, the designs offer a secure fit for physical therapy and strolls through the park.
Style Pictured Available in sizes 2 to 24
Halo Essential Hoodie
Vuori
nordstrom.com
$84.00
Sometimes you just want a simple hoodie to wear to the grocery store, and that's what Vuori excels in. Casual styles for any activity, this brand's main focus is fit and wearability. 
Style Pictured Available in sizes XS to XL
Adaptable Zip Front Bra
Tomboy X
tomboyx.com
$40.99
What you wear underneath your athleisure wear is just as important as the clothes themself and that's where Tomboy X comes in. While the brand's loungewear items fit the athleisure bill perfectly, its selection of brief, bras, underwear, and more is not to be missed. Taking it one step further, TomboyX created a bra for members of the trans and mastectomy community that has secure interior pockets for prosthetics or breast forms.  
Style Pictured Available in XS to 4XL
Trekkie North Crop 23″ Jogger
Athleta
athleta.gap.com
$79.00
According to Athleta they "design clothes that transition from workout to work to weekend. Because you need pieces that can carry you through your whole day and last for years." They do just that with their newly extended inclusive sizing, and yes, they have pockets! 
Style pictured Available in 0 to 26
Jennipher Sweatshirt
Lola Getts
lolagetts.com
$55.00
With plus-sized people in mind, Lola Getts is made for the more traditional athleisure wearer with tank tops, shorts, and leggings that you'll want to add to your gym bag. They created their own spin on a sweatshirt to provide a lightweight jacket that can be adjusted and cinched for a personalized fit.
Style Pictured Available in 00 (10/12) to 3 (26/28)
I Choose Me Sweatpants
Boys Lie
revolve.com
$143.00
Boys may lie but style doesn't. Known for their sweatpants, Boys Lie can easily be worn to the gym, or on your couch for an at-home selfie. Take a page from Ariana Grande's book and reach for one of their oversized hoodies for a quick look that is great for a busy schedule. 
Style Pictured Available in S to XL
This content is created and maintained by a third party, and imported onto this page to help users provide their email addresses. You may be able to find more information about this and similar content at piano.io