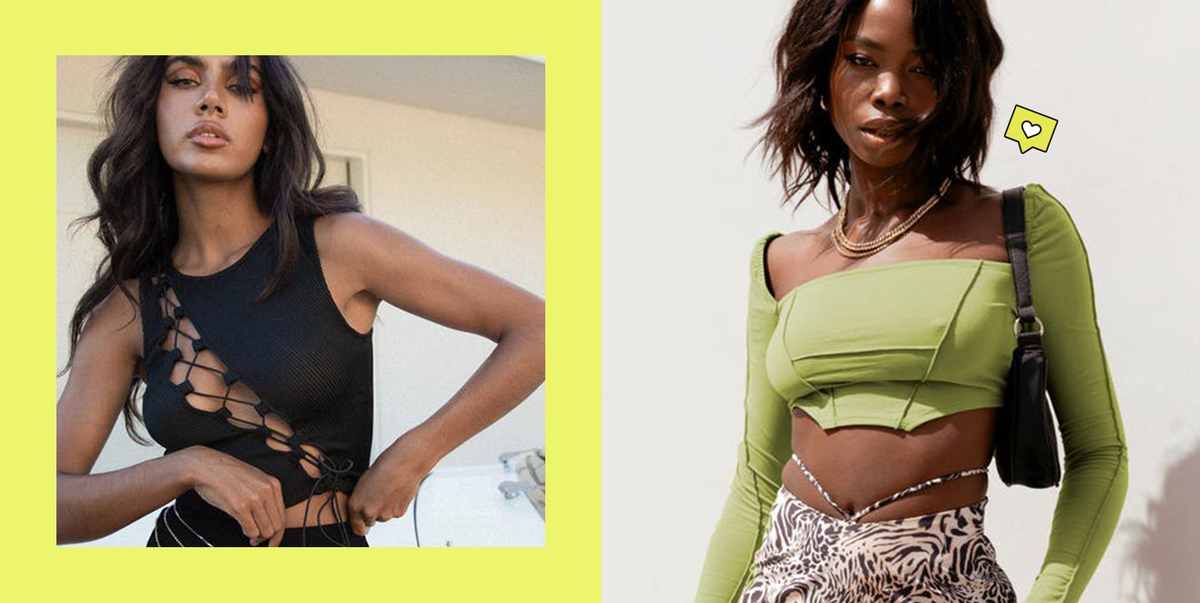 Hi there, raise your hand if you've been recently influenced to dress like a baddie. (If you could see me right now, I am jumping up and down with BOTH of my hands waving in the air.) You've seen it on Instagram and you've seen it on the Tok: All the Cool Kids™️ have the ~ baddie aesthetic ~ which consists of effortlessly chic, streetwear style clothing and accessories. The best way to explain the look in a simple equation is your fave TikToker wearing high-waisted jeans, a crop top, and some Jordans. Boom. Science.
More on the vibe if you're still a bit confused: To look like a baddie—per my deep and thorough studies thanks to the Interweb and Gen Z'ers—means rocking a sporty and/or street-style look with some bold accessories and glam makeup. Of course, you can make the trend your own however you feel comfortable wearing it, but these are the fashion specifics the look was born from. So, if you're into loose-fitting denim, cropped sweatshirts, tracksuits, flirty bodysuits, and honestly anything with Y2K energy, you need to get on board the baddie train, my friend.
Below are 19 outfit ideas for you to peruse and bring the aesthetic to life. From relaxed 'fits to more fahncy looks, I've collected a bunch of ensembles that'll make you a certified baddie. Keep scrolling to shop the sexy looks that I know your Instagram followers are gonna LOVE.
Advertisement – Continue Reading Below
1
this cutout bodysuit and bright-colored skirt
Alessandra Bodysuit
superdown
revolve.com
$50.00
Pair this flirty white bodysuit with a hot pink skirt for a fun look. You can easily dress it up or down with some sneaks or heels.
2
this mixed denim and a loose tee
Hopper Patch Mom Jeans
If you want that baddie aesthetic while still keepin' the lewk laidback, this 'fit will give you those vibes. Grab these unique, patched jeans and wear them with a simple tee for a relaxed yet stylish ensemble.
3
this cropped plaid button down and distressed shorts
Plaid Crop Button Down Shirt
This two-patterned crop top and denim bermuda shorts moment is one that you need to be rocking ASAP. It's simple, effortless, and so fashionable.
4
these camo pants and cropped sweatshirt
Grey Camo Printed Cargo Pants
Pretty Little Thing
prettylittlething.us
$31.00
Make a statement in these camo cargo pants that will match with quite literally anything. Turn it into a casual moment with a cropped sweatshirt and some tennis shoes. Or throw on a silk top and heels with it for an elevated number.
5
this sweatshort set
70s Shorts
I'm so obsessed with the sweatsuit set trend that's happening RN! Get this fab green one from ASOS that features a quarter zip and loose shorts that go right above the knee. It'll be complete once you add some rectangular sunnies!
6
this denim bra top and high-waisted shorts
Bow Bow Denim Bra
NL The Label
nlthelabel.com
$105.00
Denim is in the spotlight currently if ya couldn't tell. And if you're a fan of it, you'll love this darling bra top made from the fabric. Wear it with some high-waisted denim for a chic Canadian tuxedo look.
7
this oversized sweatshirt and biker shorts
Pull Over Fleece Sweatshirt
Nothing says baddie aesthetic like an oversized sweatshirt and some biker shorts. This combo right here—with the pastel pink Nike pullover and plain black shorts—is e-v-e-r-y-t-h-i-n-g. Pro tip: Pair it with some combat boots or chunky sneakers!
8
this tie-up tank and high-waisted pants
Weekend Love Top Black
Princess Polly
princesspolly.com
$37.00
If I had to choose a shirt that I'd wear 'til the end of time, it'd be this sexy design. This tie-up top with tight-fitting flared plants and a chain belt is what you need to be showing off on your Instagram feed. 
9
this collared dress
x Sofia Richie Abel Mini Dress
House of Harlow 1960
revolve.com
$168.00
Sporty is a big part of the baddie aesthetic and this collared mini screams just that. Accessorize it with a bucket hat, a shoulder bag, and some black high-top sneakers. 
10
this ruched mini
Reece Mini Dress Orange
Princess Polly
princesspolly.com
$45.00
A vibrant ruched dress has baddie written all over it. This one from Princess Polly has a beautiful one-strap detail that makes it stand out. 
11
this band tee and baggy jeans
Rolling Stones Tie Dye
Shop Dana Scott
shopdanascott.com
$74.00
Baddie 101: Band tees are an essential part of the wardrobe. This colorful one from Dana Scott would be perf with some baggy jeans and your hair clipped with a large claw. 
12
this long-sleeve crop top and animal-printed skirt
Blakely Long Sleeve Top Green
Princess Polly
princesspolly.com
$36.00
Keep it funky with a neon green, straight-cut shirt, and an animal-printed skirt. If you wanna add even more, put on some gold jewelry or a patterned pair of sneakers.
13
these high-waisted denim shorts and yellow bodysuit
Rip 'Em Off Ripped Denim Shorts
NastyGal
nastygal.com
$43.50
A pair of loose denim shorts and a cute bodysuit is an easy way to look put together without exerting too much energy. Incorporate some jewels to bring some shine.
14
this white matching set
X REVOLVE Off The Shoulder Crop Top
A sleek white matching set featuring an 0ff-the-shoulder cropped top and a high-waisted mini skirt is a gorge look for the summer.  
15
these color-block jeans and tank
White Riot Color-Block Jogger Jeans
Missguided
Missguided
$57.00
If baddie aesthetic were in an official dictionary, this outfit would pop up. A plain crop top, color-block pants, and a scarf wrapped around the top of your hair is just *chef's kiss.*
16
this nude tennis skirt and cropped sweatshirt
Stone Step Hem Skater Skirt
Pretty Little Thing
prettylittlething.us
$12.50
A tennis skirt, cropped sweatshirt, above-the-ankle socks, and sneakers is a 'fit the baddie gods would be proud of. 
17
these wide-legged jeans and black tank
Wide Leg Jeans -Sawyer Blue
A wide-legged pair of jeans and a black tank brings together a relaxed and sophisticated vibe.
18
this bandana top and tie-dye sweats
Printed Silky Bandana Top
American Eagle
ae.com
$14.99
All about mixing your patterns? Try pairing a bandana top with some tie-dye sweats. You'll look so fly, everybody will be copying you. 
19
this velour tracksuit
Velour Tracksuit
Velour tracksuits are back and better than ever, baby. And this one from Puma is just so adorable. It'll look amaze with a white tube top and neutral-colored sneakers.
This content is created and maintained by a third party, and imported onto this page to help users provide their email addresses. You may be able to find more information about this and similar content at piano.io
Advertisement – Continue Reading Below